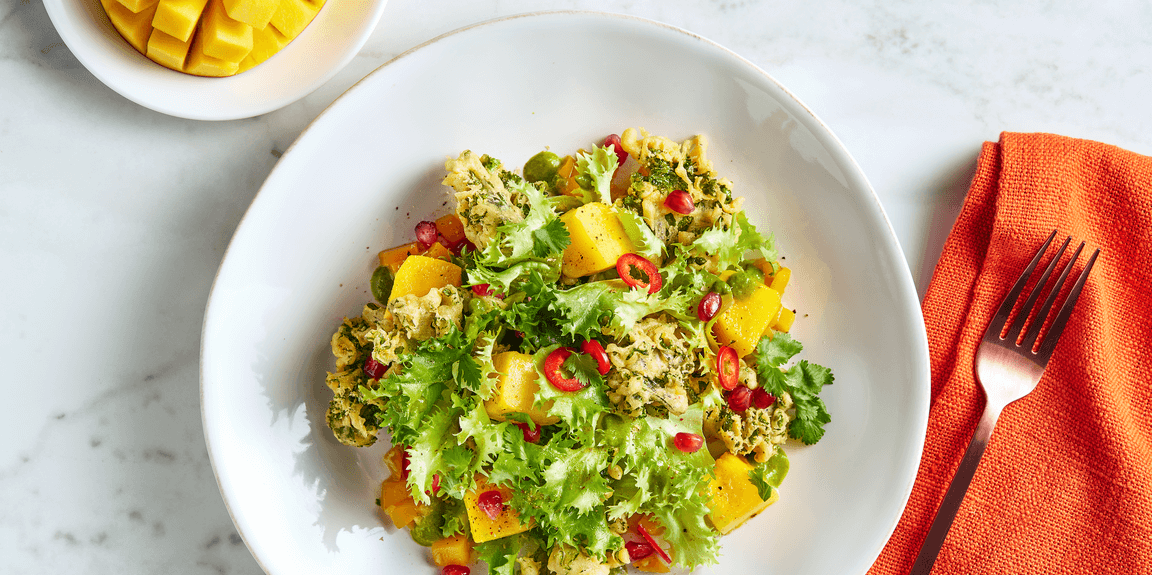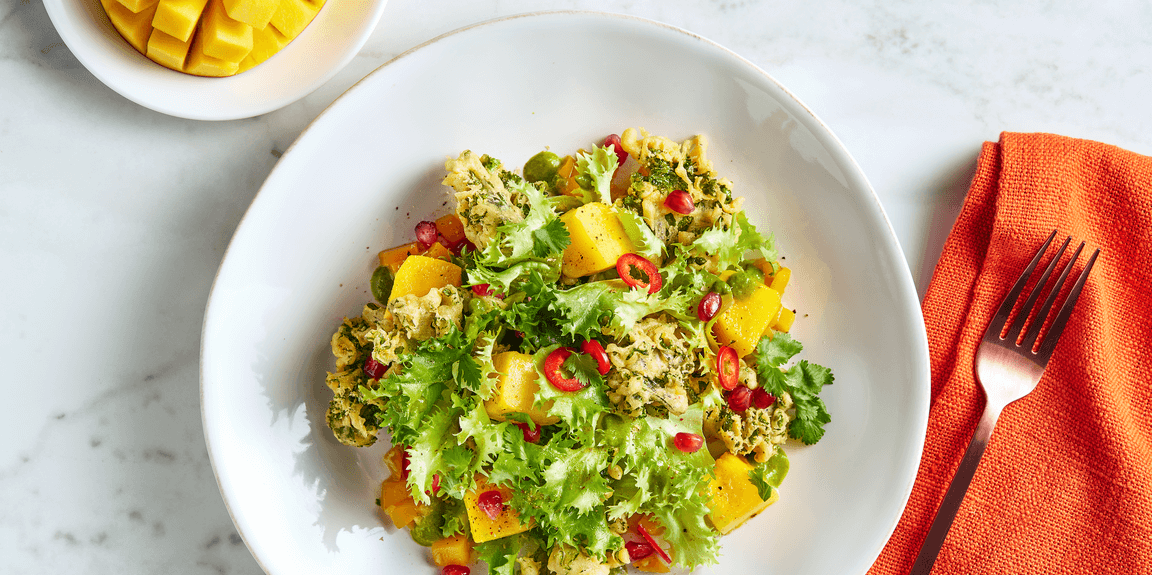 Mango & Frisée "Chaat" Salad with Cilantro & Mint Chutney, Kale-Chickpea Chips, Pomegranate Seeds, Chiles
Recipe courtesy of Chef Ashfer Biju
Sponsor: National Mango Board
Servings: 24
Ingredients
Mango Chutney
2 large fresh mangos, peeled and cut into small dice
1 oz ginger, peeled and finely chopped
¼ c orange juice
¼ c white wine vinegar
2 Tbsp palm sugar
¾ tsp cinnamon stick
¾ tsp star anise
Salt, as needed
Pepper, as needed
Cilantro and Mint Chutney
8 oz cilantro leaves
4 oz mint leaves
2 green chile peppers
½ oz ginger, roughly chopped
½ oz mango, peeled and roughly chopped
½ lemon, juiced
4 oz crushed ice
½ tsp black salt (or pink salt)
1 Tbsp dry mango powder
½ tsp ground cumin
1 Tbsp canola oil
Kale-Chickpea Chips
1 tsp black salt (or pink salt)
1 Tbsp ground cumin
2 Tbsp dry mango powder
1 lb chickpea flour (Gram flour or besan)
1 oz ginger, minced
2 tsp salt
1 tsp crushed peppercorn
Oil, for frying, as needed
2 bunches curly kale, cleaned and patted dried
Mango and Frisée
6 large fresh mangos, peeled and cut into 1-inch cubes
3 heads frisée, cleaned and picked
Garnish & Plating
2 pomegranates, seeds removed
4 Fresno chiles, sliced thinly (optional)
½ bunch cilantro, cut in chiffonade
2 Tbsp extra-virgin olive oil
1 tsp crushed peppercorns
Directions
For the Mango Chutney:
Combine all the ingredients in a saucepan and bring to a boil. Cook for 8 minutes over low heat. Remove from heat, cool it down and adjust seasoning.
For the Cilantro and Mint Chutney:
Combine all the ingredients in a high-speed blender and blend into a smooth puree. Transfer to a squeeze bottle.
For the Kale and Chickpea Chips:
Prepare a spice mix by combining the black salt, ground cumin and mango powder.
To prepare kale-chickpea chips: Prepare a batter by combining chickpea flour, ginger, salt, and pepper with chilled water. The batter should have a coating consistency. Heat the oil for frying up to 375 degrees F. Coat the prepared kale leaves in the batter and deep fry until golden brown in color. Remove from the oil and place on absorbent paper. The kale chips should be crispy and light. Dust them with some of the dry spice mix.
For the Mango and Kale Salad:
In a bowl, combine the diced mango and frisée. Dust with the remaining dry spice mix.
To plate, place 2 Tablespoons of mango chutney in the middle of a salad bowl. Layer mango and frisée mix along with kale chips over the chutney. Top with pomegranate seeds, chiles, and small dollops of cilantro chutney. Finish with cilantro, extra-virgin olive oil and peppercorns.
Chef's Notes
For best results, choose mangos that are about 80 to 90% ripe (stage 4). For this savory preparation, fully ripe mangos may be too sweet.
One can adjust spice in this recipe by adjusting quantities or omitting chiles.
Project Management: Summit F&B
Photography: Carlos Garcia // Food Styling: Peg Blackley & Bree Williams