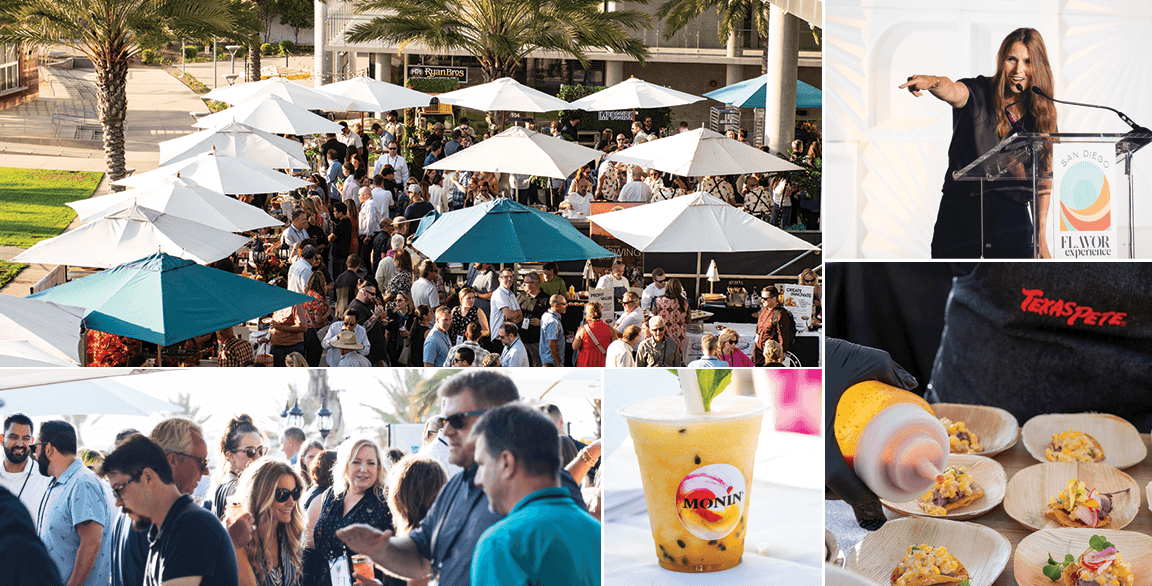 By Flavor & The Menu
September 22, 2022
San Diego provided a sun-splashed backdrop for the 18th annual Flavor Experience, with three days packed with ideas and inspirations, setting high-volume menu developers up for success in 2023 and beyond. Presented by Flavor & The Menu magazine and helmed by Cathy Nash Holley, president of the Flavor Experience, this singular annual event held in mid-August, homed in on the incredible, ever-changing business of flavor.
Throughout the event, attendees were given food for thought, with presentations, panel discussions and tastings that addressed topics including: the evolving foodservice landscape, younger consumers' impact on hospitality and the power of brand identity. Of course, the hallmark of Flavor Experience is that flavor trends are both served up on the stage and in the abundance of memorable, creative bites and sips aimed at getting the wheels turning for menu innovation. New this year, attendees enjoyed the trend-forward flavors of our host city, with tasting excursions in two of San Diego's famed neighborhoods and culinary hotspots: Barrio Logan and Convoy Street. Read on for highlights from this year's Flavor Experience.
INSPIRING BITES
Flavor Experience sponsors served up plenty of inspiration in trend-forward tastes. Examples included:
California Frico-cado Toast: Everything-seasoned frico topped with diced California Avocado, diced egg and dried Caprese tomato
Nestlé Professional's Feta Panna Cotta with compressed watermelon "salad" with tarragon, mint, and basil, topped with fried prosciutto crumbles and olive granita
Parmesan Corn Chowder topped with BelGioioso Peperoncino cheese crab cake finished with a mango-jicama cilantro slaw
Smoked Sumac-Glazed Australian Lamb Shoulder Shawarma with Thecha yogurt, pickled onion crunch and shredded lettuce on toasted naan
Smithfield's Birria Bravas: Fried potatoes topped with a smoky spicy sauce, garlic aïoli, fried beef barbacoa
Kikkoman's Eggplant Unagi Nigiri: Lacquered Japanese eggplant, "broken" nigiri, roasted onion furikake, unagi sauce, lime-infused less-sodium soy sauce roasting liqueur
Blueberry Chimichurri on Wagyu Steak with quick-pickled blueberries, radish, Cotija cheese and micro marigolds
EPI Bread's Labneh Toast with smoked honeycomb, Greek olive oil, crunchy salt and pink peppercorns, fresh chervil
Dole's Tigania (Greek Pan-Fried Pork): Savory chunks of pork shoulder pan-fried then simmered in a white wine and mandarin citrus sauce with sweet cherries
Ghirardelli's Chocolate Ganache Almond Cake: Almond genoise, Ghirardelli 72% dark chocolate ganache, apricot filling
DRINKING IT IN
Flavor Experience beverage sponsors provided inspiration for next-level drink development. Examples included:
Boston Beer Company's Worth the Squeeze Cocktail: Angry Orchard Crisp Apple, Jim Beam Apple Whiskey, sweet fig syrup, fresh-pressed apple juice, Angostura bitters
Tree Top's Dragons & Berries Oh My!: Tree Top 4+1 Strawberry Purée, dried dragon fruit, fresh lemon, Monin Agave and club soda topped with strawberry cold foam
Natural Brands' Sicilian Fizz: Natural Brands Lemon Juice, Malfy Italian Gin, ginger-fig syrup, prosecco, lemon peel, black fig, ginger candy
Monin Rose Cardamom: Cold brew, oat "milk," salted sea foam, rose dust and petals
Beam Suntory's Elote Old Fashioned: Maker's Mark French Oaked Bourbon, Bruxo Mezcal, corn cob-infused agave, cocoa bitters, cinnamon-smoked glass
Japanese-Inspired Bloody Mary: Lycored Sante, Seedlip Spice, shichimi togarashi, oyster sauce, lime juice, no-salt-added tomato juice, cherry tomato, nori and kimchi Flamin' Hot Cheetos
Red Bull Infusion: Red Bull Energy Drink, passionfruit and Monin Coconut
Kettle Cuisine's Mars Iwai Whiskey Carrot Ginger Highball: Chilled carrot ginger soup, Japanese whiskey, blood orange garnish
Mango Wellness Tonic: Fresh mango, mango nectar, turmeric syrup, yerba mate tea, lemon juice, tonic water and mango slice
Join us next year!
Flavor Experience 2023
August 21-23
San Diego Intercontinental Hotel