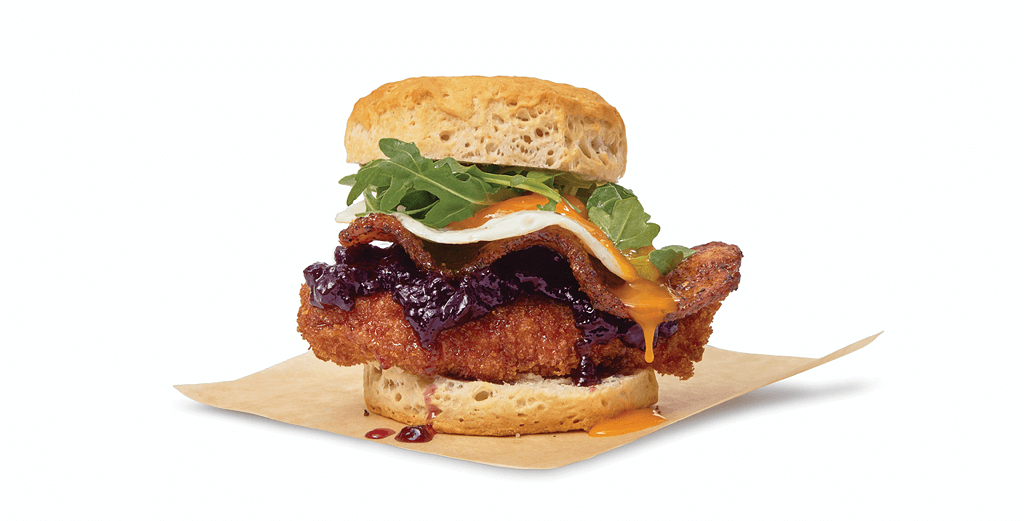 By Katie Ayoub
September 21, 2022
The breakfast sandwich is a hot property today, offering consumers a handy on-the-run format built for an optimal eating experience, each bite a study in textural contrast and flavor play. Another hot property? The fried chicken sandwich, nailing craveability with every bite. With his Blueberry Chicken Biscuit, Ian Ramirez, director of culinary innovation and operations at Zeeland, Mich.-based Creative Dining Services, brings together the breakfast sandwich and the fried chicken sandwich in perfect harmony.
"Fried chicken is a fantastic canvas for innovation because of its familiarity factor," says Ramirez, who developed the sandwich on behalf of the U.S. Highbush Blueberry Council. He points out the build's versatility, too, easily moving into any daypart, thanks to both the fried chicken and the premium perception of the other components. He tops the crispy chicken with a sweet-tart blueberry-honey jam, then lays down strips of blueberry-candied bacon. He adds a sunny-side-up egg, firmly planting the sandwich in the breakfast realm, and finishes it with peppery arugula.
Ramirez uses blueberries to bring in unexpected yet welcome pops of flavor and color. "The blueberry-candied bacon offers the perfect sweet, salty, smoky, crunchy bite with a kick from the black pepper," says Ramirez. "Keep the bacon as dry as possible to ensure that it candies properly and doesn't get soft or sticky." For the jam, he sources frozen blueberries, calling out their cost effectiveness and long shelf life. "Fresh thyme introduces a savory element to the jam that elevates the entire build," he adds.