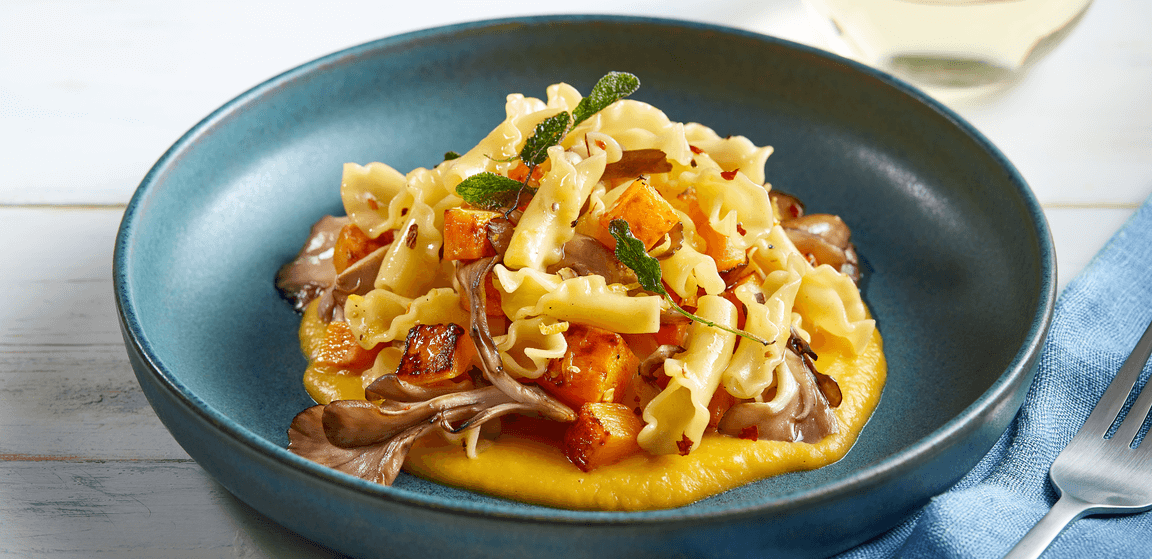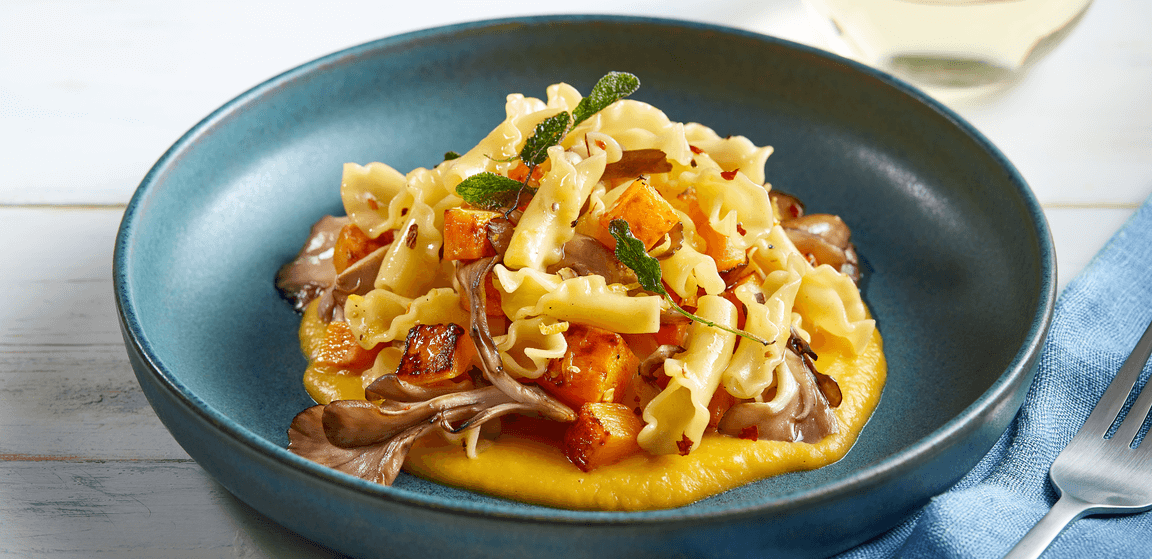 Campanelle Pasta with Butternut Squash, Maitake Mushrooms, Sage & Chiles
Recipe courtesy of Chef Ashfer Biju
Sponsor: Barilla America
Servings: 24
Ingredients
Pasta
1 oz pure olive oil
6 cloves garlic, crushed
1 bunch sage, 3 sprigs reserved
Salt, as needed
3 lb Barilla® Campanelle
2 oz extra-virgin olive oil
1 lb butternut squash, peeled and cut into ½-in cubes
1 lb maitake mushrooms, cleaned and cut in 8-10 wedges
2 tsp red pepper flakes
2 lemons, zested
Crushed peppercorns, as needed
Butternut Squash Puree
1 oz olive oil
2 shallots, sliced
1 stalk celery, sliced
1 carrot, peeled and cubed
2 lb butternut squash, peeled and cut into large cubes
1 bay leaf
1 bunch fresh thyme
Salt, as needed
2 tsp maple syrup
Crushed peppercorns, as needed
Garnish and Plating
1 bunch parsley, chopped
1 oz extra-virgin olive oil
1 tsp crushed peppercorns
Directions
For the Pasta:
Bring salted water to a boil in a large thick-bottomed stock pot. Add 1 oz pure olive oil, garlic and sage (minus the reserved sprigs). The water should be slightly salty to taste. Add pasta and cook for 8 minutes. Drain the pasta and lay it out in a sheet pan; cool it in a blast chiller to avoid further cooking.
For the Butternut Squash Puree:
Heat the oil in a pot and sweat the shallots, carrots and celery for 2 to 3 minutes. Add in the squash cubes; sweat further with light coloring. Add 1 qt water along with bay leaf, thyme and salt to taste. Cover and cook until the squash is tender. Remove bay leaf and thyme. Prepare a smooth puree using a Vita Prep or an equivalent food processor. Add the syrup and adjust seasoning as needed. Keep warm.
To finish the pasta:
Heat the 2 oz extra-virgin olive oil in a skillet. Add the reserved sage leaves and fry until crisp (remove some for garnish). Add in the squash cubes; sauté for 3 to 5 minutes or until they start to turn golden brown. Add in mushrooms; continue to sauté. Once the excess water from mushrooms is evaporated (and squash is fully cooked), add the cooked pasta. Stir in the pepper flakes and mix the pasta well off the heat with additional extra-virgin olive oil. Adjust seasonings and finish with lemon zest.
To assemble:
Spoon 3 large Tbsp of the puree in the center of a pasta bowl and prepare a well. Place about 7 oz of pasta on top of the puree. Place fried sage leaves on top.
Garnish each serving with chopped parsley. Spoon over some extra-virgin olive oil and top with crushed peppercorns.
Chef's Notes
This preparation is dairy free. If desired, Parmesan cheese can be added to finish the pasta.
Mushrooms should be clean and dry before introducing them to the pan. Otherwise, they get braised instead of sauteed, affecting the flavor.
Project Management: Summit F&B
Photography: Carlos Garcia // Food Styling: Peg Blackley & Bree Williams