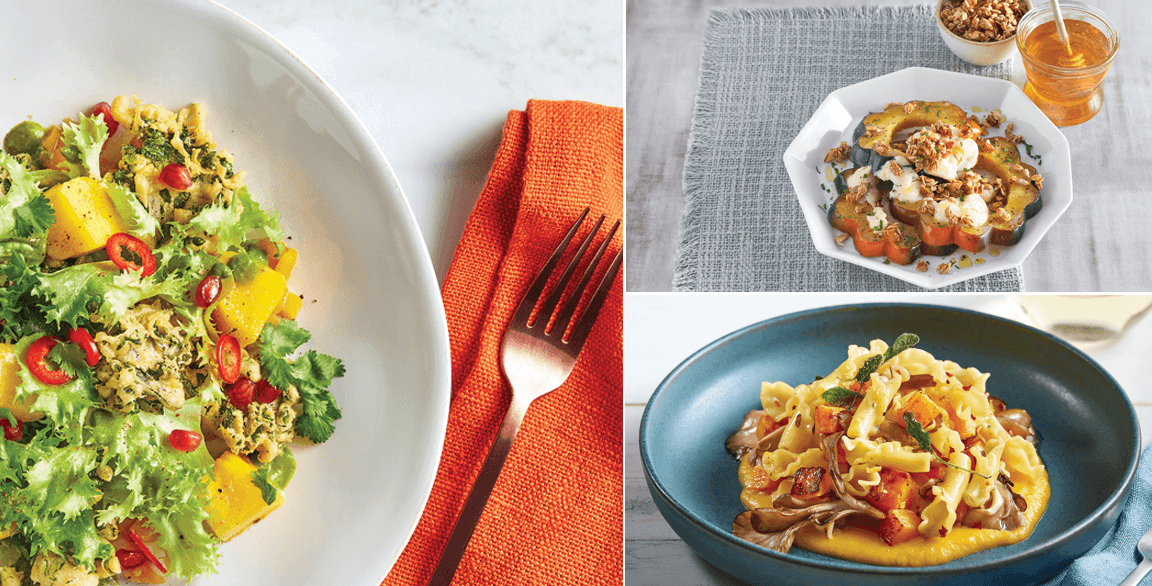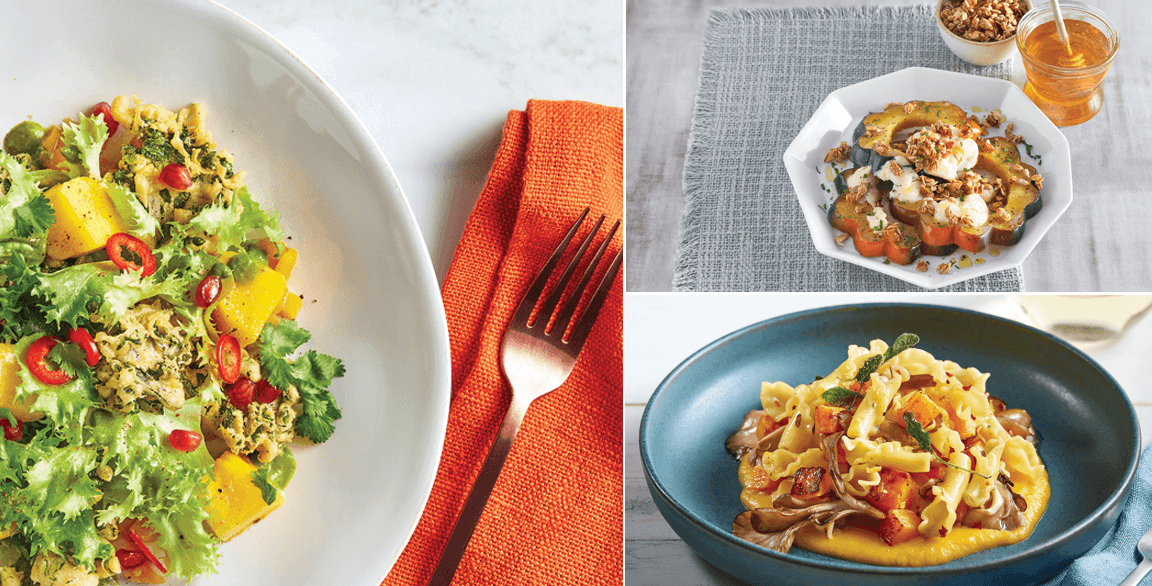 By Patricia Fitzgerald
September 23, 2022
Kitchen Collaborative is a recipe-development initiative formed by Summit F&B and Flavor & The Menu. To fuel flavor innovation, a group of talented chefs partnered with sponsor brands and commodity boards to create recipes that showcase the passion and potential of our industry.
CHEF SPOTLIGHT: Ashfer Biju
"I consider myself a traditions and culture aficionado and have always tried to make my food reflect that," says Chef Ashfer Biju, explaining that classic recipes, techniques and nostalgia are valued sources of culinary inspiration. But these are just a starting point for the Executive Chef at Perrine NYC & The Pierre, a Taj Hotel, who prides himself on thoughtful adaptations that honor and lift flavor fundamentals.
Biju's Mango & Frisée "Chaat" Salad is a standout example of his approach to delivering a next-level transformation of a classic dish. Also check out Biju's other Kitchen Collaborative creations, Honey-Roasted Acorn Squash with Honey-Lemon Ricotta and and Campanelle Pasta with Butternut Squash, Maitake Mushrooms, Sage and Chiles, both of which showcase his expertise in applying deft touches of culinary calibration.
Mango & Frisée "Chaat" Salad with Cilantro & Mint Chutney, Kale-Chickpea Chips, Pomegranate Seeds and Chiles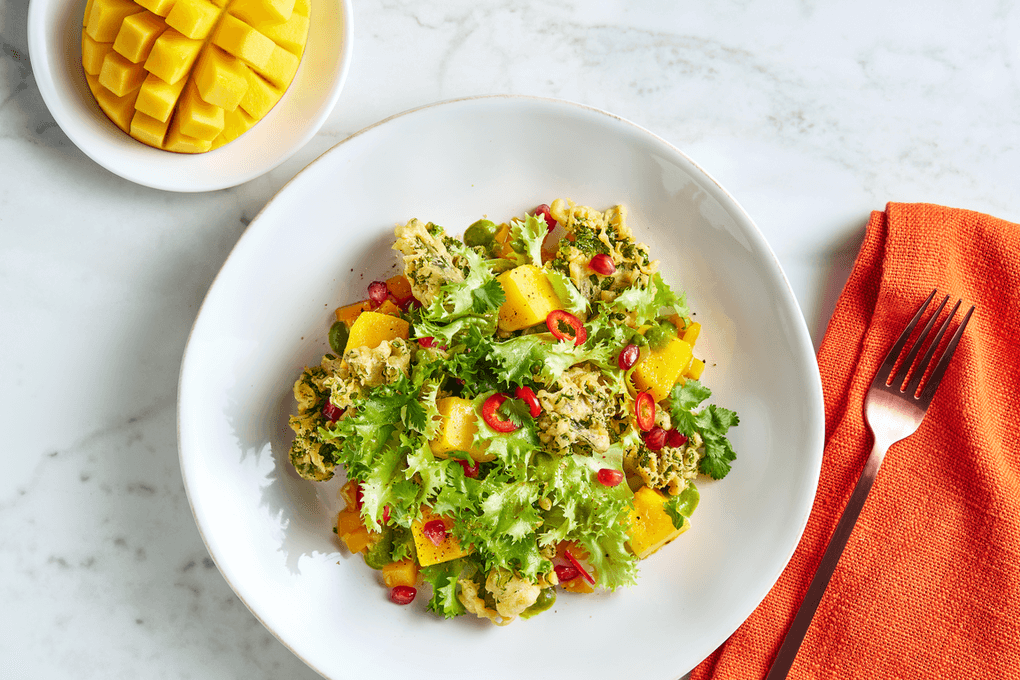 Photo: Carlos Garcia // Food Styling: Peg Blackley & Bree Williams
Biju was "super excited" to be asked to develop a mango recipe for Kitchen Collaborative, eager to tap into childhood memories of eating fresh mangos right from the family yard in southern India, the fruit often enjoyed simply, flavored with salt and chiles. "I still go back to that time in my mind, tasting the savory, salty, spicy notes," Biju recounts. "I had no doubt that I wanted to do a savory dish here."
Biju transforms his personal nostalgia with a modern take on a classic Indian-style chaat salad. "There are two types of traditional chaat salads," he explains. "One combines chickpea-based gram flour with crunchy crisps and fresh ingredients, such as onion, tomato, cilantro and spices. The other is just a vegetable or fruit—watermelon, cucumber or pineapple, for some reason never mango!—that is topped with a chaat masala spice mix." For his Mango & Frisée "Chaat" Salad, which also boasts a mango chutney, Biju combined both concepts "to offer a unique layered dish that is complex in its flavor build. It retains the classic spice combinations, but introduces new elements and flavor interests" he says.
Biju finds the dish delivers an "amazing combination" of flavors and textures. "Sweetness from the mango and the pomegranate combines with salt and spice. A great savory note is offered by the fried kale-chickpea chips," he says. "As for texture, there is softness in the mango, crunchy from the pomegranate, fresh in the frisée, crisp from the kale chips and creamy from the chutneys. Together it creates a unique experience." Biju believes it would fit well in any pan-Asian, Indian or South Asian cuisine concept, as well as on menus highlighting options that are plant-forward, fresh and boasting a health halo.
Mango is the unquestionable star of the dish. In addition to fresh mango cubes, a savory-sweet mango chutney serves as the base of the salad. Fresh mango is also used in the cilantro-mint chutney puré. "Choose mangos that are about 80 to 90 percent ripe," advises Biju. "For this savory preparation, fully ripe mangos may be too sweet." But what makes the mango experience truly complete, he says, is the spice mix, which features dry mango powder. It's dusted over both the kale-chickpea chips and the mango cubes and frisée. The dry mango powder also dials up the flavor of the cilantro-mint chutney.
Honey-Roasted Acorn Squash with Honey-Lemon Ricotta and Spicy Hazelnut Granola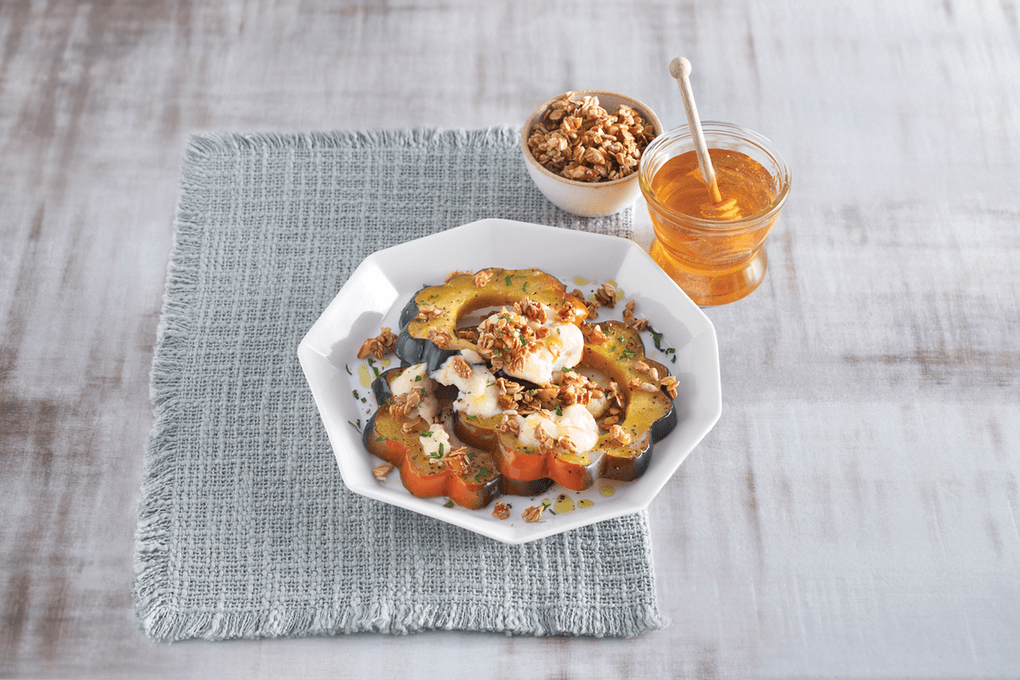 Photo: National Honey Board
"I have always been fascinated by roasting with honey, whether it's poultry, meats, vegetables or fruit. I love how honey just picks up a simple roast and takes it to the next level," says Biju. "For fall, I could not think of a better roasting partner than acorn squash. It's not a very sweet squash, but it's full of flavor and has the depth to be sweetened up with honey."
Biju sought to further showcase honey's versatility by using it in three ways in this Honey-Roasted Acorn Squash with Honey-Lemon Ricotta and Spicy Hazelnut Granola. "The honey-roasted squash itself is a very satisfying bite," says Biju. "But when combined with the other components, it offers different textures and mouthfeels, all with honey as the base." The granola features rolled oats, hazelnuts and sunflower seeds, seasoned with red chile flakes, kosher salt and crushed peppercorns, plus the honey. The ricotta, lemon and honey mixture also features Parmesan and hazelnut powder. The resulting flavor profile for the dish is savory, sour, salty and spicy, all balanced with the honey. "It will make a nice dinner entrée for someone who has decided to avoid meat and carbs," he suggests. "It will make a nice side at dinner or lunch, as well."
Since the honey is cooked in two of the three components, Biju opted not to limit the recipe by calling for a particular varietal. "A good clover or wildflower honey would be the best for both roasting the squash and making the granola," he suggests. "For the ricotta cream, one could experiment with a milder honey, one with floral notes, which will bring some variety to the palate."
Campanelle Pasta with Butternut Squash, Maitake Mushrooms, Sage and Chiles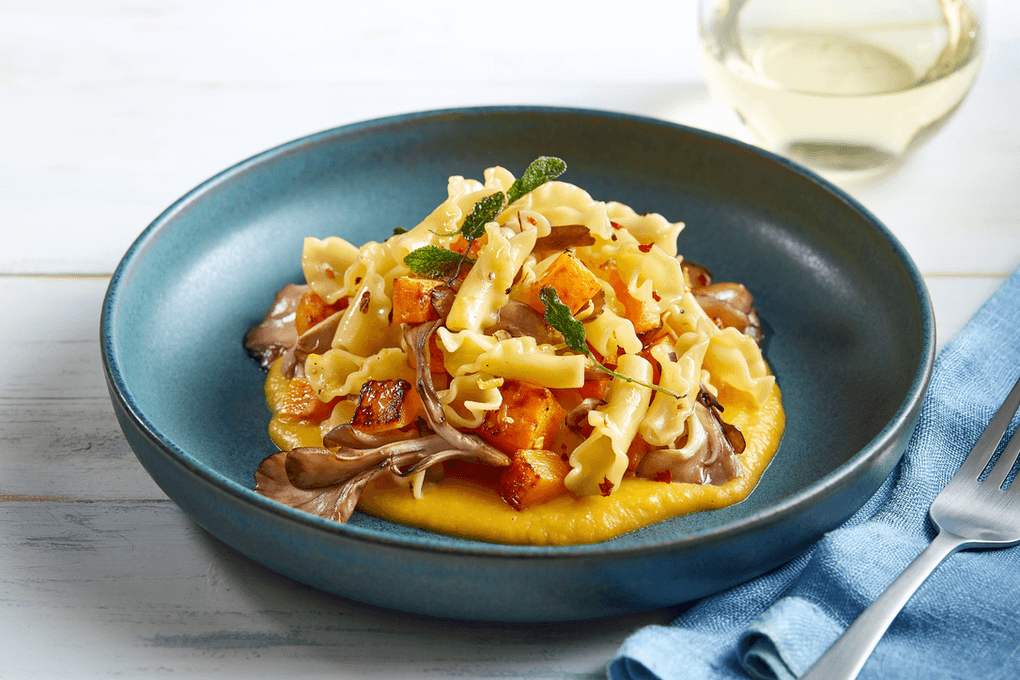 Photo: Carlos Garcia // Food Styling: Peg Blackley & Bree Williams
"More and more diners are choosing to eat plant-based, vegan and vegetarian dishes, but menus often do not offer enough worthwhile options," says Biju. "It is important for operators to provide fully conceptualized, original recipes and not just dishes with substitutions, which are always an afterthought. Having an original preparation that is based on plant-forward ingredients values customers who follow these dining drivers."
Biju aims to do his part to propel a new flexitarian menu paradigm with this craveable Campanelle Pasta with Butternut Squash, Maitake Mushrooms, Sage and Chiles. Intentionally crafted to be dairy-free, vegan and offer an elevated comfort food experience, the dish features Barilla® Campanelle pasta, sautéed cubes of butternut squash, wedges of maitake mushrooms, crispy fried sage leaves and red pepper chile flakes, placed on a bed of silky butternut squash purée. "I used a layering of flavors approach in creating this recipe," Biju explains of the overall delivery of sweet and savory notes, punctuated by "the interesting pop and burst of the red pepper chile flakes that will make you dig in for more."
He's also a fan of the unique shape of the Campanelle Pasta, with its cone hollow and ruffled edge. "What I love about the shape is that it has enough curves to hold sauces and other components," Biju says. It was also a factor in his choice of the maitake mushrooms, as the two shapes are visually complementary. "I also chose the maitake for its earthy flavor to balance the sweetness of the butternut squash."
Project Management: Summit F&B
Photography: Carlos Garcia // Food Styling: Peg Blackley & Bree Williams