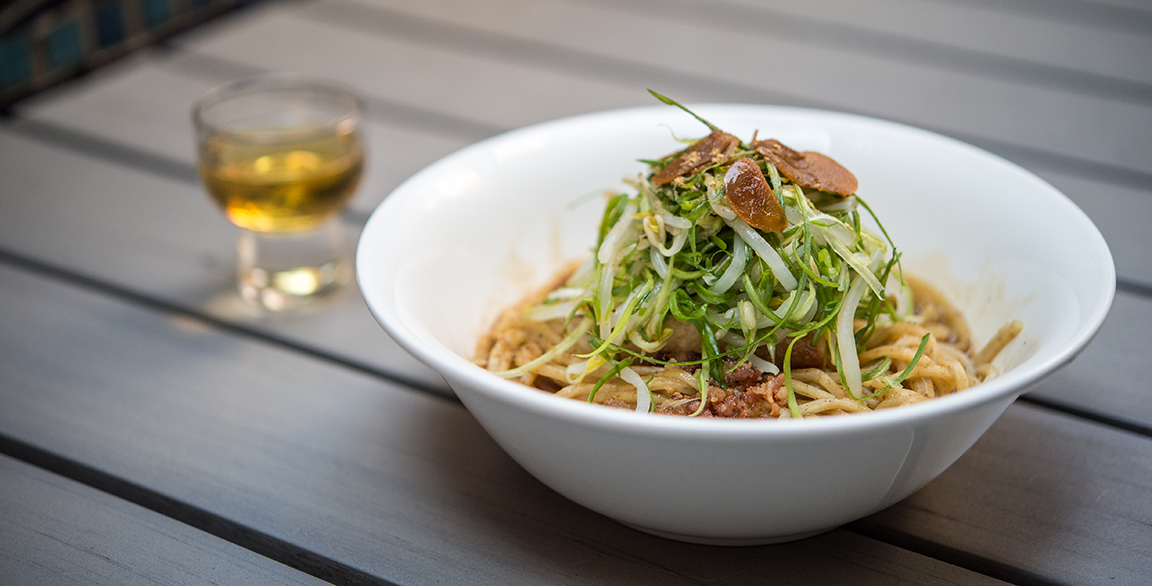 By Liz Barrett Foster
December 16, 2022
The satisfying slurp that comes from a hot, umami-laden bowl of ramen is undeniable. But what if you could have just as much flavor with a bit less slurp? Mazemen (translating to mixed noodles) is a Japanese ramen dish that integrates favorite ramen flavors while foregoing the soup.
Chefs start with noodles that are thicker than traditional ramen noodles, providing a larger surface area for the good stuff to cling to. Next come familiar ramen ingredients such as tare, chile paste, garlic oil, chashu pork and a soft-boiled egg. When the dish arrives at the table, guests simply mix and enjoy.
Mazemen is a staple throughout Japan but has only recently started picking up steam in the U.S. Menu developers experiment with toppings and, since mazemen can be served hot or cold, often promote it as a warm weather option on summer menus.
"Mazemen allows you to break out of the slightly more traditional ramen template," says Ivan Orkin, an authority on ramen and chef/owner of Ivan Ramen in New York City. "Even in Japan, the dish is no longer constrained by 'traditional' elements. There are pizza, cheese, taco, curry and endless other permutations of western dishes and flavor profiles reimagined as mazemen."
The mazemen menu at Southern California fast casual Mogu Mogu caters to meat eaters and vegetarians alike. The Deluxe Mazemen features sliced pork chashu, spicy minced pork, poached egg and soft-boiled egg, chives, minced garlic, fish powder, seaweed, seaweed flakes and scallion, while the Veggie Miso version blends spicy miso, tofu, kale, corn, sliced red onion and peppers. A scoop of rice is served alongside each bowl to help polish off any tasty surplus.
At fast casual Mi & Yu Noodle Bar, with two locations in Baltimore, seven varieties of mazemen are offered as spicy (with Sriracha) or savory versions, and all are topped with a soft-boiled egg. Options include barbecue roast pork belly, fried Thai curry shrimp and buttermilk fried chicken.
Inside his flagship Ivan Ramen restaurant in New York City's Lower East Side, Orkin has a rotating mazemen menu, leaving room for cold mazemen in the summer and seasonal ingredient integration.
"The Breakfast Mazemen, which we've run periodically, takes its cues from a New York classic: the bacon, egg and cheese," he says. "We use Taylor ham, a cheddar dashi and a scallion omelet." An Ivan Ramen favorite, the Triple Pork, Triple Garlic Mazemen, takes inspiration from a pork-centric tonkotsu and amps up its elements. "The chashu is still there with the addition of smoky bacon. The broth is a traditional tonkotsu broth with the addition of saba bushi (smoked mackarel) but reduced to its essence so that there's much less broth needed. The garlic component comes from garlic purée, garlic oil and pickled garlic. And to up the richness of the dish we add pickled bean sprouts and negi (Japanese scallion)."
With its familiar format and endless signaturization opportunities, mazemen represents a pathway for differentiation on today's menus.