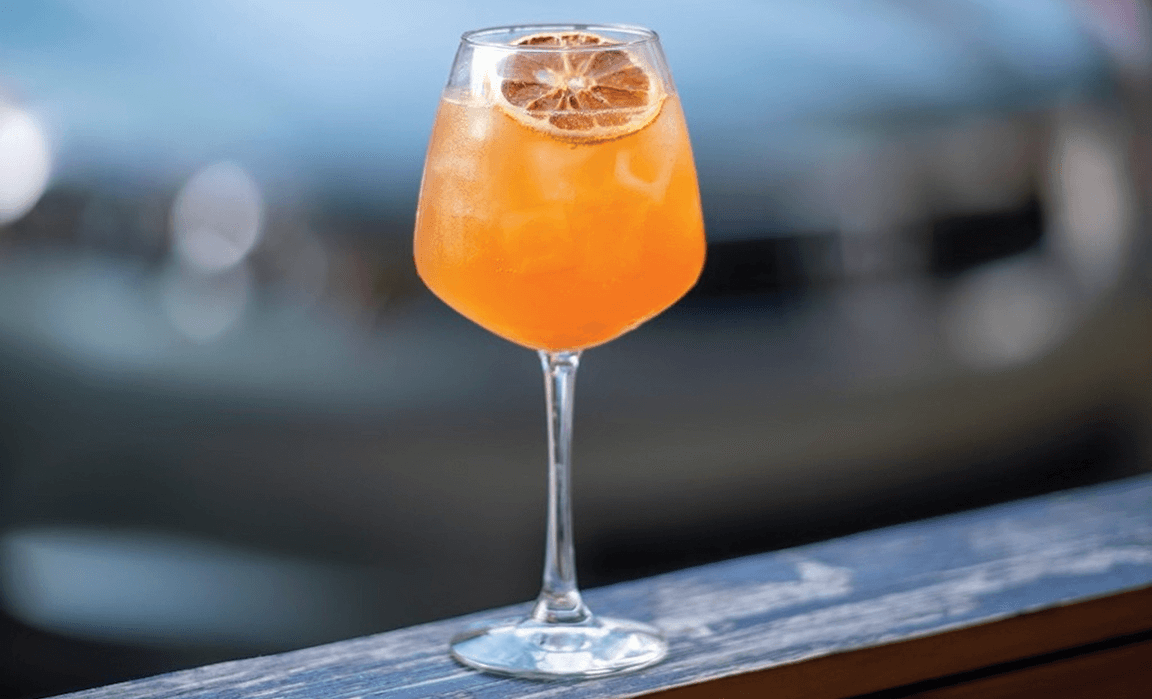 Savvy restaurant brands use brunch as a playground for flavor adventure, capitalizing on its unique cocktail culture and breezy, weekend vibe. Regular go-tos at brunch like coffee, tea and juice are at the center of a new wave of inspiring cocktails. And trending spirits not typically seen in the morning hours are getting "brunchified," with operators leveraging their popularity while building them out into modern brunch cocktails. As example, look to the Breakfast Bourbon on the brunch menu at New American restaurant Adele's, based in Nashville, Tenn. It features a sublime mix of bourbon (is bourbon ever not trending?), passionfruit purée and a pitch-perfect choice of sweetener: maple syrup. To firmly plant the drink on the brunch menu, a curled strip of bacon garnishes the glass. Menu developers are bringing in trending elements, too, such as florals, nut syrups, fat washes and anything with bubbles. Here are 10 cocktails that exude the essence of brunch, full of potential to shine even brighter with the application of gentle, modern twists.
1
BLOODY MARY
A minimalist approach, focusing less on elaborate garnishes and more on a layered base with high flavor emphasis, yields delicious results. Soothing and spicy flavors, a refined meatiness, and herbaceous or vegetal profiles provide a distinctive backbone to a modern Bloody Mary.
TRY THIS
Gazpacho Bloody Mary: Tricolor tomato-cucumber gazpacho + kale juice + carrot juice + citrus vodka + Sriracha + lemon juice
Bullish Bloody Mary: Charred tomato juice + beef broth + mezcal + hot sauce + Worcestershire + lime juice + Boursin Garlic & Fine Herbs cheese rimmer
MENU SIGHTINGS
Soju Bloody Mary: Soju, McClure's spicy mixer and Tabasco
—Golden Diner , New York
2
MIMOSA
Mimosas are ubiquitous at brunch, but today's fresh takes can add effervescence to captivating cocktail blends, as aerating the juice creates sublime texture. Dial up flavor with add-ins like specialty bitters, Grand Marnier or tequila.
TRY THIS
Blood Moon Mimosa: Cava + tequila + aerated blood orange juice + aerated pineapple juice
Floral Sparkler: Champagne + gin + elderflower syrup + lemon juice
MENU SIGHTINGS
Liquid Love Affair: Stoli Vanil vodka, passionfruit and pineapple, topped with sparkling wine
—Harry & Izzy's , Indianapolis
3
BELLINI
Understated brunch elegance flows via traditional white peach purée and prosecco. Alternative fruit purées update this simple, sweet drink with novel intrigue. Easy-sipping cocktails speak to the casual lighter vibe of the morning, pairing well with egg-based brunch offerings.
TRY THIS
Scarlet Bellini: Prosecco + roasted cherry purée + slivers of candied ginger
Blueberry-Lavender Bellini: Prosecco + blueberry purée + lavender
MENU SIGHTINGS
Strawberry-Passionfruit Bellini: Don Q Pasión rum, strawberries and Alexa prosecco
—Carmine's , based in Chicago
4
COFFEE COCKTAILS
With coffee already anchoring morning menus, and with so many micro trends within the coffee category, coffee-centric cocktails are well positioned to add charisma to brunch menus.
Build your buzz with hot and cold coffee cocktails that accentuate existing trends and techniques while delivering flavorful fun.
TRY THIS
Iced Coffee Cocoa: Cold-brew coffee + RumChata + chilled hot chocolate + ice + whipped oat "milk" topper
Dalgona Coffee Negroni: Classic Negroni + dalgona coffee topper + orange peel twist
MENU SIGHTINGS
A Better Morning Espresso Martini: Bourbon, Pellegrino Amaro, espresso and cream
—Stay Golden , Nashville, Tenn.
5
FROSÉ
The frosé trend marches onward, nestling nicely into the convivial surroundings of brunch. The addition of crafted elements levels up the wine slushy, elevating flavors and generating dimension. Or use frosé to inspire eclectic and unexpected interpretations.
TRY THIS
Purple Dragon Frosé: Rosé + dragon fruit sorbet + açai
Tiki Frosé: Rosé + apricot liqueur + coconut rum + caramelized banana + skewered maraschino cherries
MENU SIGHTINGS
Frosé: Dark Horse rosé wine, strawberry purée, peach schnapps
—Benny's On The Beach , Lake Worth Beach, Fla.
6
TEA COCKTAILS
Tea-based cocktails provide a unique array of beautiful, differentiated floral and herbal aromatics, tannins and flavors that can't be duplicated with other ingredients. Boost brunch beverage menus with spirits infused with tea, tea syrups and brewed teas. Engage tea enthusiasts by serving select tea cocktails in teacups to drive home the experience.
TRY THIS
Long Island Chai Tea: Chilled chai brew + vodka + Cointreau + white rum + Baileys + ginger ale splash + ice
Matcha Mojito: Rum + matcha + lime juice + agave + mint
MENU SIGHTINGS
Sweet Tea Highball: Pisco, Delta sweet tea and mint
—The Delta , Chicago
7
SANGRIAS
Brunch is an ideal environment to menu mini cocktails, and sangria is well-suited for this type of experimentation. Diminutive, full-flavored drinks encourage beverage "grazing" and sampling during the meal. Skip the pitcher and serve a rotation of classic, Latin regional, spritz or frozen sangrias.
TRY THIS
Frozen Sangria Mule: Prosecco + brandy + ginger beer + lime juice + clementine wedges (garnish)
Winter Sangria: Cabernet + Hennessey + muddled cranberries + pomegranate
MENU SIGHTINGS
Peach Blossom Sangria: Ketel One peach and orange blossom vodka, pineapple juice, DeKuyper Peachtree schnapps and white wine
—La Fisheria , Houston
8
SMASHES
This fresh fruit julep variation puts smashing/muddling center stage, providing operators with opportunities to showcase seasonal fruit. The smashing approach heightens flavors, adding texture and natural color throughout the cocktail. Will a smash + smashed burger combo make a showing on brunch menus soon?
TRY THIS
Citrus-Heat Tequila Smash: Tequila + lime slices + orange slices + Serrano chile slice + agave + seltzer + broken ice
Gin-Basil Smash: Gin + lemon slices + fresh basil + simple syrup + broken ice
MENU SIGHTINGS
Watermelon Wobble: Ketel One botanical cucumber and mint vodka, simple syrup, lime juice, muddled watermelon, muddled mint and club soda
—The Lola , Glendale, Ariz.
9
HARD LEMONADE
Lemonade is a dream mixer, as it pairs well with just about anything, while sweet-tart cocktails match up nicely with sandwiches or savory items. House blends of spiked lemonade make for an easy-sipping, thirst-quenching brunch indulgence.
TRY THIS
Flying Lemonade: Lemonade + Red Bull + vodka + cranberry juice
Whipped Limoncello-Raspberry Lemonade: Lemonade + limoncello + half and half + ice + fresh whole raspberries (garnish)
MENU SIGHTINGS
La Pasión: Avión tequila, passionfruit purée, almond syrup, lime juice and splash of lemonade
—Bellini Coconut Grove , Miami
10
SPRITZES
The spritz's popularity opens the door for tweaks on its composition. Incorporate housemade agua fresca as a complementary base beverage, doubling down on refreshing, clean tastes and trend-forward appeal, yielding an invigorating twist on a brunch favorite.
TRY THIS
Hibiscus Fresca Cassis Spritz: Cassis + sparkling hibiscus agua fresca + orange peel + thyme sprig + ice
Mango Fresca Grigio Spritz: Pinot grigio + Topo Chico-mango agua fresca + lime pearls + ice + chile-salt rimmer
MENU SIGHTINGS
Ginger-Blood Orange Sherry Spritz (A Sunday Kind of Love): Manzanilla sherry, Drapo rosé vermouth, ginger syrup, blood orange syrup, lemon and club soda
—The Ball & Biscuit , Indianapolis