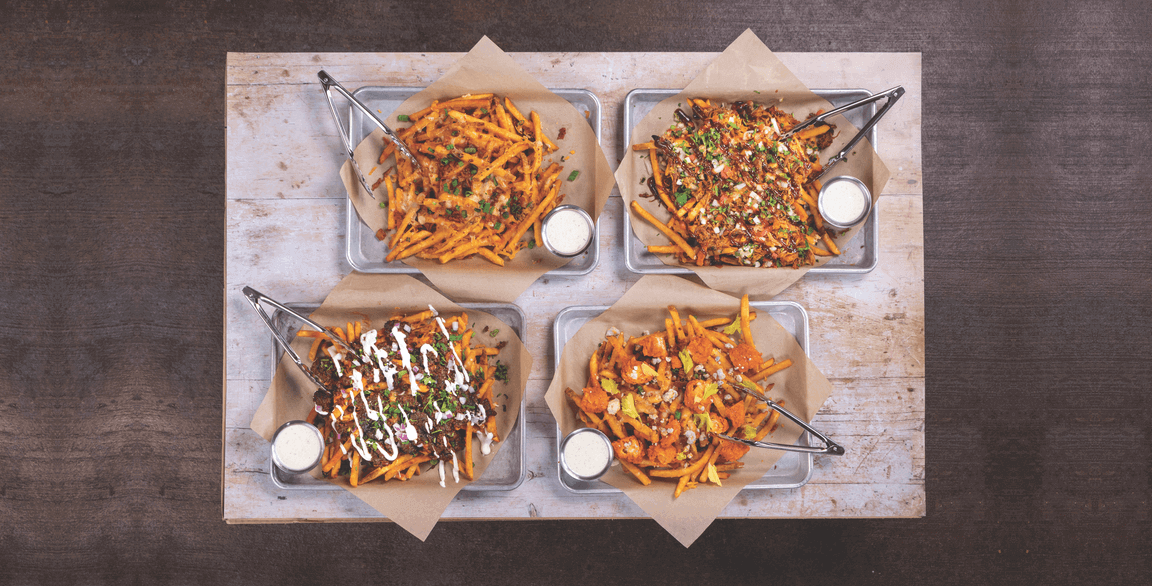 "Melted and fried options make up more than 50 percent of our menu," says Alex Sadowsky, director of culinary, beverage and menu innovation for Twin Peaks Restaurants, a sports lodge concept and part of FAT Brands, based in Los Angeles. These options are natural pairings to snack on and wash down with an ice-cold beer during a game, Sadowsky says. That's why the brand launched a quadruple threat: four crispy loaded fry LTOs that have become one of Twin Peaks' most successful launches, boosting guest orders 33 percent and resulting in more than $5 million in incremental revenue from 400,000 dishes sold in the first six months of launch.
The top seller is the Bacon & Cheddar Loaded Fries option, which features smoky bacon bits, melty cheddar and pepper Jack, green onions and a creamy housemade bacon-ranch dressing.
The runner-up is Crispy Buffalo Chicken, which tops the fries with hand-breaded Buffalo chicken tenders, cheddar and pepper Jack cheese, smoky bacon bits, green onions, blue cheese crumbles, celery leaves and housemade bacon-ranch dressing.
At a time when both labor and product are at a premium, Sadowsky says franchisees have embraced these LTOs because they don't require new SKUs and are easy to execute. Plus, they deliver for off-premise dining. "All of the surveying and testing we did showed that a loaded fry was much more acceptable to a consumer for delivery than regular fries," says Sadowsky. "The melted cheese and sauces helped to change the perception of how crispy the fries should be after holding through delivery."
When Jonathan Young opened Hot Johnnie's last year, he aimed to give San Francisco a taste of a regional favorite found on the other side of the country: New York pastrami. Young, chef and owner, pushes the envelope a bit, incorporating his housemade pastrami in everything from salads to tacos. But it's a melty marvel that is commanding attention—the Pastrami Nachos. With a base of waffle fries instead of the traditional tortilla chips, Young tops these with a melted blend of Muenster, Havarti and cheddar cheeses. The build is finished with briny, smoky hunks of pastrami and a creamy chipotle aïoli.
The American South is arguably the culinary center of melted and fried foods. It's where rich and gooey mac and cheese is served alongside fried everything—chicken, seafood, okra, green tomatoes, you name it. Tiffany Derry pays homage to such Southern specialties as chef/owner of Roots Southern Table in Farmers Branch, Texas, but with clever twists and creative swaps. Her take on the Southern coastal classic shrimp and grits becomes fried fare when the two ingredients are shaped into balls and dropped into hot oil. Frying turns them into a take on arancini—Sicily by way of the South, so to speak—thanks to Derry's rich jalapeño cheese grits. The Fried Shrimp and Grits are served over a meaty, tangy sausage-tomato stew.