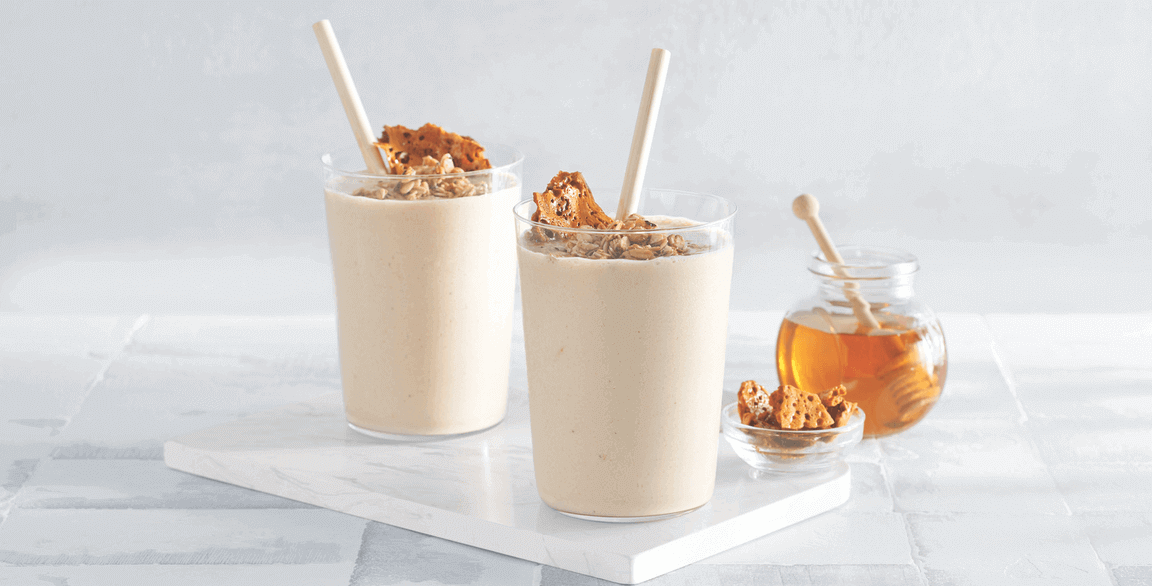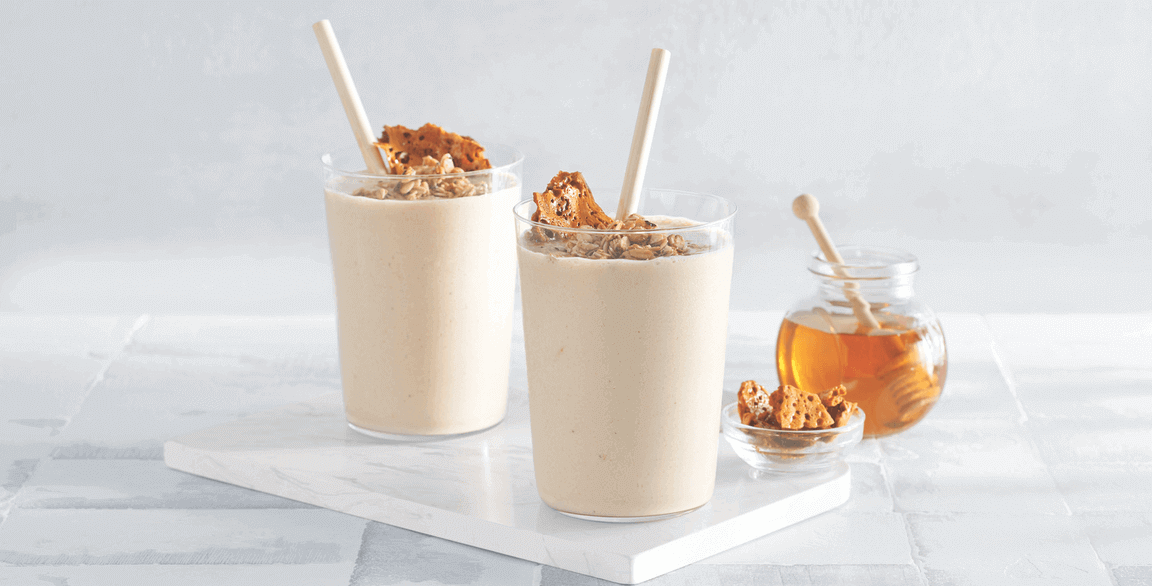 Honey, Peanut Butter & Banana Smoothie
Recipe courtesy of Will Eudy and Ben Whittington
Sponsor: National Honey Board
Servings: 2 (20 oz each)
Ingredients
Honeycomb Topping: (Yield 20 pieces)
1 ½ c sugar
¼ c honey
¼ c water
1 Tbsp baking soda
As needed salt
Honey Granola Topping: (Yield 24 oz)
2 c rolled oats
¼ c honey
2 Tbsp melted coconut oil
½ c other nuts and seeds of choice
Smoothie:
1 lb ice
7 oz Greek yogurt
8 oz peanut butter
7 oz honey, plus more for topping
1 ea banana
Directions
For the honeycomb topping: Line a half sheet pan with parchment paper and cooking spray/oil to prevent sticking. Combine the sugar, honey, and water into a medium sauce pot (the volume will triple in size, so space is needed). Heat the mixture on high until it comes to a boil, while stirring. Reduce the heat to medium-high and cook to 300 degrees F. Remove from the heat and add the baking soda and salt while whisking, until they are just blended. Pour out onto the prepared half sheet pan. Do not smooth the honeycomb or it will turn into a brittle and lose its airy texture. Allow it to cool before breaking into topping-sized shards.
For the honey granola topping: Preheat the oven to 350 degrees F. Line a half sheet pan with parchment paper. Combine all the granola ingredients before transferring them to the sheet pan in an even layer. Bake for 20 to 30 minutes, or until the granola turns a light brown color. Remove the pan and allow it to cool before breaking the granola up into clusters for topping.
For the smoothies: Combine all of the ingredients in a blender. Blend on medium-high until everything is combined and smooth (20 to 30 seconds). Make sure all of the ingredients are incorporated; if not, remove the blending pitcher and scrape down the sides of the pitcher before blending again to fully incorporate the ingredients.
Pour the smoothies into serving glasses. Top them each with ¼ cup honey granola, a few shards of honeycomb, and finish with a drizzle of honey.
Project Management: Summit F&B
Photography: National Honey Board