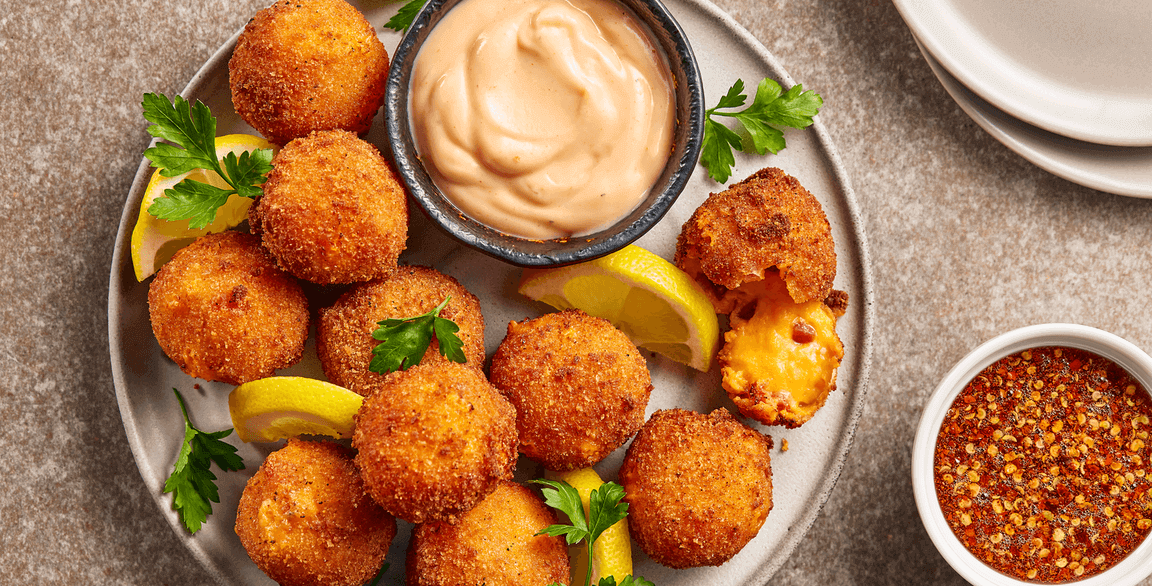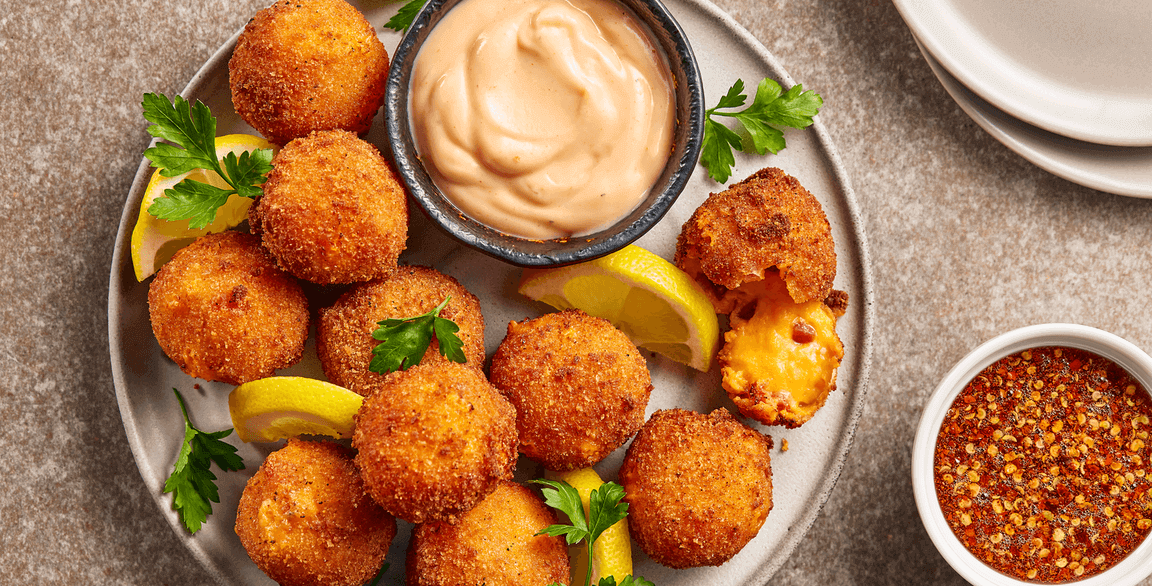 Pimento Beer Cheese Fritters
Recipe courtesy of Will Eudy and Ben Whittington
Sponsor: Bel Brands USA
Servings: 24 pieces
Ingredients
16 oz Merkts® Craft Beer Cheese
3 oz mild cheddar cheese, shredded
3 strips bacon, cooked and crumbled
½ oz pimentos, small diced
For Breading:
3 ea eggs, whisked
1 ½ c breadcrumbs
1 ½ c flour
3 c canola oil
For Spicy Mayo:
1 c mayonnaise
1 Tbsp Tabasco hot sauce
To taste salt
To taste pepper
For Hot Honey:
1 c honey
1 tsp smoked paprika
1 tsp cayenne
1 tsp chile flakes
Directions
Pan fry or bake the bacon until it is crispy and able to be crumbled.
Add the Merkts Craft Beer Cheese, shredded cheddar cheese, bacon, and pimentos into a mixing bowl and thoroughly mix until combined.
Portion and form the fritters using a ½ oz scoop onto a parchment lined sheet pan, and place the fritters into a walk-in cooler or freezer to firm up before breading (minimum 5 minutes).
Prepare the three-step breading station; into separate shallow containers place the flour, eggs, and breadcrumbs. Whisk the eggs until there are no streaks left.
Remove the chilled fritters from the cooler/freezer and toss in the container of flour until coated before moving on to the egg wash to coat, and finally the breadcrumbs to coat. It is best to work in small batches and to use one hand for the dry steps (removing from the flour and removing from the breadcrumbs) and the other hand for the wet step (removing from the egg wash).
Place the breaded fritters on a parchment lined sheet tray. Optional: Place the breaded fritters back into the walk-in/freezer to firm up before frying. They can also be held at this stage in the cooler and fried to order.
Preheat the fryer to 350°F.
Once the oil is to temperature, remove a serving (6-8) of fritters from the cooler and place them in the basket of the fryer before submerging in the oil. Fry the fritters for 60-90 seconds. Once the fritters float to the top, occasionally turn them for even browning.
Remove from the oil and drain on a paper towel.
Once cooled enough to handle, arrange the Pimento Beer Cheese Fritters on a serving plate along with the spicy mayo (combined mayo, Tabasco, salt & pepper to taste) and/or the hot honey (combined honey, smoked paprika, cayenne, and chile flakes) either drizzled or served on the side for dipping.
Project Management: Summit F&B
Photography: Carlos Garcia // Food Styling: Peg Blackley & Bree Williams