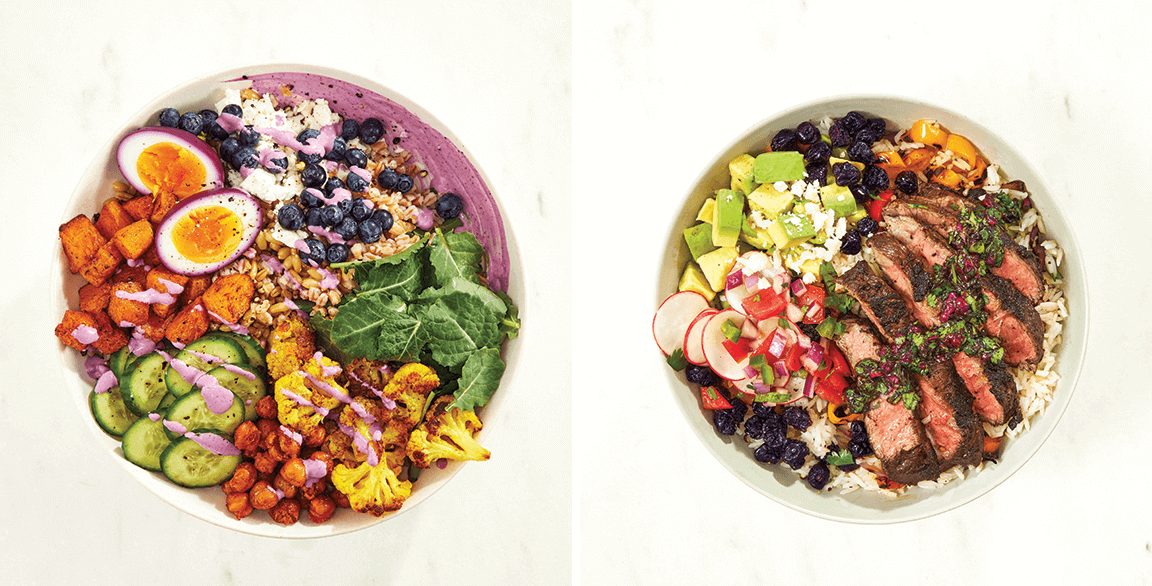 Blueberries bring a lot to the table, offering diners that iconic sweet-tart flavor and plump juiciness, and delivering a sought-after boost of nutrition. For operators, blueberries serve up solutions, lending a world of menu versatility while playing a pivotal role in a myriad recipes that cater to differing lifestyle diets—from plant-forward to keto to gluten-free.
Here, two industry chefs harness the power of blueberries, showcasing creative bowl play. Building on consumers' love of blueberries, the chefs maximize this superfruit's potential—elevating flavor, boosting nutrition and introducing vibrant color to today's menu powerhouse, the bowl build.
1: CHARRED BLUEBERRY CHIMICHURRI STEAK BOWL
Developed by John Franke, President of Franke Culinary Consulting, on behalf of SRG Culinary Council for the U.S. Highbush Blueberry Council
For this dish, Franke chars fresh blueberries, then folds them into a zesty chimichurri. He drizzles the chimi over a grilled steak that's been marinated with puréed frozen blueberries and fresh herbs. To build the bowl, he starts with cilantro-lime rice tossed with blistered baby bell peppers and grilled red onions, radish, avocado and pickled blueberries (quick-pickled in red wine vinegar, sugar, salt, garlic, árbol chiles, cloves and peppercorns). He adds the steak, dollops the chimichurri over top and finishes the dish with pico de gallo and queso fresco.
"By charring the blueberries, the natural sugar is caramelized while adding a bitter note thanks to the char," says Franke. "This combo of flavors brings depth to the bright chimichurri."
Blueberry cross-utilization ideas:
Add charred blueberries to condiments like ketchup and mustard, dressings (such as ranch), relishes, vinaigrettes and butters.
Use the blueberry marinade with other protein preparations, including chicken, pork and duck.
Feature the pickled blueberries in cocktails, on charcuterie boards, in cold salads, and even tossed with hot vegetables like Brussels sprouts.
2: MIDDLE EASTERN-INSPIRED CAULIFLOWER BOWL WITH TAHINI
Developed by Ian Ramirez, Director of Culinary Innovation and Operations of Creative Dining Services in Zeeland, Mich.
Here, Ramirez starts with a multi-textured base of farro, freekeh and khorasan wheat, then tops it with turmeric-roasted cauliflower tossed in ras el hanout butter, hearty greens, garam masala-roasted butternut squash, feta, fresh blueberries, Persian cucumbers and tandoori-spiced crispy chickpeas. He finishes with a drizzle of blueberry-tahini-yogurt dressing (tahini, Greek yogurt and frozen blueberries) and a garnish of a blueberry-pickled egg and tumble of fresh blueberries.
"I use frozen blueberries in the dressing because they are consistent and always available, as well as cost-effective and versatile, minimizing food waste," says Ramirez. "The blueberry-pickled egg is a play on a beet-pickled egg. Using blueberry juice instead of beet juice adds vibrant and unexpected color."
Blueberry cross-utilization ideas:
Use the blueberry tahini dressing on a salad of hearty greens like kale, or as a showstopping sauce for Middle Eastern handhelds like shawarmas, gyros or other flatbread builds.
Build a stunning deviled egg with the blueberry-pickled egg, or add it to brunch spreads, salads and charcuterie boards.
Find on-trend menu ideas featuring blueberries or contact the U.S. Highbush Blueberry Council for custom innovation support, at blueberry.org/foodservice.