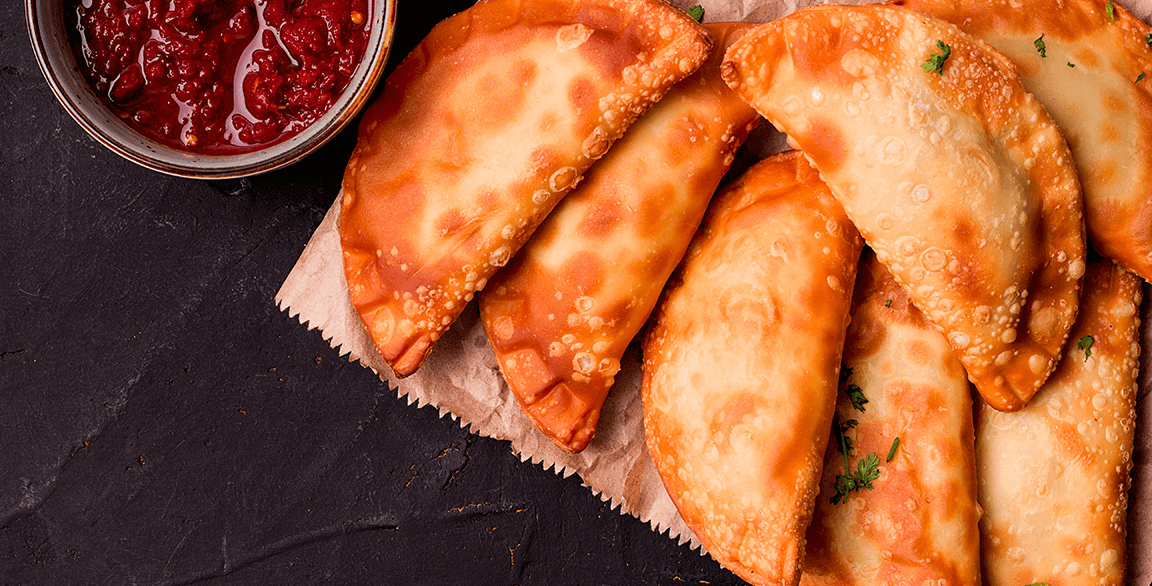 Savory hand pies can offer a great format for global flavor discovery. The flavor juxtaposition of melding ingredients from trending cuisines into a variety of traditional hand pies creates nontraditional intrigue. Inserting flavors not associated with a specific iconic hand pie dough—for example, Chinese ingredients into a British pasty— creates the unexpected.
Here we look at three trending global flavor platforms, bringing each to life and extending the reach of these flavor platforms through the lens of three different savory handheld pies. The ingredients and flavors of Greek, Eastern Med and Chinese cuisines are all primed for portability. Chefs can honor authentic roots while developing an original, next-level interpretation.
1

GREEK
Approachable and creative Greek flavor combinations elevate a hand pie with comfort and familiarity. Chefs can leverage healthful indulgence applying fresh herbs and spices to featured meats and utilize classic cheeses and spreads to meld flavors within the hand pie. This is about cultivating a wholesome feeling.
Greek Chicken Samosa: Shredded lemon-herb grilled chicken thigh + htipiti + green and black olive tapenade
Feta Gyro Arepa: Pork gyro + whipped feta tzatziki + sun-dried tomato slices + char-grilled red onions
Mini Moussaka Pasty: Ground beef-cinnamon tomato sauce + roasted eggplant + goat cheese
2

EASTERN MED
Intensely vibrant Eastern Med condiments, spices and seasoning provide exotic excitement. Chefs can leverage layers of flavor via stark contrasts in texture and taste within the hand pie. This is about bold layers creating big cravings.
Fiery Green Smoker Samosa: Hickory-smoked sausage slices + green s'chug + diced roasted root vegetables
Sesame Chicken Chiller Arepa: Creamy tahini-dried apricot pine nut roast chicken salad + baby arugula + ricotta salata shavings
Mediterranean Poutine Pasty: Slow-cooked beef chuck pot roast chunks + harissa beef gravy + griddled halloumi cubes + diced roasted bliss potatoes
3

CHINESE
Bold Chinese flavors resonate with contemporary American tastes. Chefs can leverage popular flavors, turning them into something even greater by refining a key flavor that is amplified within the hand pie. This is about a main flavor system focused on the meat.
Imperial Pork Broccolini Samosa: Five-spice pork floss + chopped charred broccolini + Sriracha-oyster sauce
Grander Orange Chicken Arepa: Chopped flash-fried chicken breast + spicy-sweet-tangy Grand Marnier orange sauce + charred bok choy + teriyaki walnuts
Char Siu Welly Pasty: Char siu pork slices + hoisin oyster mushrooms + sesame spinach