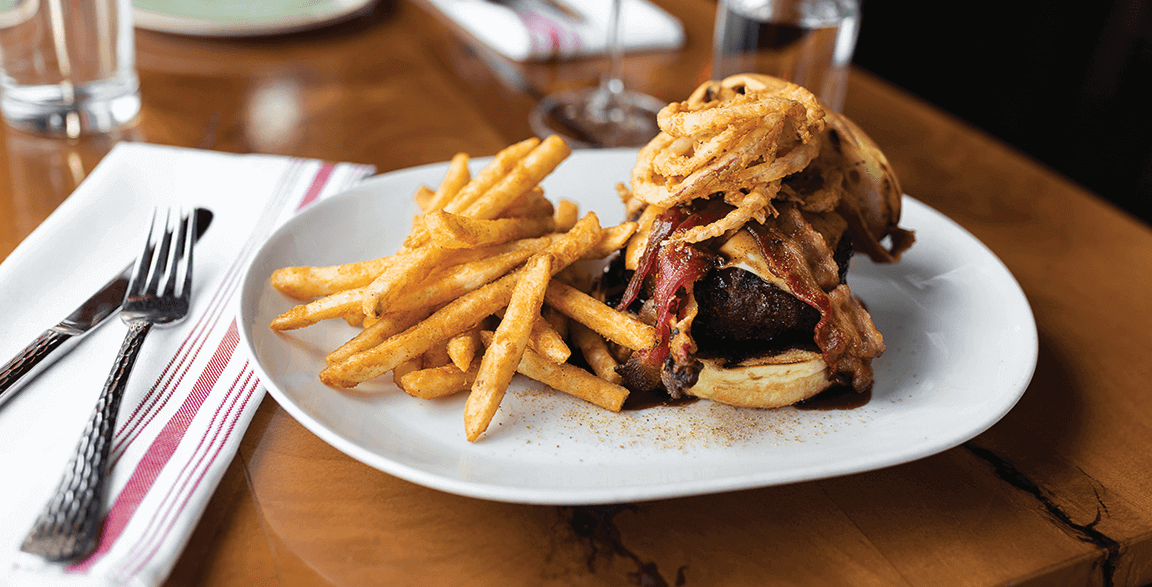 Burgers provide chefs with a rock-steady platform to explore new culinary techniques and trending flavors, adopting all stages on the trend curve, from emerging to mainstream. The crave factor inherent in the familiar burger format drives burger lovers to try new flavor combinations. Big impact can come from fanciful builds or by simply including a single trend-forward addition.
Leading concepts are leveraging current burger trends while adapting them to fit their brand. Case in point: Miznon, a Mediterranean street-food concept with locations in New York and Boston, takes the still-trending smashed burger to a new level by smash-searing a beef patty, filling it with white cheddar, folding it over, and then stuffing it inside a fluffy pita with aïoli, sour cream, tomato and pickles. At Chauhan Ale & Masala House in Nashville, Tenn., a mash-up of Indian and eclectic flavors are worked into the mix with great result. The Chauhan Burger features a patty seasoned with Indian spices and draped with Amul cheese, India's answer to a Kraft Single. Crispy buttermilk onion straws, demi-glace and green chile-dusted bacon give it a modern American spin. Burger innovations like these are informed by a long runway of flavor opportunities. Here are 10 specific areas to explore to keep burger menus exciting.
1
CRUNCHIFIED
An easy way to add fun intrigue to the chew of a burger build is via a tempting crunchy topper. Chefs are now using frico cheese skirts, fried chicken skins, crisped mushrooms and an array of unexpected textured toppers to entice diners.
TRY THIS
Buffalo Crunch Burger: Beef burger (dipped in hot sauce) + Swiss cheese + shredded lettuce + fried chicken skins + ranch + challah bun
Double Crunch Tostada Burger: Beef-chorizo burger blend + crispy tostada round + grilled nopal (prickly pear) patty + poblano-lime whipped cream cheese + Texas toast
MENU SIGHTING
Bad Ass Burger: Two 5-oz. Angus beef patties with housemade American cheese, buttermilk fried bacon, horseradish mayo, lettuce, tomato and pickle
—Bad Daddy's Burger Bar, based in Golden, Colo.
2
FRUIT-FOCUSED
Fruit delivers unexpected delight and dimension to the character of a burger. Mixing grated fruit into the ground meat of leaner proteins, like turkey, also adds flavor and moisture. Promote optional fruit toppings, such as char-grilled slices, savory jams, chutneys and various pickled fruits, to boost value perceptions.
TRY THIS
Figgy Piggy Burger: Smoked bacon-beef burger blend + goat cheese schmear + brown sugar onions + Mission fig mostarda + pretzel bun
Hot Clucker Burger: Ground chicken thigh-chorizo burger blend + Colby Jack cheese + queso fresco crumbles + "hot" roasted peach-plantain mash + cornmeal bun
MENU SIGHTING
Fruit and Cheese Burger: Fresh ground beef or bison, Old Quebec vintage super sharp cheddar, Riesling-poached apple, applewood bacon and honey drizzle on a baguette
—Epik Burger, Jacksonville, Fla.
3
INDIAN MASH-UP
Adapting comforting Indian flavor stylings into the familiarity of a burger build creates new taste experiences, ideal for younger consumers who are particularly interested in exploring global flavors.
TRY THIS
Paneer Veggie Burger: Falafel-style veggie patty + paneer + green mango slaw + tahini aïoli + egg bun
Indi Burger: Tandoori curry paste-infused turkey burger + Monterey Jack cheese + green leaf lettuce + tomato slice + brioche bun
MENU SIGHTING
Chauhan Burger: Chauhan-blend spice rub, buttermilk onion straws, Amul cheese, green chile bacon and demi on a toasted everything bun
—Chauhan Ale & Masala House, Nashville, Tenn.
4
SMASHED
Thin is the new thick when it comes to modern burger craft. This pressed-and-seared cooking technique produces a patty with a richly caramelized charred crust and crisped edges. This delicious approach to building flavor continues to dominate burger trends with both menu mentions and entire concepts dedicated to the format.
TRY THIS
Yellowstone Smashed Burger: Beef-bison smashed burger blend + habanero Jack cheese + huckleberry sauce + brown butter aïoli + cornmeal bun
Royale Double Smashed Burger: Double beef smashed burger + Gruyère cheese + Havarti cheese + sliced tomato + micro greens + split-top bun
MENU SIGHTING
Hot Mess: Pat LaFrieda signature blend burger, smashed and griddled, with pickled cherry pepper relish, bacon relish, American cheese and smoky chipotle mayo
—Harlem Shake, New York
5
CHEESE STUFFED
Stuffing a burger with cheese presents a dramatically different flavor experience than melting a slice on top of the patty. Juicy Lucy-style burgers scream indulgence, with lava-like cheese flowing from the center after the first bite. Plus, an abundance of cheese varieties means a bevy of flavor profiles to explore.
TRY THIS
Double-Stuffed BBQ Burger: Sharp cheddar-mozzarella-stuffed steak burger + pickle relish + fried onion rings + root beer barbecue sauce + split-top bun
Bursting Brie Burger: Brie-stuffed Angus burger + peppered bacon + balsamic aïoli + honey wheat bun
MENU SIGHTING
The Big Easy: Ground beef burger, stuffed with provolone, topped with Cajun seasoning, scratch-made rémoulade and red onion
—Hoss' Loaded Burgers, Nolensville, Tenn.
6
SPICE BLENDS
Spice blends provide chefs an approachable means to continually showcase trend-forward flavors on menus. Applied in the meat blend or shaken on while cooking, bold seasonings add complexity to a burger, enhancing savory qualities and elevating taste.
TRY THIS
Jacked 'Shroom Burger: Chuck-brisket-short rib-fresh parsley-maitake mushroom powder premium burger blend + truffle cheese + fried shallots + arugula pesto + brioche bun
Ras Burger: Ras el hanout-seasoned lamb-beef chuck burger blend + whipped feta + Bibb lettuce leaf + date ketchup + sweet potato bun
MENU SIGHTING
Cowboy Bacon Burger: Select-your-own protein (beef, chicken breast, black bean or bison) rubbed in a coffee cowboy rub (dry ancho chile, coffee and brown sugar) and topped with white American cheese, applewood-smoked bacon, bourbon barbecue sauce and spicy Lucy Gone Wild sauce
—Juicy Lucy's Burger Bar and Grill, Asheville, N.C.
7
KOREAN INSPIRED
Spicy, sweet, bitter Korean flavors built into a burger can deliver exotic authenticity, without sacrificing everyday approachability. Bulgogi toppers, spiced sauces and fermented vegetables are easy flavor-forward approaches that will intensify the burger experience.
TRY THIS
Seoul Burger: Wagyu beef burger + pepper Jack cheese + gochujang aïoli + sesame bun
Bulgogi 'Bello Burger: Plant-based burger + Havarti cheese + bulgogi barbecue-style portobello mushroom slices + candied jalapeños + sesame bun
MENU SIGHTING
The Supra: Togarashi-seasoned patty, cucumber kimchi, fried egg and Sriracha mayo
—Garage Grill, based in Draper, Utah
8
BREAKFAST
Extend burger offerings into morning menus and capture the hearts and minds of diners who will happily choose burgers at any time of the day. A thoughtfully executed breakfast burger can be a worthy complement to other handheld offerings on your menu while making it distinct from the competition.
TRY THIS
Sunrise Steam Burger: Steamed cheeseburger + fried egg + jalapeño-bacon gravy + Hawaiian bun
Blinner Burger: Breakfast sausage-beef burger blend + white American cheese + hash brown patty + aïoli + maple syrup drizzle + brioche bun
MENU SIGHTING
50/50 Brunch Burger: 50% ground bacon, 50% ground beef, pepper Jack, fried egg, onion strings and hollandaise on a brioche bun
—Hash Kitchen, based in Scottsdale, Ariz.
9
UNCONVENTIONAL CARRIERS
The burger is a reigning handheld, and the flavor, texture and performance of its carrier are critical to the overall dining experience. Exploring different "bread" options can generate interest while uniting the overall burger flavor story and pulling the build together. Offering a nontraditional carrier also differentiates your menu from competitors.
TRY THIS
Green Jacket Burger: Akaushi burger + pimento cheese + fried green tomato + lightly toasted housemade English muffin
Italian Stallion Burger: Italian sausage-beef burger blend + buffalo mozzarella + sun-dried tomato spread + pesto mayo + garlic-Parmesan-encrusted cloud bread
MENU SIGHTING
Our Famous Fritter Burger: Grilled fresh ground beef patty, five-spice bacon, white cheddar, kimchi and Sriracha aïoli, served between Indonesian corn fritters
—E&O Kitchen and Bar, San Francisco
10
CHILI-TOPPED
Double down in serving up premium comfort by exploring next-level chili variations. Topping a burger with a hearty chili—featuring meat, veggies or beans—reliably delivers robust flavors and satiating indulgence. Consider using carne guisada (tender chunks of meat stew slow cooked in rich chile-spiked gravy) as a transformative approach.
TRY THIS
Alehouse Chili Burger: Beer-battered fried beef burger + Cincinnati chili + white American cheese + pretzel bun
Sonoran Guisada Burger: Steak burger + asadero cheese + carne guisada + green chile-avocado relish + ciabatta bun
MENU SIGHTING
Slopper Burger: Choice of elk, bison or black Angus beef patty; served open faced, smothered with your choice of red elk chili or pork green chili on a lightly buttered, toasted brioche bun
—The Creek, Cripple Creek, Colo.