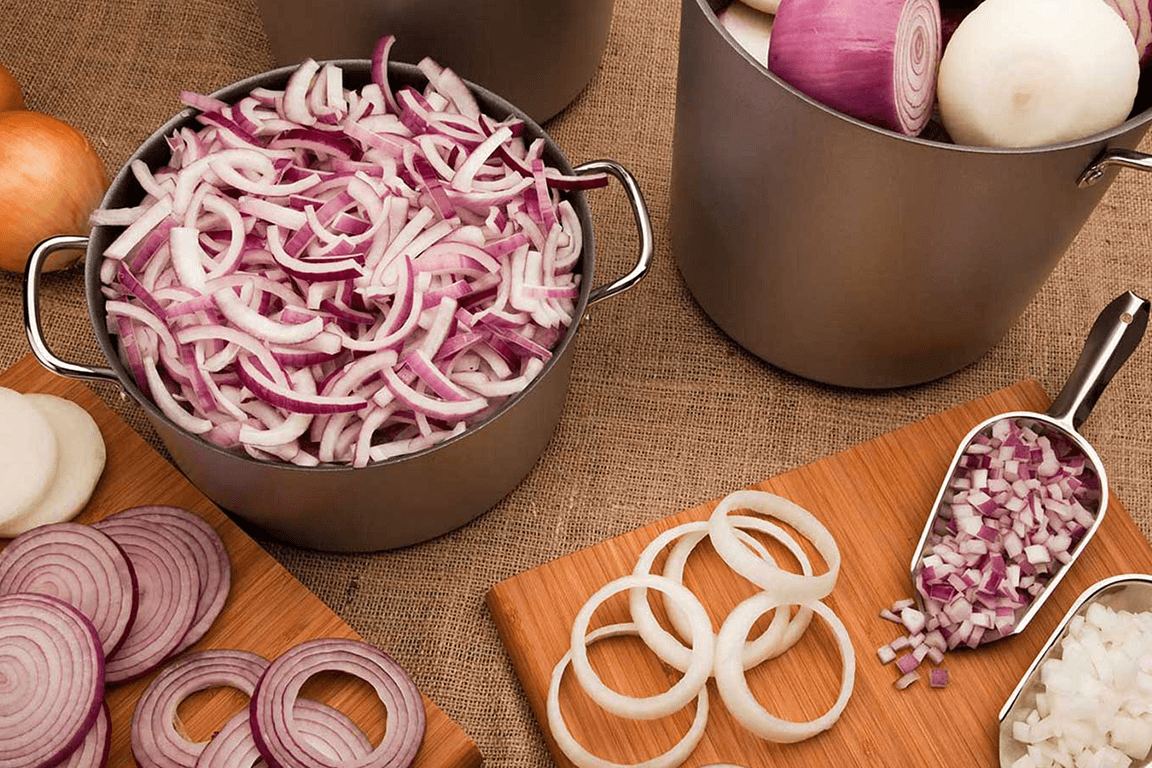 Being dubbed "the workhorse ingredient of a professional kitchen" may be meant as high acclaim for the humble onion, but it's a compliment lacking in flash and flourish. It speaks of admiration, not passion; of reliability, not surprise. Thus, it is a characterization that is at once wholly accurate and unfairly off the mark. Because in the right hands, onions can be the unquestionable star of the flavor show.
Onions serve as the flavor backbone of countless recipes; it's one of a handful of ingredients that truly knows no borders, foundational in the vast majority of regional cuisines across the globe. "Onions are the single most versatile ingredient that I can think of," says Melissa Chickerneo, Corporate Executive Chef, Behind the Scenes Catering and Events. "They bring everything from the sweetness in caramelized onions to the clean, sharp bite of a raw onion. An onion grown with love and freshly harvested can add unmatched umami to a dish. It is my go-to ingredient when I need to create balance or add depth."
Chickerneo identifies an array of preparation techniques and ingredient pairings that influence the flavor contributions that onions, in all their colors, can bring to menu builds:
A sweet yellow onion that has been slow-cooked until the sugars caramelize produces a sweetness and a comforting flavor. These pair well with meaty flavors, such as a seared steak or the beef broth in a French onion soup.
Sautéeing yellow onions on high heat can add just the right amount of depth and texture to a quick-cooking application, such as a stir-fry.
A slow and low sweat of onions can create a strong base that allows other ingredients to shine, such as in a tomato sauce.
A thick slice of grilled red onion produces char and earthiness, along with the highlights of sweet caramelization, delivering a real balance in flavor.
Thinly shaved raw red onions will add a bit of sharpness to a smoked salmon lox, while slightly thicker-cut raw red onions bring crunch and help to cut through the fat of a juicy burger.
Add salt, sugar and vinegar to pickle onions. These can be a refreshing palate cleanser on a charcuterie board, helping you to reset your taste buds.
Across all recipe applications, onions make an impact. Their flavor spectrum ranges from subtle to sharp, quietly pulling some dishes into focus and boldly announcing their presence in others. Remove onions from the narrative, and their absence is felt. But the real opportunity for today's modern menus lies in leveraging onions to their best advantage, producing next-level dishes. Here are three examples of the power of onions in action: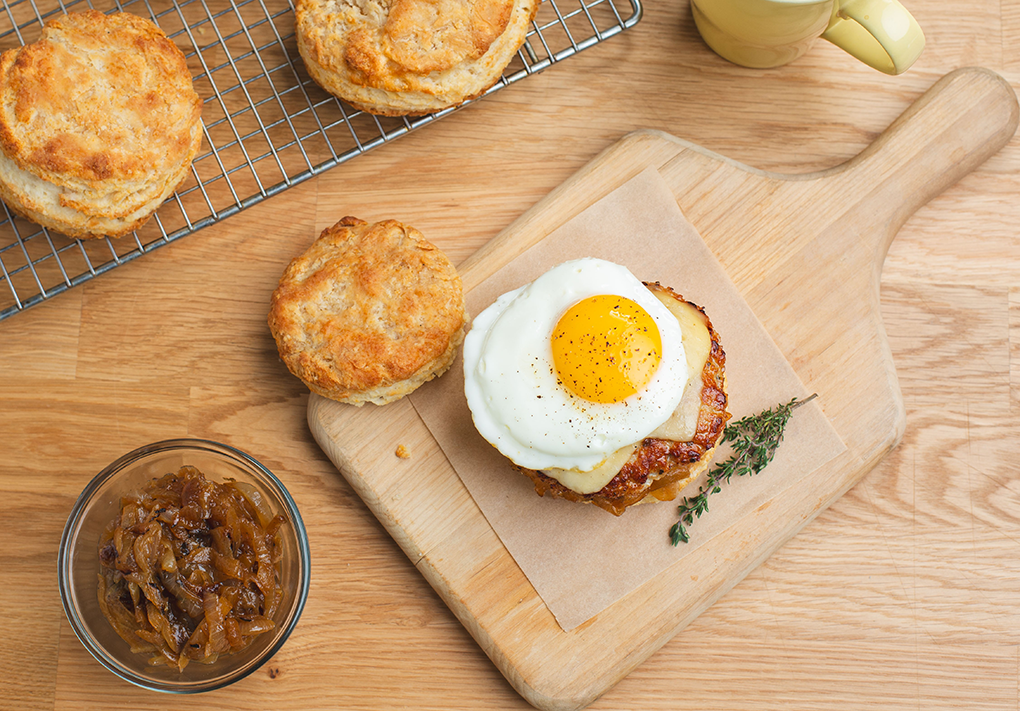 Developed by Chef Melissa Chickerneo, Behind the Scenes Catering and Events, San Diego
"A warm, freshly made biscuit not only acts as a vehicle for the other ingredients, but adds texture with its crunchy browned top and soft, flaky interior. This particular biscuit has the added bonus of being brushed with a toasty brown butter. Homemade fresh pork sausage adds a touch of earthiness and comfort with the addition of fresh sage, a flavor we associate with the holidays. The Maple Sweet Onion Marmalade adds a balance of sweetness and acid to help cut through the fattiness of the egg yolk and Havarti cheese.
"The Onion Marmalade is particularly significant in that maple syrup drives the feeling of a comforting breakfast meal, while white balsamic vinegar and fresh fall herbs elevate the overall dish. Slow-cooked and caramelized onions add a luxurious soft texture to the sandwich. The balance of sweetness from the maple syrup and the reduction of the white balsamic help the cut through the richness of the egg yolk and melted cheese."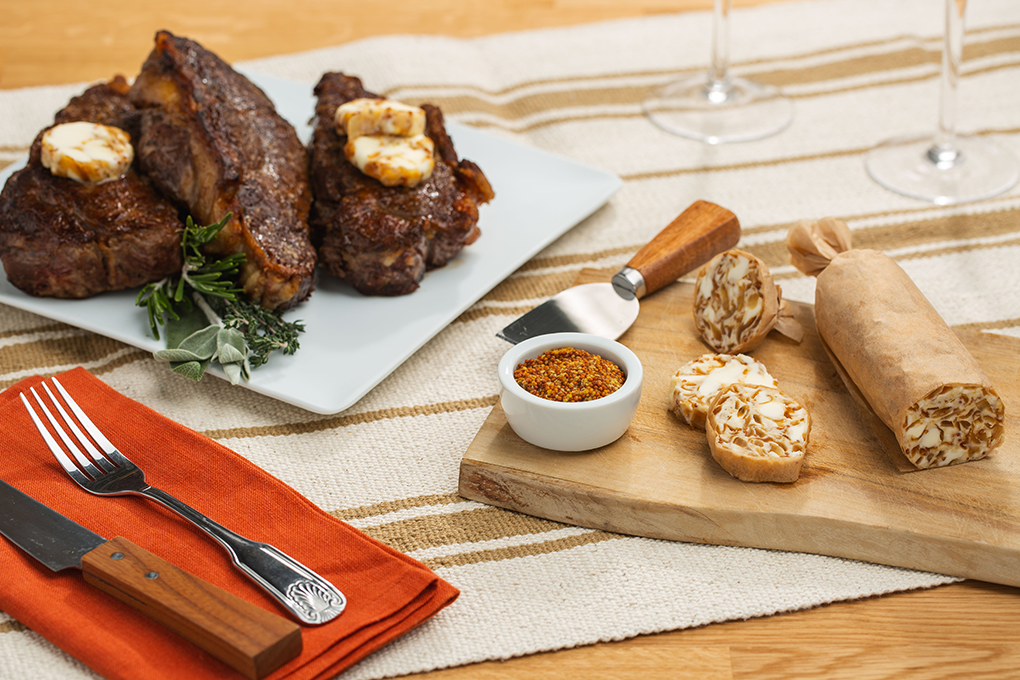 Developed by Chef Melissa Chickerneo, Behind the Scenes Catering and Events, San Diego
"This is a simple recipe that can provide a pop of flavor to another dish, such as a thick-cut, seared steak. I like the contrast of the sweetness of the onions and the slight bitterness of charred sugar. The umami-rich onions are accented with the addition of earthy and vinegary whole-grain mustard. Both the onions and the mustard are blended into rich butter. When melted over a steak, this adds an extra layer of flavor and decadence.
"The quickly caramelized onions used here are unique in that the sugar is developed in the onions. Since it is cooked at a slightly higher temperature for a shorter time, the sugar will actually begin to slightly over caramelize, giving it a bruléed-sugar flavor. This complex sweetness is heightened by the acid in the mustard and then smoothed out with the fat in the butter."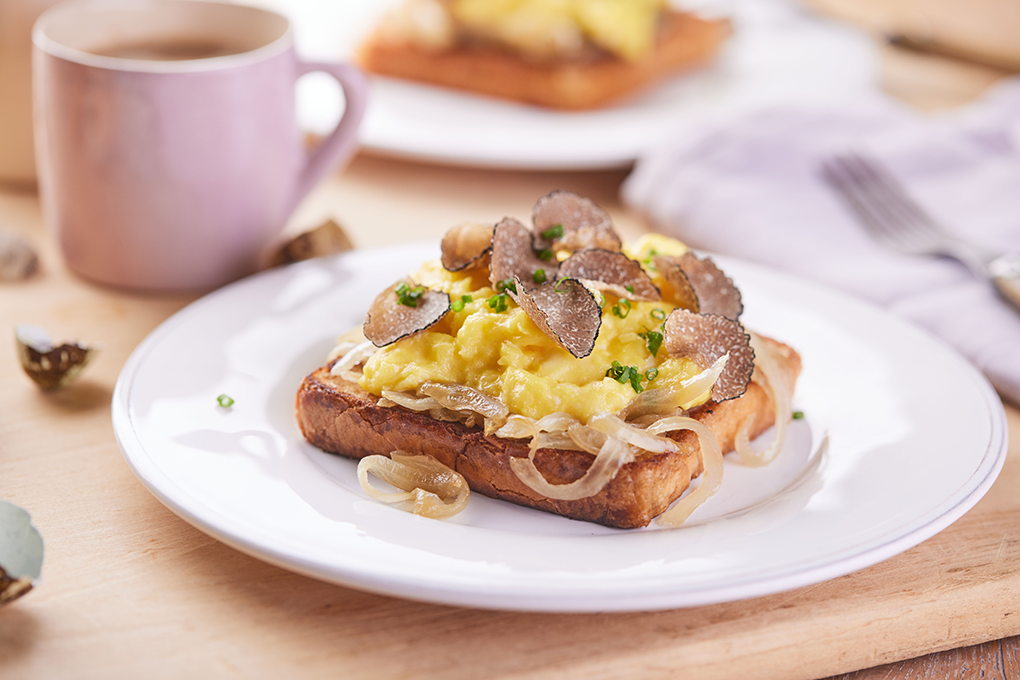 Developed by Chef Cory Morris, former Executive Chef, Lettuce Entertain You Restaurants and Chef de Cuisine, Kimpton Hotels and Restaurants
"This is a dish that relies on minimal, high quality ingredients and solid cooking techniques. It features Texas toast, which acts as a vessel to soak up all the delicious ingredients. The eggs are slow-cooked but not caramelized; I wanted them to bring a savory, buttery note. The truffles add a luxurious note.
"But it's the onions that bring the dish together. The slow-cooking process gives them a buttery texture that mimics the eggs, while accentuating the savory notes from the buttered toast and truffles."
The Right Stuff
It would be short-sighted to source a pantry staple like onions without the same care and forethought you would put into, say, a center-of-the-plate protein. "Onions are a powerhouse vegetable, and I am here to tell you that your onion quality matters," says Megan Jacobsen, Vice President, Sales & Marketing, Gills Onions. "The taste and texture of a great quality onion can truly elevate the flavor profile and appearance of your dish."
Gills Onions provides foodservice customers with sustainably grown onions in several time-saving, quality-enhancing formats, including whole peeled, slivered, sliced, diced and diced pickled. The company's commitment to product consistency, shelf-life and traceability makes it a go-to source for chefs seeking onions that match their culinary vision for modern flavor builds.
To discover more information and menu inspirations and recipes, visit Gills Onions.