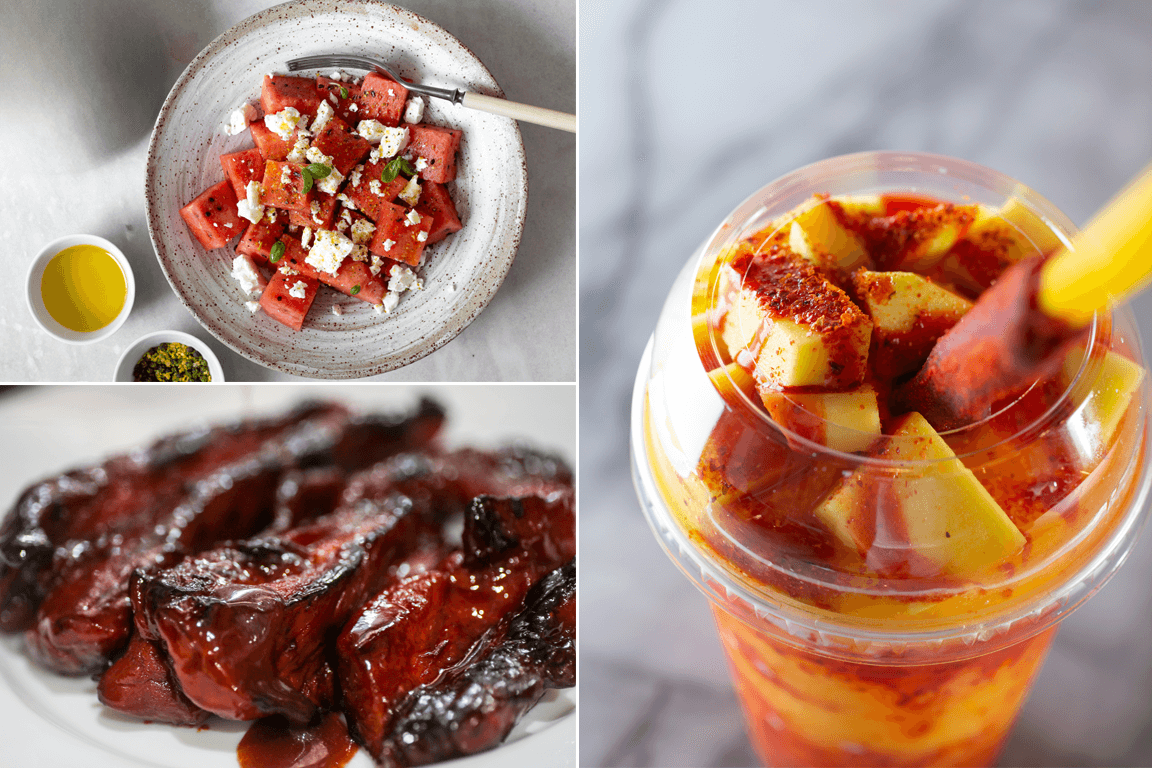 One of the ways operations stay at the forefront of trends is by implementing engaging flavor systems. Tried-and-true flavor systems not only steal the show, but they also increase in value when optimized in newfangled ways. These systems can straddle classic flavors blended with innovations evolving with consumers' tastes over time.
Here we delve into three trending—and proven—flavor systems, providing operators ideas on how to extend them outside of their original concepts: feta-watermelon-mint, char siu and mangonada. The culinary thought starters give each combination a new direction and purpose, transforming the ingredients within and serving as a jumping-off point for other builds. While pressing forward with modern conventions, all ideas are rooted in the spirit of tradition. These flavor systems are loaded with craveable flavors, and are in demand, offering long runway for this type of innovation.
1
FETA-WATERMELON-MINT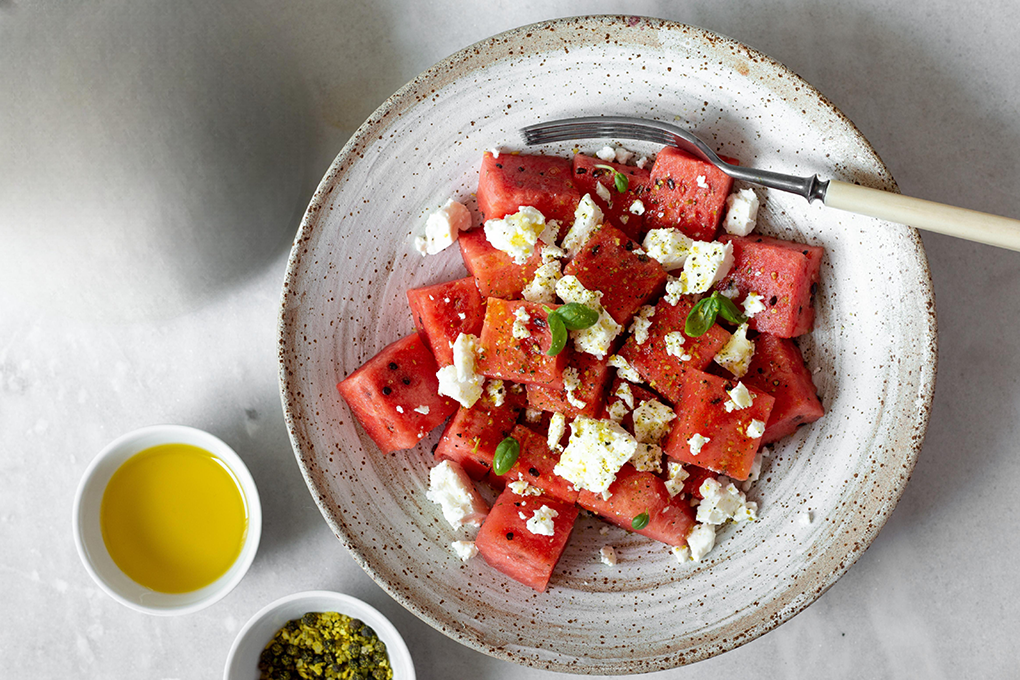 This trio is trending for a reason—the refreshing taste of watermelon, the tangy creaminess of feta cheese and the brightness of mint work together beautifully. Optimize this vibrant trio across the menu utilizing the familiar in new combinations, dazzling guests with the extraordinary.
TRY THIS:
Watermelon Gazpach-oh!: Watermelon gazpacho (red and yellow watermelon, tomato, red bell pepper, cucumber, red onion, Serrano, ginger, red wine vinegar and fresh mint), drizzled with feta crema and garnished with crushed Corn Nuts
Chermoula Feta Dipper: Oven-roasted feta wedge topped with mint chermoula; served with watermelon-bulghur salsa and crostini
Watermelon Mojito: Muddled mint, granulated sugar and lime juice with watermelon juice and white rum topped with ginger beer; over ice with a fresh mint sprig; served with a feta shortbread pinwheel cookie
Summer Fresca Ravioli: Feta and ricotta-stuffed ravioli boiled then pan-crisped with brown butter sauce, topped with pickled watermelon rind brunoise and mint gremolata
Calabrian Watermelon Salad: Cubes of watermelon, baby spinach, mint leaves, torn pita bread and crispy guanciale tossed in Calabrian chile-lime vinaigrette; over whipped feta-pecorino Romano
Additional Suggestions:
Consider these individual treatments as ways to manipulate each of the three elements, then apply them in ways that are signature to your operation:
Feta – fried puffs, breaded-fried cubes, roasted, griddled, crumbled, quiche
Watermelon – fresh sliced, syrup, grilled, agua fresca, vinaigrette, sorbet
Mint – pesto, mint-peppercorn syrup, marinade, minted hot honey, granita
2
CHAR SIU
Pork marinated overnight in savory-salty-aromatic-sweet Chinese barbecue sauce (oyster sauce or red fermented bean curd, soy sauce, Chinese rice wine, garlic, ginger, Chinese five spice, chile powder, honey), then oven roasted or fire grilled with a distinctive, red-colored brilliance.
Barbecue is a perennial patron favorite from which to expand perceptions. Char siu is the ultimate Chinese barbecue comfort food and a great platform for culinary improv. Chefs can innovate and experiment with "non-pork" features via balancing fat to lean proportions, marination ingredient flavors, ratios and hues; style of baste, and level of charred caramelization to craft a signature flavor and lacquer.
TRY THIS:
Char Siu Monkfish: Char siu-marinated monkfish tail is seared then wrapped in thinly sliced pancetta, basted crispy-sticky while roasting then thinly sliced and served over jasmine rice with gingered carrot butter sauce
Tandoori Char Siu Chicken Thighs: Red tandoori yogurt-marinated chicken thigh strips are skewered and fire grilled while being basted with char siu sauce; sticky charred and served with a lemon wedge
Char Siu Oyster Mushroom Bao: Char siu-marinated oyster mushrooms are broiled to caramelized stickiness with charred edges and tender centers, served on a steamed bao bun with crushed cashews and sliced scallion
Char Siu Tofu Banh Mi: Firm tofu marinated char siu style, sliced, griddled and lacquered, served on a baguette smeared with Sriracha vegan mayo, topped with pickled vegetables, shaved jalapeño and cilantro sprigs
Char Siu Thanksgiving Plate: Roasted slices of char siu turkey breast served over Chinese sausage-cornbread stuffing with sesame brown gravy, and sides of whipped potato, sautéed bok choy, spiced plumb-cranberry relish
Additional Suggestions:
Consider these different ways to maximize the char siu flavor system:
"Non-pork" Char Siu – beef, poultry, game, fish, eggplant, cauliflower "steaks"
Use char siu as a marinade and basting glaze, or apply a char siu-style sauce towards the ending of cooking
Combine techniques of red-colored global marinades/glazes in one recipe for complementary flavor depth
3
MANGONADA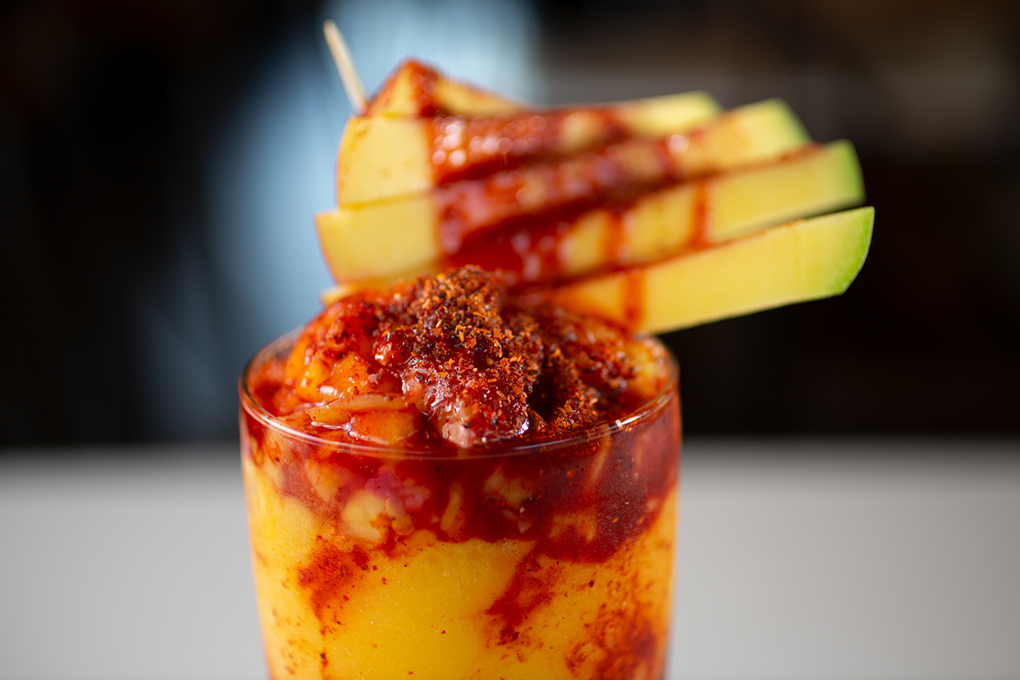 Mangonada's three main components—mango, chamoy and Tajín—are all trending. It's this viability that affords chefs the opportunity of taking the fruit-condiment- seasoning trio out of a luscious chilled beverage format or paleta and into an array of decadently savory or sweetish applications. These components will lend impactful Mexican intrigue to summertime (and beyond) menu selections that are truly irresistible.
TRY THIS:
Chamoy Shrimp Taco: Creamy chayote-celeriac-green mango slaw topped with chamoy-glazed shrimp and queso fresco crumbles in a chipotle-Tajín flecked crunchy corn taco
Mangonada Breakfast Parfait: Layers of fresh-chopped mango and peaches, chamoy and vanilla yogurt, topped with habanero-Tajín flavored granola
Nashville Hot Mango Fried Chicken Sandwich: Nashville fried chicken breast topped with chamoy, with bread and butter pickles on a toasted brioche bun spread with mango aïoli, served with achiote Tajín-seasoned fries
Mexican Baked Apple: Peeled apple half (stuffed with apple-mango-raisin-pepita-piloncillo) wrapped in buttery layers of phyllo dough baked golden crispy, served on a pool of chamoy crème anglaise and dusted with Tajín powdered sugar
Spicy Mangonada Brunch Fries: Basket of curly fries drizzled with chamoy and queso, topped with crisped chorizo crumbles, raw Serrano pepper slices, smoked chopped ripe mango and a Tajín fried egg
Additional Suggestions:
Consider these different ways to maximize the ingredients that make up mangonada:
Mango – use all five ripeness stages and myriad of cuts and preparations
Chamoy – compound butter, glazed sweet potato or winter squash, chamoy harissa, tres leches
Tajín – blend different varieties of chile powder with the Tajín blend