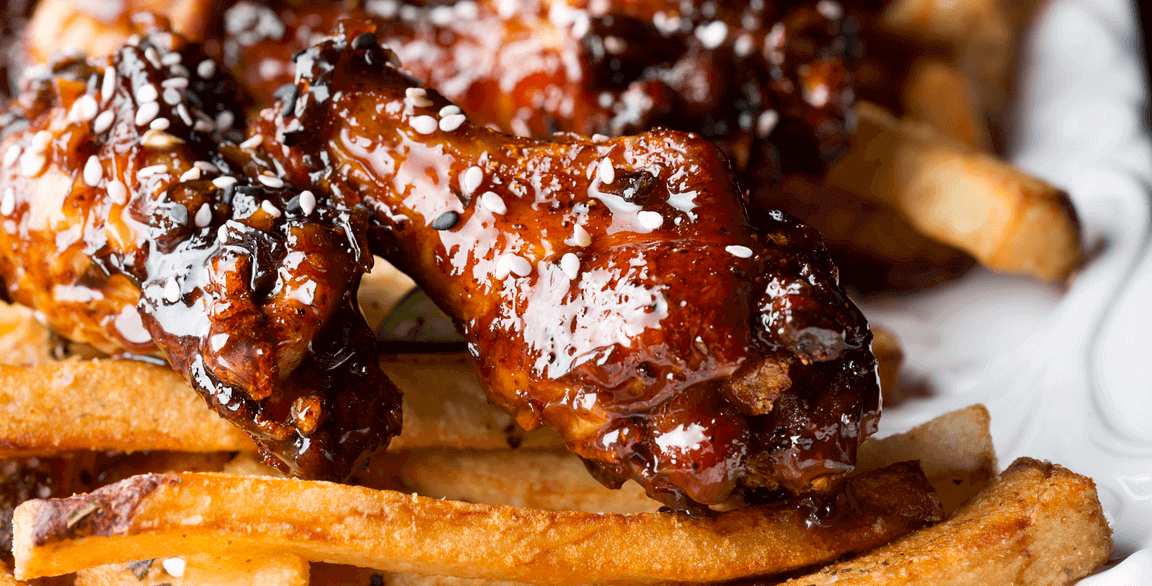 By Rob Corliss
June 14, 2022
Whether wet- or dry-seasoned, or a combination of both (a personal favorite), heat-infused wings are always on trend. Modern takes on boosted flavors find chefs playing with sweet-spicy to savory-spicy to full-on spicy.
Here are five flavor categories for chicken wings that merit attention in menu development, presented with trend-forward ideas that deliver a memorable flavor kick.
1

Winging It
Set craveable flavors all the way to the bone with brining, employing the sous vide method or smoking, paired with inner/outer layers of lively heat applications. Then add textural excitement with the delightfully unexpected via fun coatings or signature preparations.
Hot Smoked Lollis: Smoked and fried chicken "lollipops" + guava barbecue sauce + jerk spice
Chorizo Roaster: Roasted chorizo-stuffed chicken wings + tequila-corn purée salsa verde
2

Hot Dry Rubs
Dry rubs offer patrons a less-mess eating option than sticky sauces, while stimulating the palate differently and dialing up the flavor experience. Dry rubs become even more impactful when a sauced chicken wing is hit with a spicy dry rub dusting, creating layers of mouthwatering heat.
Hot Chaat: Chaat masala + mango powder + dried hot sauce powder
Vermont Cowboy: Jalapeño maple spice + smoky barbecue seasoning + white cheddar cheese powder
3

Fruitful Heat
Fiery fruit-laced wing sauces cue up younger consumer preferences for up-and-coming sweet-heat tastes. Pairing tropical or stone fruit notes with trending hot ingredients delivers sought-after smooth, yet blistering heat-sweet complexity.
Burning Sweet: Charred pineapple glaze + peri peri sauce + brown butter
Habanero Jammer: Apricot jam + habanero + minced roasted yellow bell pepper
4

Creamy Heat
Dipping wings in creamy heat-spiked sauces is an indulgent sensory experience, providing a rounded depth of flavor. Global spice blends and bold chiles cut through the richness, creating "Wow factor!" spicy-cooling counterplays.
'Bama-Japan: White Alabama barbecue sauce + togarashi spice
Hot Italian: Limoncello aïoli + Calabrian chile flakes
5

Infused and Thick Buffalo Style
Vibrant Buffalo-style sauces are a core wing flavoring, which becomes a safe and ideal platform for introducing new flavor iterations. Charismatic additions fuse bigger and bolder flavor, as well as thicker viscosity into Buffalo profiles.
Miso-Beer Buffalo: Buffalo sauce + white miso paste + Asahi Super Dry (Japanese beer) + yuzu powder
Garlic Truffled Buffalo: Buffalo sauce + black truffle oil + roasted garlic paste + smoked paprika