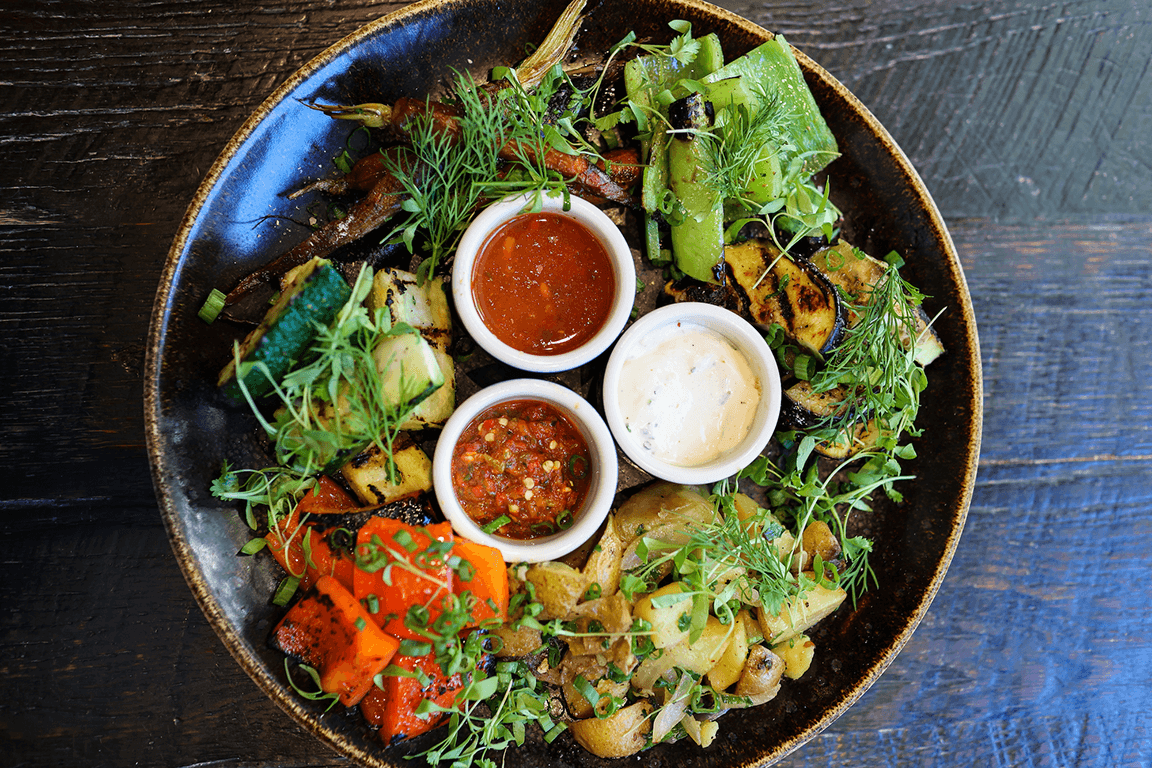 All In With Ajika
This Georgian condiment is poised to make moves on American menus
All In With Ajika
This Georgian condiment is poised to make moves on American menus
By Rob Corliss
September 12, 2023
By Rob Corliss
September 12, 2023
Ajika (also spelled adjika) is a cornerstone flavoring in Georgian cuisine. It's a spicy sauce-like condiment with a pesto-like consistency, and is typically comprised of hot red chile (like Fresno or Aleppo pepper), sweet red bell pepper, smoked paprika, garlic, blue fenugreek, coriander, sea salt and dried marigold petals. It embodies complex flavor notes of garlic pungency, saltiness, earthy, floral bitterness with subtle sweetness and lingering peppery heat. Eastern European variations add tomato, carrots and green apple, along with a combination of garlic, cayenne and red bell peppers, making it more like a Balkan ajvar. Ajika is available in sauce, paste or granulated seasoning form.
Ready for Primetime
Although the Caucuses may not garner the culinary spotlight like other global regions, proactive menu developers are always on the lookout for the next craveable condiment. As ajika charts its course through the inception level of a new flavor trend, operators should take early note of its potential for a future menu development role. It could be positioned much like harissa or gochujang and gochugaru, utilized in similar fashion across the menu elevating dishes, no matter the ethnicity.
Its "foreignness" is likely fading quickly, thanks in large part to grocery stores like Trader Joe's, which has capitalized on ajika's craveable flavor profile, carrying an ajika seasoning blend and bringing flavor forward global adventure directly into home cooking. Tabla, a fast casual in Washington, D.C., that features popular dishes from the Republic of Georgia, provides a foodservice road map of how to showcase both red ajika and green ajika (a milder version starring green bell peppers) across the menu. The approachable nature demonstrates how this emerging chile-spiked condiment can balance familiar tradition with contemporary finesse.
Ajika on the Menu at Tabla:
Tabla's Game Day Special – Mix or match three of Tabla's famous cheesy breads with 15 honey ajika wings
Pork Mtsvadi – Pork grilled on the skewer, red onion salad, green ajika, on khachapuri-dough flatbread
Chicken Tapaka Sandwich – Chicken thigh cooked under a weight to make it extra-crispy, served on khachapuri-dough roll with pickled peppers, salad greens, red onion, and ajika-spiced mayo
Chicken Tapaka with roasted red ajika
Grilled Seasonal Veggies – Georgian-spiced asparagus, peppers, carrots, zucchini, with red ajika, satsebeli (Georgian tomato sauce), Kakhetian guda cheese sauce
Lobio Trio – Three-bean salad of red beans, green beans, chickpeas, goat cheese, green ajika
Ajika Carrots – Roasted carrots, green ajika, Georgian-spiced yogurt sauce, walnuts, pomegranate
Georgian-Spiced Fries – Kakhetian guda cheese dressing, fresh basil, ajika ketchup
Cheese Board – Housemade sulguni cheese, imported smoked sulguni, imported Kakhetian guda cheese, dried fruits, walnut with ajika honey
Lamb Burger – Lamb burger with fennel and roasted pepper, cheese and green ajika mayo
Here we further impart inspiration on ajika's potential to elevate the menu, in its original sauce/dip form, as a spread or flavoring.
5 WAYS TO USE AJIKA
1
APPETIZERS
TRY THIS
Ajika Crispy Shrimp Bites: Granulated red ajika-panko breaded fried shrimp + creamy citrus dipping sauce
Fried Pickles With Ajika Ranch: Buttermilk golden-fried pickles + green ajika-ranch dressing
Mini Fajitas (Ajika Style): Grilled red ajika marinated flank steak slices + charred peppers/onions + avocado crema + mini soft flour tortillas
2
BURGERS/SANDWICHES/TACOS
TRY THIS
Ajika Smashed Burger: Double beef smashed patties + white American cheese + red ajika ketchup + green ajika mustard + potato bun
Ajika Fried Chicken Sandwich: Crispy spicy fried chicken breast + leaf lettuce + pickles + red ajika aïoli + brioche bun
Oh My Cod: Tempura-battered cod strip + red ajika tartar sauce + shredded lettuce + crispy corn taco shell
3
SOUP/STEW FLAVORING
TRY THIS
Ajika Hot and Sour Soup: Gingered-pork broth + whisked eggs + shiitake + tofu cubes + scallions + red ajika
Ajika Butternut Squash Bisque: Roasted butternut squash-apple-onion bisque + red ajika-date syrup drizzle
Ajika-Mexican Stew and Mashers: Red ajika beef guisada + mashed potatoes
4
VEGETABLE/STARCH FLAVORING
TRY THIS
24K Carrots: Roasted carrot purée + sorghum swirl + ajika seasoning sprinkle
Red Hot Hash Browns: Roasted Idaho potato chunks + red ajika paste + griddled green bell peppers and red onions
Hot Ajika Barbecue Beans: White beans tossed in red ajika-barbecue sauce + crispy shallot topper
5
SAUCE/SPREAD
TRY THIS
Georgian Cheese Trio Pizza: Brick oven-style pizza crust + ajika-tomato sauce + mozzarella-provolone-Parmesan cheese
Ajika Alfredo Pasta: Penne pasta + roasted red ajika-Alfredo sauce + chopped grilled chicken breast + chopped curly parsley
Southern Charm Charcuterie: Shaved Virginia ham + kielbasa slices + white cheddar cheese slices + mini cornbread muffins + fresh honeycomb + ajika-pimento cheese dip + 'Bama sauce