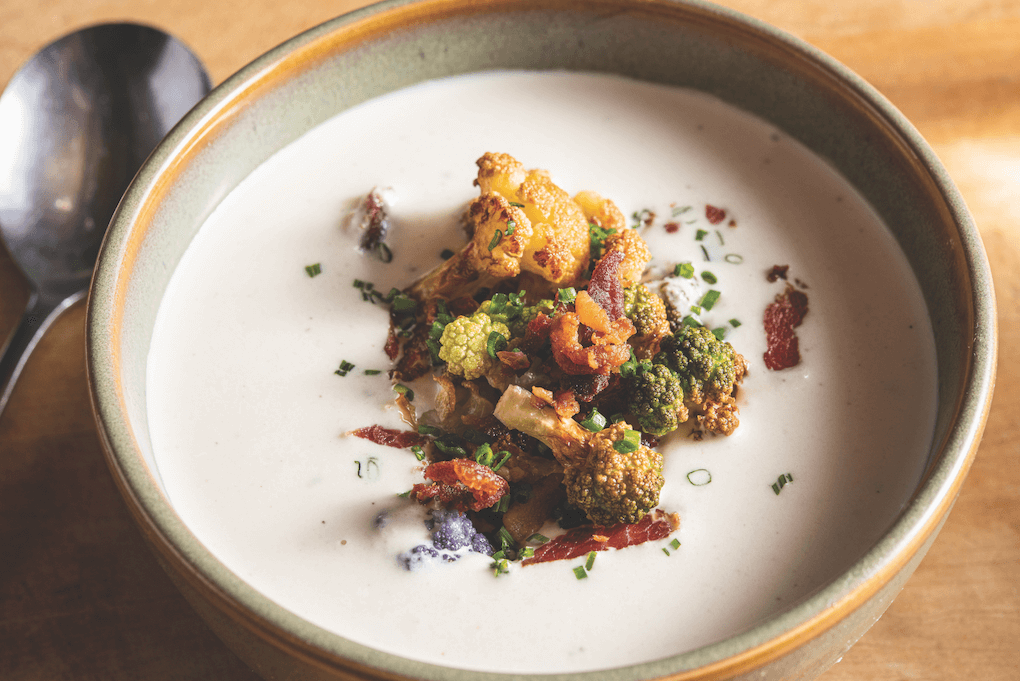 Brown butter is an elegant ingredient with transformative powers. It introduces a roasted flavor, toasty aroma, silky mouthfeel and deep complexity. Of course, browning butter is not a new technique and, although exacting, the method is not complicated. Professional kitchens and bakeries have employed it for centuries. But today, chefs, pastry chefs and beverage directors across the country are calling on this classic butter sauce to bring dimension and differentiation to modern menu development. They're using it in surprising ways to enrich flavor, balance assertive ingredients, provide textural play and lend premium positioning.
"First of all, when you find a means to add a flavorful fat to a recipe, you are well on your way to creating a tasty product," says Charlie Baggs, president/executive chef, Charlie Baggs Culinary Innovations. "Brown butter's nutty taste, with its slight sweetness and saltiness, is delightful. The aroma provides a level of comfort that warms the soul." These qualities alone are enough to move a classic back into standard rotation, but elevation and innovation are the name of the game today. "For high-volume foodservice operations, utilizing brown butter can alter an otherwise well-known recipe into something new and exciting that consumers want to try."
A STAR TURN
Today, brown butter is making a showing as a high-impact ingredient, following in the footsteps of trending flavors like black sesame and chimichurri. At Peruvian steakhouse Platea Miami, the Pan-Seared Sea Bass with tomato-panca ragù is finished with a brown butter and lemon foam, giving it a signature flourish. "The brown butter adds a subtle sweetness and rich, nutty flavor," says Fernando Salazar, executive chef. He first thickens the brown butter with xanthan gum, then introduces air into it. "This results in a coarse and wet foam that is on the lighter side," he says. At The Kitchen American Bistro, an upscale bar and bistro with locations in Chicago, Denver and Boulder, Colo., Grilled Oysters are served on the half shell in a pool of brown butter, a nontraditional pairing that works brilliantly.
On the sweet side of the menu, brown butter can comfortably replace plain butter in many desserts, snacks and treats, serving up both rich flavor and menu cachet. At The Salty Donut, a concept with locations in Texas and Florida, the Brown Butter and Salt Donut sees a vanilla bean cake doughnut topped with a brown butter glaze and a sprinkle of Maldon sea salt. The West Bean coffee shop in San Diego upgrades coffee cake to a brown butter-espresso muffin.
Texturally, brown butter is taking shape, too, lending its rich caramel tones to savory crumbles and sugary crisps. At Mallebar Brasserie in Plymouth, Mass., an entrée of wild salmon is served with vichyssoise and tomato salad, along with a crunchy counterpoint of brown butter tomato crumbs. The eclectic Eszett in Los Angeles finishes its dessert combination of mascarpone ice cream and sherry-poached Honey Punch pluots with a sesame-brown butter crumble.
UNEXPECTED APPLICATIONS
Menu developers are also cleverly using brown butter to unlock the full potential of some of today's most prevalent ingredients. "Brown butter's ability to accentuate rather than overpower other flavors makes it nimble and versatile in menu development," says Rob Corliss, founder of ATE (All Things Epicurean).
Some of the most exciting menu development today sees brown butter partnering with umami-rich ingredients. Barbareño, a modern Californian restaurant in Santa Barbara, Calif., menus a New York Strip with brown butter miso, shiitake, Okinawa (sweet potato) gnocchi and Solminer Rubellite wine. "You typically just baste a steak in butter, herbs and garlic, but I wanted to punch up the umami, so once the butter browns, I add miso to the pan and continue basting it," says Preston Knox, chef de cuisine. He then introduces red wine, herbs, garlic and mushrooms and brushes the brown butter-miso glaze over steak before service. "The miso and brown butter are amazing together," says Knox. "You get this come-back-for-more flavor." Stephanie Izard also pairs brown butter with miso, adding it to aïoli and serving it with hamachi crudo at Girl & the Goat, which menus global flavors at its locations in Chicago and Los Angeles. The Braised Short Rib at fine-dining restaurant Donahue in Washington, D.C., features brown butter, koji purée and carrot. And at globally influenced, New York-based seafood chain Catch, the MRC Roll, with seared tuna, shrimp and avocado, is served with ponzu brown butter.
PLANT-FORWARD GETS RICHER
It's not a difficult case to make: Butter makes most everything taste better. It reliably goes a step further, bestowing a luxe glow of occasion on other ingredients. "Featuring brown butter is a really easy way to add value, especially to vegetable-centric dishes," says Steven Goldstein, founder of FoodThinque. "There's actually not a vegetable out there that doesn't do better with brown butter on it, you know?" The mounting evidence makes that argument hard to counter.
The Roasted Brussels Sprouts at WoodWind, a contemporary American restaurant in Chicago, is served with a brown butter skordalia. "We use brown butter in two applications on this dish," says Alex Cabrera, executive chef. "The first is in the pan-roasting process, when we sear the Brussels sprouts in a super-hot pan with butter, salt and pepper. The second application is in the skordalia sauce. I use the brown butter to give the sauce a velvet-like sweet and savory mouthfeel reminiscent of a rich caramel. The brown butter also adds a nutty, bold flavor to the ingredients. Brussels sprouts with some form of a nut or nut flavor is a must, so the pairing is perfect."
At Workshop Kitchen + Bar, which specializes in inventive California cuisine with locations in Los Angeles and Palm Springs, Michael Beckman, chef/owner, serves an appetizer of Honeynut Squash with tamarind-brown butter ice cream, pomegranate jus, Hearts on Fire sorrel and caviar. "You get the uniqueness and flavor intensity of squash with the richness of the brown butter and the salinity of caviar," says Beckman. "It's a conversation starter, and people love it when they try it; it's unexpected."
NEXT PSL?
Reaching for the crown long-claimed by pumpkin spice latte remains a fool's errand, but striving for heir apparent is a worthy aspiration. Brown butter, whether served in non-alc, boozy, hot or cold beverages, is a gamechanger. It's both nostalgic and comforting, yet progressive and adventurous.
"The newest niche for a classic French butter prep would seem to be the most trend-forward in the hot beverage and cocktail space," says Liz Moskow, principal/futurist of Bread & Circus consultancy. Examples abound across the country. Aslin Coffee in Washington, D.C., menus an Orange-Cardamom-Brown Butter Latte that can be served either hot or cold. At Martiny's, a Japanese-style cocktail lounge in New York, bartenders mix warming chai with brown butter-washed whiskey for the Potter's Old Fashioned. "Brown butter lattes, brown butter toddies—as we seek the next PSL holy grail, brown butter seems poised to become just that, adding nutty flair to coffee preps and just the right touch of bougie-ness to an upscale café menu to make it successful," says Moskow. "Add a crumble of a brown butter streusel or even boost the PSL with a brown butter float—because with butter in any form, it's just pure decadence and deliciousness."