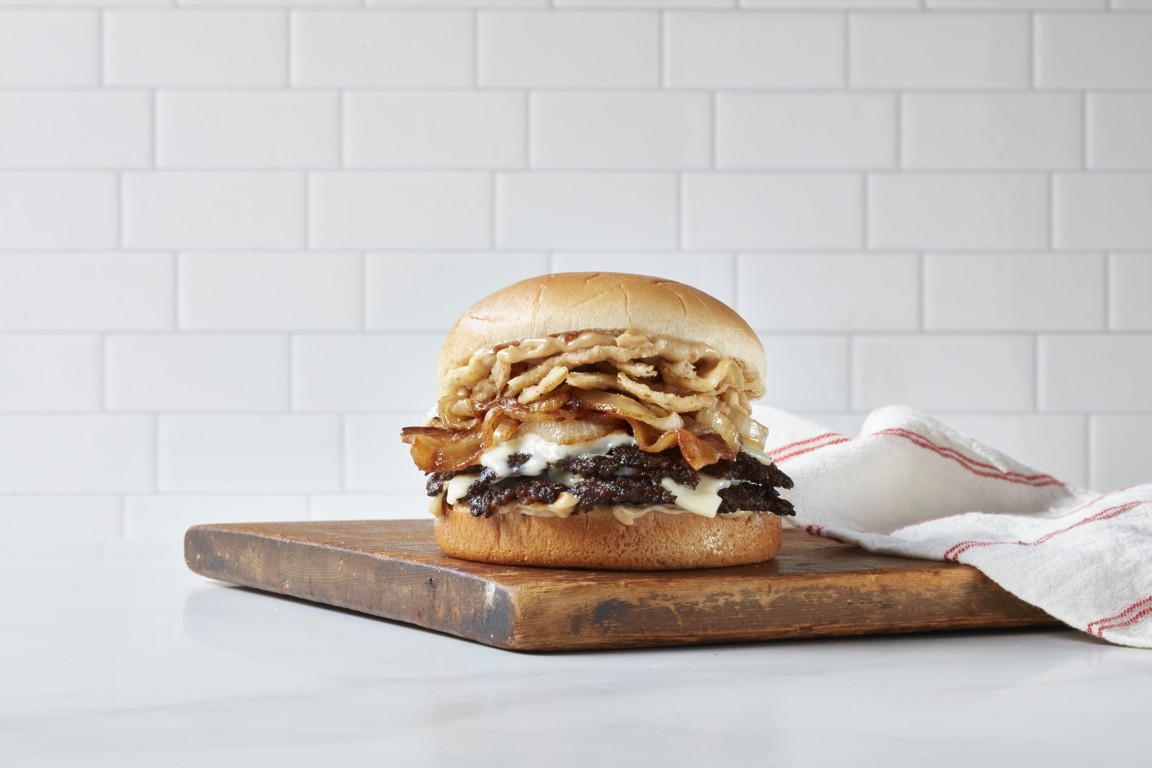 By Flavor & The Menu
February 24, 2023
What do Philly cheese steak, bruschetta and churros have in common? All have made the leap from menu items to flavor systems, inspiring everything from Philly cheese steak egg rolls to bruschetta pasta to churro milkshakes. The latest dish to join that illustrious lineup is French onion soup, which has moved far beyond its comforting roots and is now inspiring a range of innovative offshoots, even jumpstarting a viral TikTok trend that has Gen Z recreating one-pot French onion soup pasta in their home kitchens.
Lon Symensma, chef/co-founder of Denver-based ChoLon Restaurant Concepts, was one of the early movers in reimagining French onion soup with his now-famous French Onion Soup Dumplings filled with sherry-infused broth, sweet caramelized onions and melty Gruyère cheese. The opportunity for taking apart the elements of this classic, craveable soup and building them up into something new is boundless: consider the appeal of a French onion turkey pot pie, flatbread, pasta, savory bake and so on.
When Ralph Desiano, founder of Naples Flatbread Kitchen & Bar in Estero, Fla., decided to add a Mac N Cheese Mania category to the concept's menu, he didn't have to look far for inspiration. "We try to cross-utilize a lot of our ingredients," Desiano says, which in this case meant using the onions from the concept's French onion soup in a mac and cheese build, topping it with two slices of provolone to mimic the gooey soup topper and a few croutons for crunch. "It's pretty simple and incredibly delicious," he says. "It has a cult-like following."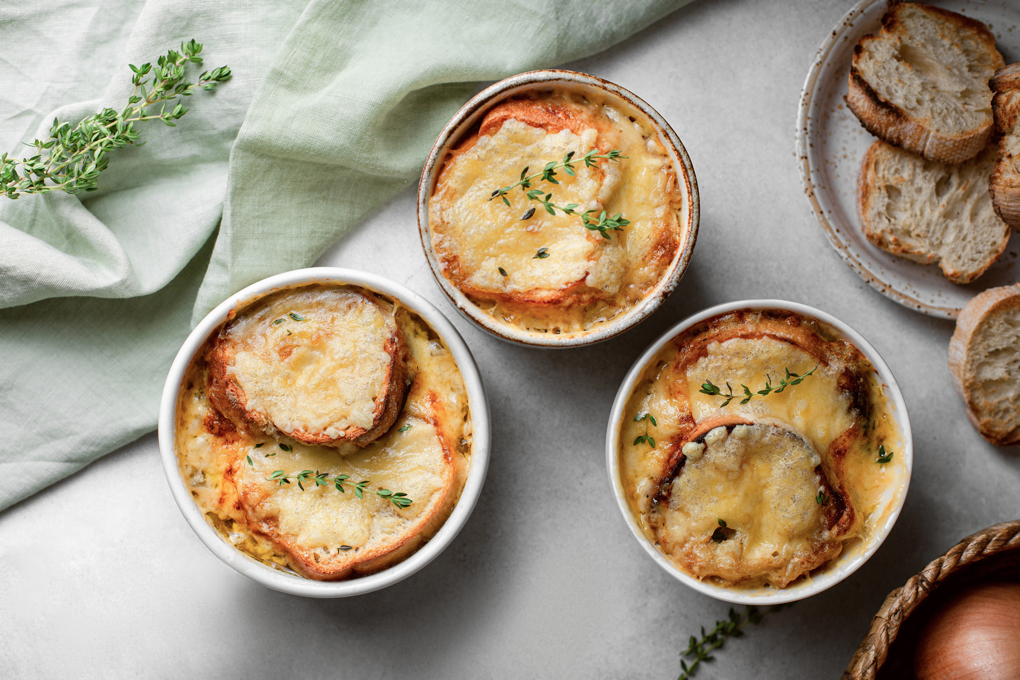 Burger Bonanza
Burgers may be the go-to platform for menuing French onion soup as a flavor, with onions and melty cheese already being a burger staple. At fast-casual chain Freddy's Frozen Custard & Steakburgers, based in Wichita, Kansas, the French Onion Steakburger LTO was introduced in late 2022. It performed so well that the chain kept it on the menu for another six weeks. When developing the burger, the goal was balancing bold flavors with differing textures. It starts with the 100 percent lean ground beef and applewood bacon, adds creamy melted Swiss, and finally, onions are featured three ways: crispy onion, caramelized grilled onions, and in a French onion sauce.
Paul Denamiel, executive chef and owner at New York's Le Rivage has won accolades for the French Onion Soup Burger, featuring Gruyère, creamy béchamel and confit onions, all served on a classic Thomas' English muffin. To date, it's the only burger to win "Judges' Choice" twice at the New York City Wine & Food Festival Burger Bash.
Also in New York, Gus's Chop House in Brooklyn, N.Y.'s Carroll Gardens took inspiration from French onion soup—a steakhouse appetizer classic—to flavor its Bo Bo chicken, serving the crispy-skinned, head-on, feet-on bird over French onion jus. "The French onion jus under our Bo Bo chicken starts with caramelized onions and fortified stock," says Chris McDade, chef/co-owner. "The stock is then spiked with port, vermouth and sherry. After a handful of thyme and a healthy splash of a stealth ingredient—fish sauce for added umami—the stock transforms into a super savory jus that is perfect for our Bo Bo Chicken."
At The Loyalist, a gastropub hidden under Chicago's Michelin-starred Smyth restaurant (and helmed by the same team), classic French dishes regularly provide inspiration for creative menu items. That's true of the Éclair D'Oignon, or French Onion Éclair, that has become a mainstay on the snack menu. The classic French eclair starts with pate a choux, which is filled with Gruyère whipped cream. And to literally top it all off—a mountain of finely shaved mimolette cheese, nearly hiding the éclair underneath.
It's proof that, on today's menus, French onion soup is thinking outside of the bowl.