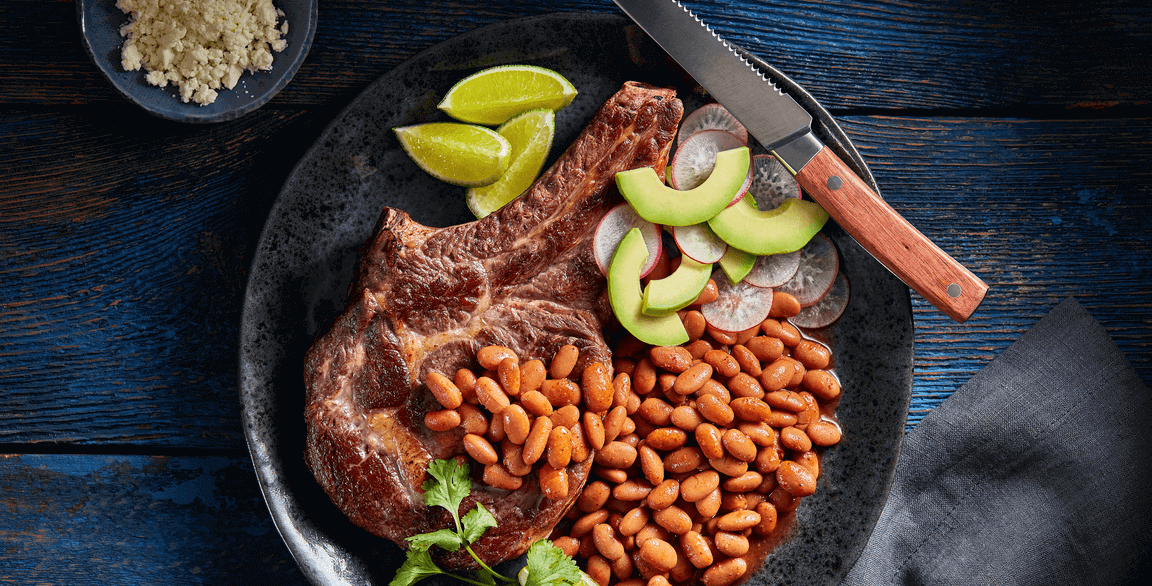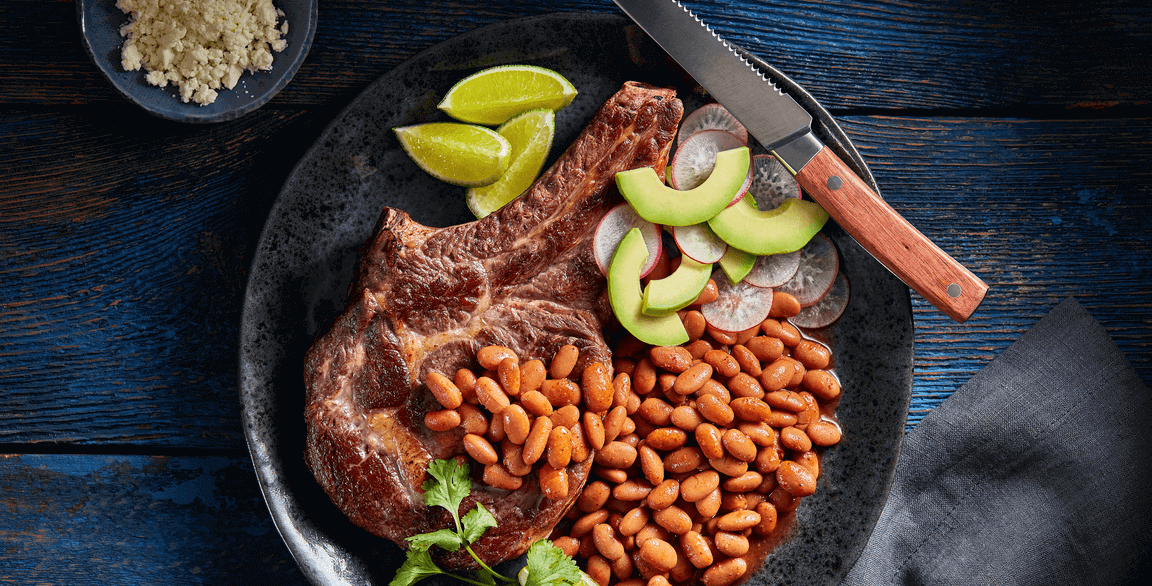 Sous Vide Ribeye with Texas Ranchero Beans
Recipe courtesy of Chef Jenn Sheppard
Sponsor: Bush's Best
Servings: 8
Ingredients
4 ribeye steaks, 1 ½ in thick, fat trimmed
2 tsp kosher salt
1 tsp fresh black pepper
6 Tbsp blended oil
2 Tbsp butter
4 c Bush's Best® Easy Entrees™ Texas Ranchero® Pinto Beans
1 lime, cut into wedges
1 avocado, sliced
4 Tbsp Cotija cheese
¼ c cilantro
¼ c thinly sliced radishes
Directions
Place each ribeye into an individual food-grade plastic bag. Season each steak with ½ tsp salt, ¼ tsp pepper and 1 Tbsp blended oil.
Vacuum seal each bag to remove the air from the pouch.
Set a sous vide circulator to 132 degrees F, place bags in water bath and cook for 2 hours. Remove bags from water bath and immediately chill in an ice bath./li>
To serve, heat a pan on high heat until smoking. While pan is heating up, prepare a steak. Remove from the pouch and pat down with a towel to remove excess moisture. Coat the steak in ½ Tbsp oil.
Sear the steak for 60 seconds on each side. Turn down heat, add ½ Tbsp of the butter to the pan, and baste the steak. Remove from heat and let it rest.
Heat the beans in a sauté pan and serve 1 cup with each steak. Garnish with lime wedges, avocado, 1 Tbsp cheese, 1 Tbsp cilantro and 1 Tbsp radishes.
Chef's Notes
A sous vide ribeye is the ultimate dinner showstopper, but everyone knows that side dishes are everything. This is why I made sure these flavor-packed beans with Tex-Mex garnishes are on the forefront of this dish.brine and save it for adding bright notes of flavor to other savory dishes.
Project Management: Summit F&B
Photography: Carlos Garcia // Food Styling: Peg Blackley & Bree Williams