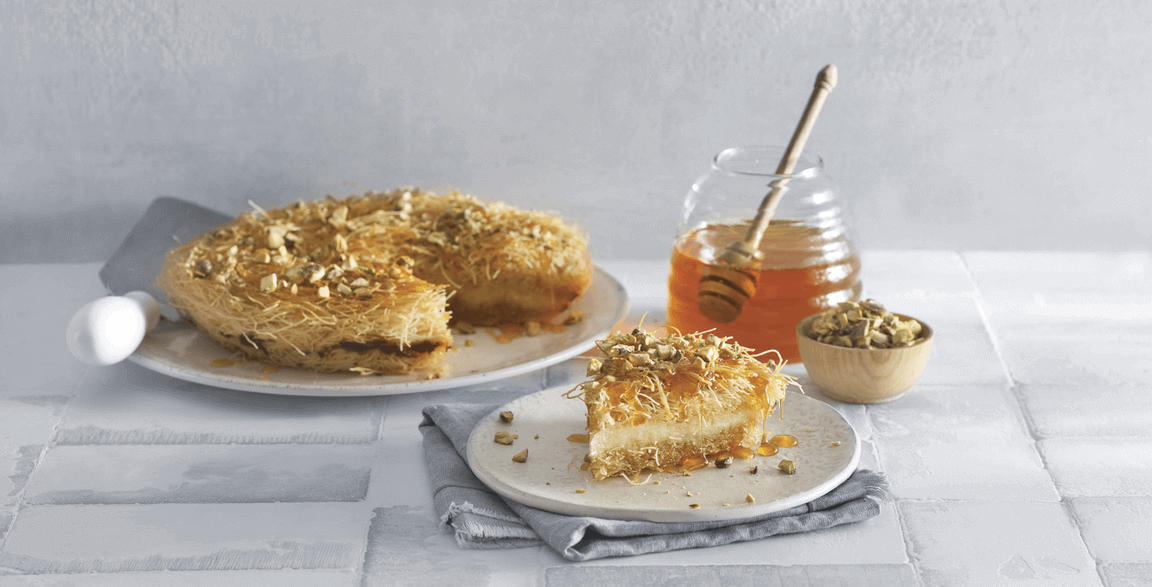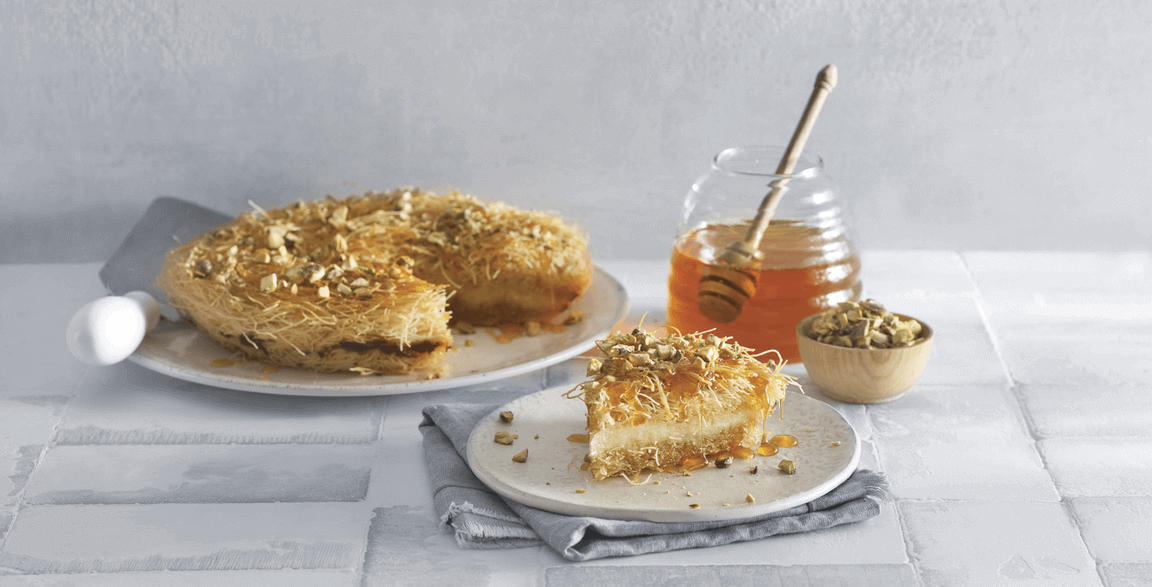 Kunefe with Orange Blossom Honey Syrup
Recipe courtesy of Chef Jenn Seppard
Sponsor: National Honey Board
Servings: 8
Ingredients
1 c orange blossom honey
½ c water
1 Tbsp strained orange juice
5 oz clarified butter
8 oz kadaifi (shredded phyllo dough)
10 oz shredded mozzarella
1/3 c pistachios, roughly chopped
Directions
Combine the honey, water and orange juice in a small saucepan. Bring to a boil, then turn off the heat. Set aside and allow the syrup to cool completely.
Prepare a round cake pan by coating it liberally with 1 Tbsp of the clarified butter. Preheat the oven to 400 degrees F.
Layer half of the shredded phyllo dough evenly on the bottom of the pan. Press down to compact. Sprinkle on the mozzarella evenly and press down to compact. Sprinkle the remaining phyllo dough on top and press down to compact. Drizzle the remaining clarified butter on top.
Bake for 25 minutes, or until evenly golden brown on top.
Immediately after removing from the oven, ladle 1 cup of the orange blossom honey syrup over the of the pastry, allowing the syrup to soak in and caramelize on the edges of the pan.
Sprinkle the pistachios on top.
Cut into slices. Serve with an additional drizzle of honey syrup.
Chef's Notes
This cheesy pastry is good as-is, but the orange blossom honey syrup is the true star here, as it transforms the dish into a naturally sweet dessert. It is so satisfying to watch the honey syrup absorb into the pastry and sizzle around the edges of the pan as you pour it over the dish.
Traditionally, Turkish cheeses such as kashar are utilized in this dish, but mozzarella works perfectly. Any low-sodium melting cheese will work well here.
If using sheets of phyllo dough to create your kadaifi, cut thin strips by hand with a chef's knife, as a food processor tends to damage the long strands of dough you are looking to achieve.
Project Management: Summit F&B
Photography: Carlos Garcia // Food Styling: Peg Blackley & Bree Williams