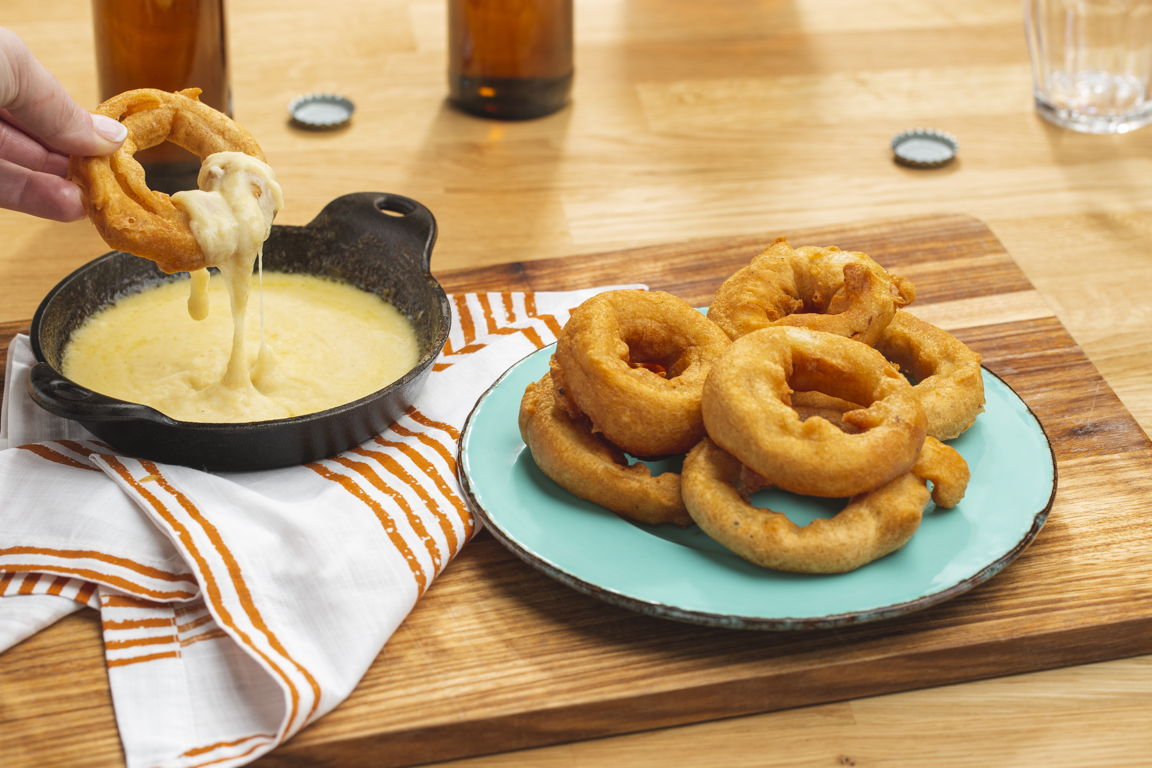 It's easy to depend upon the enduring popularity of onion rings, choosing to do little, if anything, to tinker with the basic recipe that has served you well for years. After all, onion rings naturally ride high on the craveability scale, beloved for the way their crispy, crunchy exterior leads to a sweet, savory, toothsome interior. But if you're only leaning on the tried and true, and not leaning in to take full advantage of the natural affinity consumers have for onion rings, you're missing out on valuable opportunities to fire up your menu.
Onions rings present chefs with an attractive gateway to easy but impactful innovation. Minor modifications can lead to memorable differentiation, giving your operation a competitive advantage with signature takes that don't mess with success. Here are five areas of inspiration to explore:
1
Thickness
Arguably the easiest way to change up your onion rings is to simply increase or decrease the thickness of the onion slice. Or dispense with uniformity and deliver a variety of sizes with each order.
2
Batter Base & Seasonings
Simple swaps to the ingredients of batters and dredges that will coat the onions can deliver a virtually endless array of new flavor profiles and textures for your onion rings. Almost anything goes, as you explore the variables found in both wet and dry ingredients. Have you been relying on a buttermilk or beer batter? Consider a cider-based batter or one spiked with tequila. A tempura-style batter lends a lighter coating giving the onion a greater showcase, while breadcrumbs dial up the crunch factor. Swap wheat flour for chickpea flour or quinoa.
Crank up the heat with hot sauce in your batter for Nashville Hot onion rings, served with a honey drizzle, suggests Michael Ponzio, Executive Chef, Union League Club of Chicago. "It's an amazing vegetarian option that is sweet, spicy and has great texture."
There's no rule that onion rings must be fried, and Ponzio suggests bypassing the batter altogether. "Wrapping the onion slices in bacon and cooking them on the smoker or in an oven with a barbecue glaze can be an amazingly flavorful addition to a burger or chicken sandwich."
3
Dips, Dusts and Drizzles
Start your signaturization by focusing on finishes. Trade Buffalo dip for a cheesy fondue, double down on onion flavor with a french onion dip, swap honey mustard for mustard cream. You can even play with fan favorite ketchup by using a spicy rendition or leaning on the juicy sweetness of banana ketchup.
"Use a cornmeal batter and add Old Bay seasoning as a dust for an onion ring that evokes a fish fry," suggests Ponzio. For an upscale take, he recommends tossing the freshly fried onion rings with shredded parmesan and serving them with a truffle aioli. Another idea is to drizzle the rings with a mix of Tabasco sauce and fresh lime juice. "The spice and acidity pair beautifully with the fried breading and the onion's sweetness," Ponzio notes.
Dusting with spice blends like dukkah, togarashi, garam masala, gochugaru, baharat and Chinese 5 spice opens wide the global pantry, giving your onion rings a truly distinctive flavor swagger.
4
Stuff It
You can fill the hole in the center of your onion slices or use two rings, one inside the other, to sandwich a filling. Fill the ring with a fried egg or sandwich a melty mozzarella between onion layers. Insert a jalapeño popper or stuff the onion with guacamole. Instead of offering a dip on the side, set it in the center of the onion ring.
Ponzio suggests stuffing an onion ring with a breakfast sausage and after cooking, make it the protein of a breakfast sandwich. "It will add the onion's sweetness to the sandwich—and deliver an amazingly tall presentation!" he says, adding, "I also see a hybrid between an onion ring and a Juicy Lucy as something that could be incredibly popular. Stuff an onion ring with ground chuck and cheese, batter and deep fry. When you cut it open, the cheese will ooze from the middle and the dish will deliver tons of different textures and flavors."
5
Fun with Formats
Extend the onion ring concept beyond the conventional appetizer or side. Onion rings are making more frequent appearances as toppers for burgers and other handhelds. (Use smaller slices to make sliders stand out and look twice their size, without adding more protein, suggests Ponzio.) Toppers for salads and bowls is another take on this concept. "You could put together a Buffalo onion ring Caesar salad or add onion rings on a pulled pork bowl for a barbecue entrée salad," says Ponzio. Another option is to adapt the loaded fries concept, swapping in a platter of onion rings as the base for several craveable toppings.
Seasonings and finishes aren't the only opportunity to go global with onion rings. Indian pakora and bajii are two variations on crispy, battered coated onion fritters.
If you want your onion rings to earn pride of place on Instagram, consider impactful presentations, such as an artfully constructed tower of rings. Or riff on the current hot burger trend, suggests Ponzio, of placing a ring mold on top of the burger, filling it with melted cheese and at tableside, lifting the ring for a dramatic cascade. "You can use an onion ring as the vessel for the same effect," he notes.
Hero Ingredient
While the most obvious points of differentiation are found in the ingredients that make up the coatings, the finishes and the inclusions, onion ring success is rooted in the culinary advantages found in a quality onion. It starts with consistency.
"Every time a chef cooks with Gills Onions, they can't stop raving about how the experience differs from using bulk sack onions. Our lower moisture onion is the difference—achieved through a unique growing process and prescription for onions that taste better and stay fresh longer," says Megan Jacobsen, Vice President, Sales & Marketing, Gills Onions.
You won't get any argument from Chef Ponzio: "Once I had a chance to work with Gills Onions, I was pleasantly surprised," he says, adding, "The onions were crisp, clean and fresh. They have such great integrity, they can last for days in the cooler before they are compromised., The quality of Gills pre-prepped onions is second to none. Gills is now my go-to onion for my operation."
"Specific onion varieties are selected for our sliced department," says Jacobsen. "We even have a comprehensive in-house onion ring testing monitoring program through our Quality Assurance department. It's constantly analyzing the sugar levels, overall quality of the raw onion and shelf life for a better onion ring experience for you and your customers."
To discover more information and menu inspirations, visit Gills Onions.