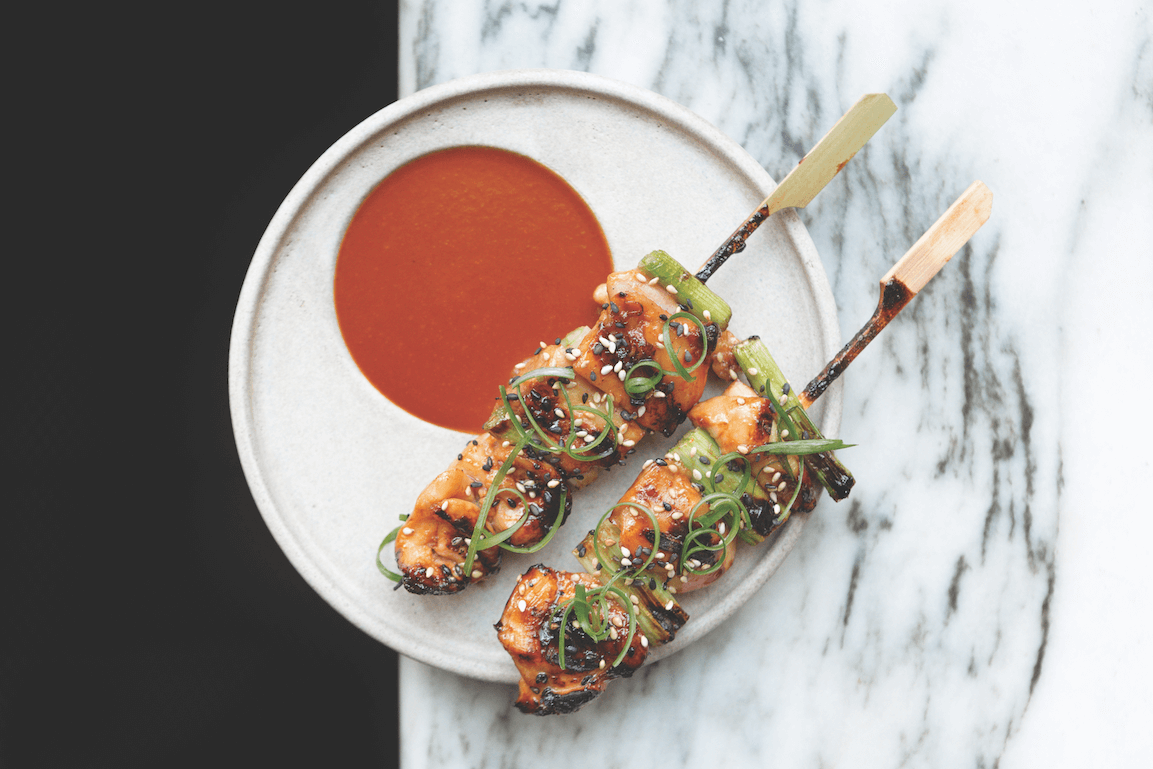 The ritual of cooking and serving meat on sticks is almost as old as the discovery of fire. Practically every world cuisine can lay claim to at least one distinct style of skewered meat in its epicurean canon, marked by flavors and techniques that clearly communicate a well-defined food culture.
A quick trot around the globe highlighting these flavor-rich ambassadors serves as a grounding for menu development here. Consider West African suya, coated in crushed peanuts and hot peppers; Greek souvlaki, marinated in olive oil, lemon juice and woody herbs; Thai satay, bathed in lemongrass, galangal and coriander and served with peanut sauce; Peruvian anticuchos, seasoned with garlic, vinegar, cumin and aji panca; Turkish shish kebabs, marinated in yogurt, olive oil, garlic, pepper flakes, salt and black pepper; Japanese kushiyaki, skewered on bamboo and seasoned with salt or tare; and Indian seekh kebab, marinated with heady ingredients like ginger and garlic paste, green cardamom powder, mace and chile powder, and served with a cilantro-mint chutney.
These authentic skewers could well serve as menu inspiration, but, today, there is fresh opportunity in this category, with chefs across the country opening the door to novel ideas for a very familiar format. Their timing couldn't be better. Consumers demonstrate over and over again their penchant for global flavor discovery. What better way to explore than on a low risk/high reward snackable, shareable menu item? Skewered meats carry a street-food vibe that helps keep things casual. They also answer a few other demands today: Meat on sticks make protein the hero, a big win for a large swath of diners following various lifestyle diets. They also deliver good value thanks in large part to smaller portion sizes.
MODERN MOVES
Today's diners also respond to inventive flavor builds that are unexpected yet delicious and that tell a story unique to a restaurant's brand. "The ubiquitous nature of meat on sticks provides operators the liberty to apply a signature touch with global interpretations, trending meats, flavor-forward marinades, various cooking techniques—such as fire, charcoal, plancha, pizza oven and kiln—and complementary sauces, dips and side dishes," says Rob Corliss, chef and founder of ATE (All Things Epicurean). "Applying any of these adaptations can make your operation stand out. To further meet the needs of guests and fit the style of your brand, operators can position skewers as an appetizer, snack or entrée."
Saffy's, a Middle Eastern restaurant in Los Angeles, offers a prime example, giving familiar skewers an unmistakable California quality. The Lamb Kebab is seasoned with habanero, shallots, ginger, garam masala and cilantro and the Chicken Shashlik with garlic, cumin, cinnamon, green fenugreek and sumac. A trio of accompaniments—tahini chopped salad, chile crunch and amba—ensures memorable contrasts of texture and flavor. Uchiba, a bar-centric modern Japanese spot in Dallas features a yakitori grill menu, demonstrating mindful attention to bold flavor building. Its skewers of Chicken Thigh are glazed with kimchi caramel, grilled with negi (Japanese long onion), then finished with lime juice. The Bulgogi-Marinated Wagyu Flank Steak skewers are flavored with lemon juice, chile oil and lemon zest, and served with crispy potatoes cooked in hon dashi plus a side of yuzu kosho aïoli. At Nonono, a contemporary yakitori and ramen house in New York, skewer presentations are dramatic—and packed with umami. The Yuzukosho Nori boasts chicken thigh with a thick schmear of nori and yuzu kosho pepper blend topping the meat.
"Innovation, shareability, brand relevance and broad appeal are all important with this trend," says Steven Goldstein, founder of FoodThinque. He makes the salient point that there is an abundance of tried-and-true flavor systems that would convert nicely to a stick presentation. "Consider moving pigs in a blanket onto a stick," he suggests. "This treatment gives them a fun, modern spin." Goldstein also puts forth the always-popular meatballs marinara, separating the meat on the skewer with chunks of aged provolone, then heating until the cheese softens. "Or take that same idea but go with tsukune, the Japanese meatball, and add something like a togarashi halloumi in between each meatball before grilling and serving," he says. "That could be really cool and different."
C.J. Jacobson is executive chef of three-unit Aba, a Mediterranean-meets-Californian cuisine concept from Chicago-based Lettuce Entertain You. He miniaturizes the skewer concept with his Toothpick Lamb, turning it into bite-sized morsels ideal for catered events and bar snacks. A study in assertive flavor and contrasting texture, thin strips of Australian lamb sirloin are marinated in arak, an anise-flavored spirit from the Middle East, before being put to the flame. Jacobson quickly sautés the meat in a lemon-kosho vinaigrette, then dusts it with chile de árbol and cumin seeds. For plating, he spoons a swipe of yogurt around the edge of the bowl, adds the lamb strips, drizzles olive oil and then pierces each lamb piece with a toothpick. Playful mash-ups are a broader trend and certainly work well with skewered meats. Corliss suggests a few fun creations, such as a Butter Chicken Meatball Skewer made with mini chicken meatballs and tomato-curry-cream sauce and a Gaucho Skewer featuring ranch dressing spice-seasoned flank steak strips with red chimichurri.
One of the best in-market examples of creative skewer mash-ups is the menu at Maison Yaki, a Japanese-French yakitori restaurant in Brooklyn, N.Y. It spins elegant French dishes into skewered shareables, making them approachable while keeping the flavors on point. The Short Rib Frites au Poivre Skewers start with meat that sits in a pastrami brine for five days, then moves into a 12-hour sous-vide braise. On the sixth day, the short rib is portioned and charcoal grilled on skewers, served over crushed market potatoes, and topped with crispy shoestring frites and sauce au poivre. Maison Yaki leans into a Japanese sensibility with its Shiso Leaf-Wrapped Fluke Skewer, seasoned with lemon juice and served over a brown butter and cauliflower purée, topped with crispy cauliflower florets. And the restaurant describes its Duck Tsukune à l'Orange, served with an orange sauce sphere "yolk," as: "the most fun you'll have with meat on a stick."
KOREAN CORN DOGS
Bon Appetit declared 2021 the year of the Korean corn dog, thanks to the number of videos featuring custom preps of this snack on a stick that went viral on Gen Z-friendly sites like TikTok. But rather than slowing down in 2022, variations on the craveable Korean corn dog are picking up steam and finding their way onto more mainstream menus. The original version typically sees a sausage or a cylinder of mozzarella placed on a stick, coated in sweet panko-covered batter, then deep fried. The super-crunchy texture of Korean corn dogs—often further enhanced by an additional layer of crispy coatings—has helped drive the social media craze.
Stix, a Korean corn dog spot with locations in San Francisco and Burlingame, Calif., demonstrates the opportunity in this youth-oriented category of meat on sticks. Even if replicating this product's style isn't a brand fit, it's worth examining why corn dogs are resonating with younger consumers. The answer lies in textural play, customization, whimsy and inventiveness. Stix' menu includes the Potato Combo made with a hot dog and mozzarella cheese crusted with french fries; Ramen Cheese with mozzarella on the inside and a ramen-crusted exterior; and the Flamin' Hot Dog, an all-beef hot dog rolled in Stix' proprietary batter, panko bread crumbs, then fried, dipped in spicy sauce and rolled in Hot Cheetos crumbs.
From simple to over-the-top builds, meat on sticks as a modern-day format offers a world of opportunity.