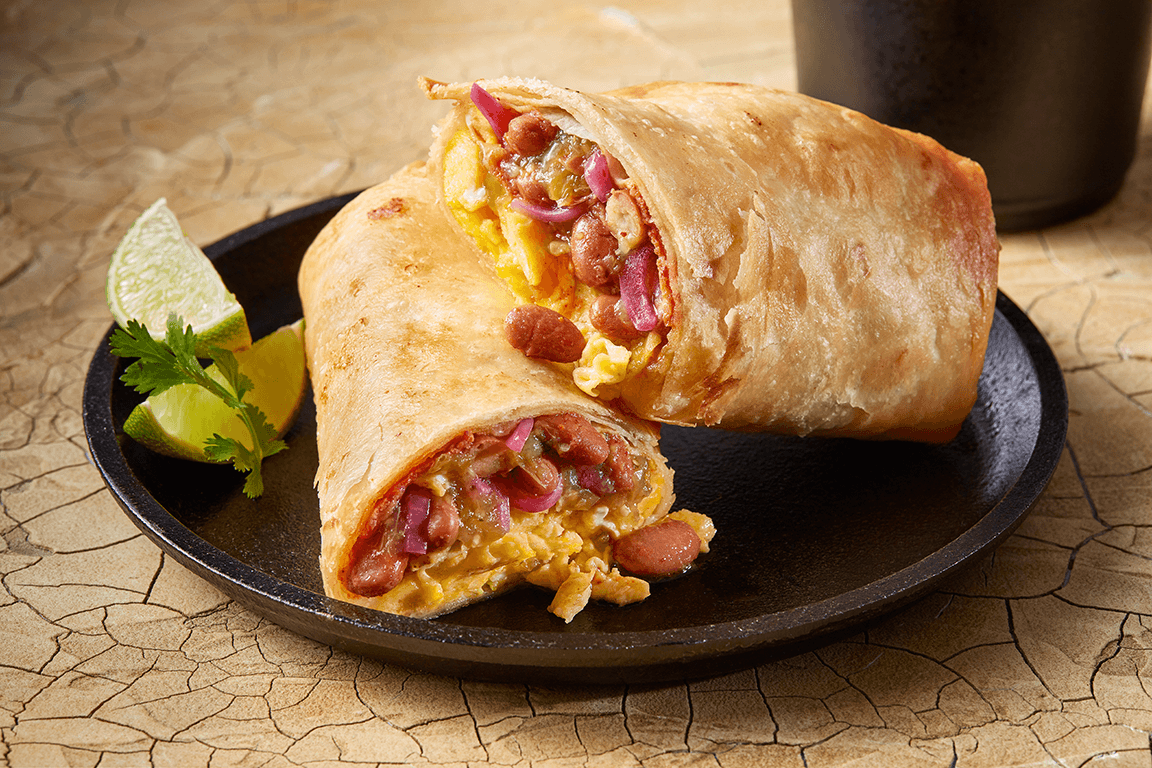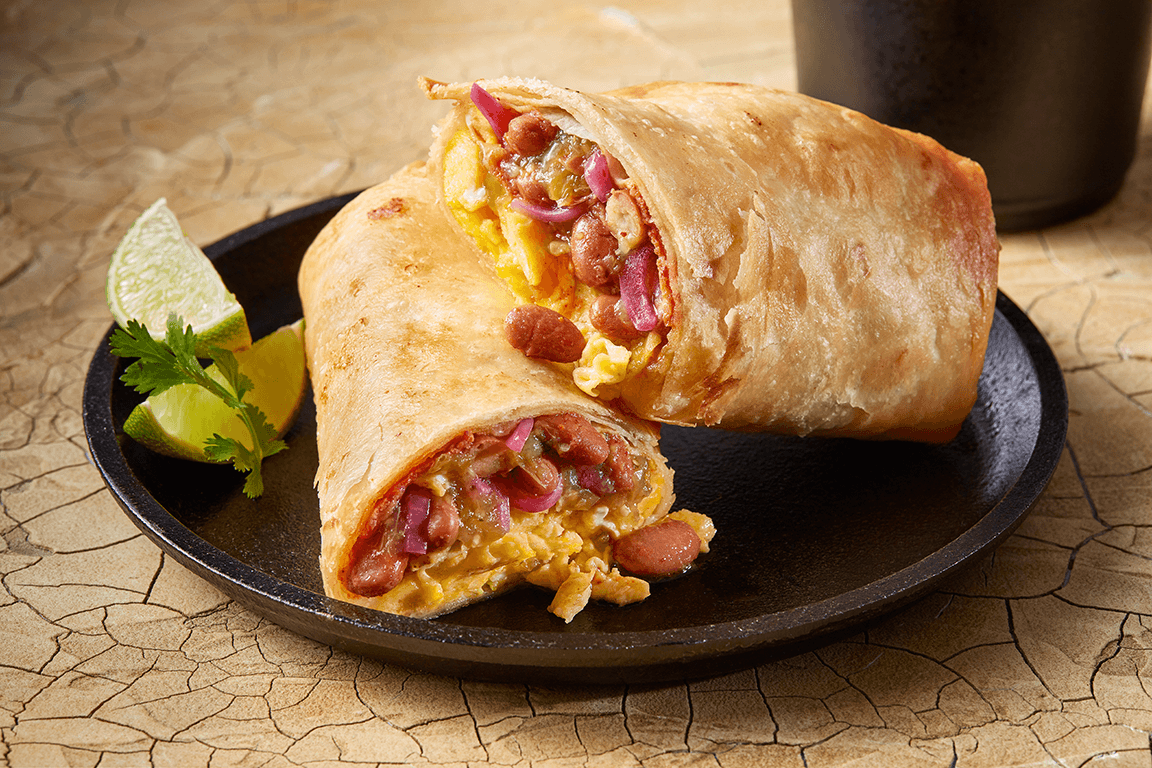 Fried Breakfast Burrito
Recipe courtesy of Brad Bergaus
Sponsor: Bush's Best
Servings: 12
Ingredients
Pickled Red Onions:
2 c water
1 c red wine vinegar
½ c sugar
¼ c salt
1 red onion, julienned
Hatch Salsa Verde:
1 ½ lbs fresh tomatillos, peeled, rinsed, halved
½ sweet onion
1 c Hatch chiles, roasted, deseeded, diced
½ c cilantro, chopped
1 garlic clove, peeled
2 Tbsp lime juice
2 tsp sea salt
Burritos:
1 link Spanish picante chorizo, thinly sliced
¼ #10 can (24 oz) Bush's® Texas Ranchero Pinto Beans
12 uncooked flour tortillas, between 10"- 12"
36 oz scrambled eggs, warm
6 oz three-cheese blend (Monterey Jack, Cheddar, asadero)
Directions
For the Pickled Red Onions:
Place water, vinegar, sugar and salt in a saucepan and bring to a boil. Stir to dissolve sugar and salt.
Meanwhile, place julienned red onions in a pickling jar.
Pour heated pickling liquid onto red onions.
Cover and chill overnight.
For the Salsa Verde:
Heat a grill to 500°F.
Place tomatillos and sweet onion on grill until fully charred, roughly 3 minutes each side.
Place charred tomatillos, onion, chiles, cilantro, garlic, lime juice and salt in a food processor and blend on high until fully blended.
Ensure salsa is slightly pulpy.
Transfer salsa to container and refrigerate.
For the Burritos:
Heat oven to 350°F.
Line a baking sheet with parchment. Place sliced chorizo on baking sheet in a single layer.
Bake for 10 to 12 minutes, until chips are slightly curling and crispy. Set aside.
Heat the beans in a pot and stir occasionally to 165°F. Hold hot.
Heat fryer to 350°F.
For each burrito, place a flour tortilla on a work surface. Place 3 oz warm scrambled eggs in center of tortilla. Place 2 oz warm ranchero beans on top of eggs. Place ½ oz cheese blend on top of beans. Place 12 chorizo chips across cheese. Place 1 ½ oz Salsa Verde on top of chorizo chips. Place 1 oz Pickled Red Onions on top of salsa verde.
Take both sides of the tortilla and fold towards the middle over the filling. Take the end closest to you and fold over the top of the filling. Tuck any sides in and fully roll.
Place rolled burrito in fry basket and place another fry basket on top. Fry for about 20 seconds, until golden brown and crispy.
Pull from fryer and enjoy!
Chef Notes
Ensure burrito is fully secured and lightly compressed in fry basket. Serve in tin foil for a great presentation.
Project Management: Summit F&B
Photography: Carlos Garcia // Food Styling: Peg Blackley