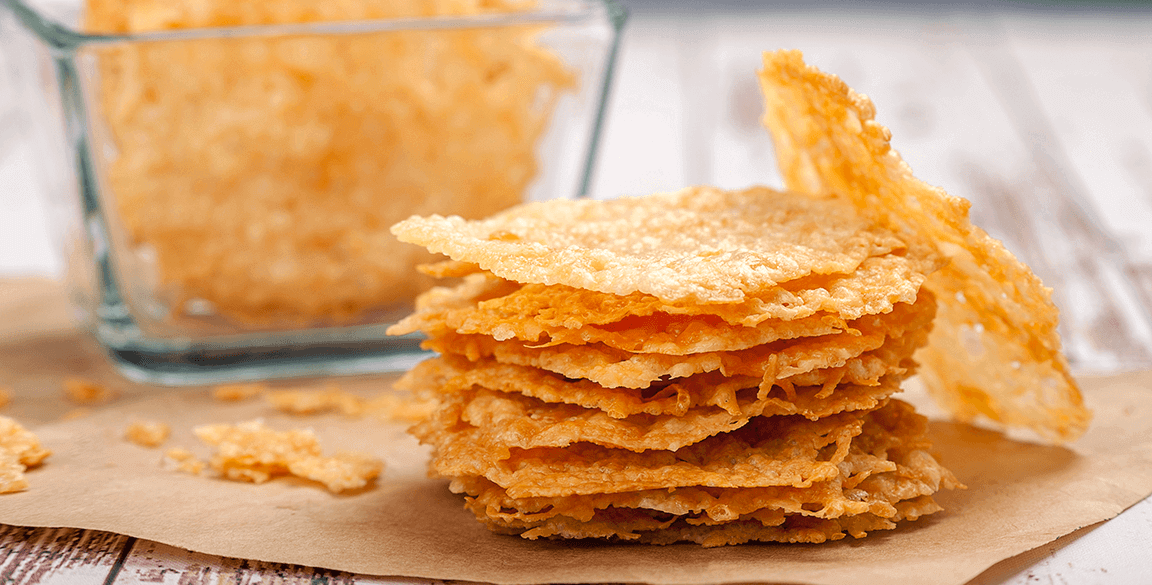 By Maeve Webster
February 26, 2023
Savory and umami-rich flavors hit the sweet spot for a large number of consumers today. And as they emerge from the pandemic, they're looking to restaurants for unique flavor experiences that speak to those savory cravings. Frico, that wonderful, lacy, crunchy fried cheese crisp, offers chefs a versatile textural component that is ideal for modern menu building. It's easy to make and hold, giving frico operational advantages, too.
Frico has served as an Italian cheese snack (or garnish) for years. And it's gained traction on menus here by way of the trending Detroit-style pizza, which boasts a "frico edge," a crispy cheese crust that spikes up and over the side of the deep-dish pizza with a browned, crunchy, cheesy, lacy border.
Chefs will find the runway potential for frico extends well beyond pizza. Many savory items are prime candidates for a frico upgrade, with a variety of cheeses standing ready to serve as this crispy, mouthwatering textural and flavor element. While less than 1 percent of menus currently call out frico in dish descriptions, concepts that take steps to explore frico opportunities can position their operation as a first mover with a trending element that is extremely relatable, approachable and craveable.
APPEAL "Frico hits a trifecta when it comes to flavor, texture and visual appeal. Due to its ease of execution, frico gives an operator an easy way to satisfy guests without a lot of training or special equipment."

APPLICATION "It is critical that you get the perfect amount of texture and color. Selecting the right cheese is also important, as you don't want one that melts too quickly or releases too much oil. The right cheese will deliver a desirable flavor balance when caramelized. Experiment with infusing or layering cheese with thinly sliced cured meat, woody herbs or spices, which lend unique flavor profiles and presentations. Sweet and savory applications are also something to explore, such as a frico-matcha cheese tea or frico cheesecake, similar to a Basque burnt cheesecake. "

ADAM MOORE, CHEF/FOUNDER OF FLASHPOINT INNOVATION, FOOD & BEVERAGE CONSULTANCY, CHICAGO
FRICO FUNDAMENTALS
It's difficult to pin down when frico was developed or, more specifically, identified as a craveable element in its own right. Although originating in Italy, cultures around the world that feature cheese in their cuisines likely found that crisping it up on its own or in a dish created something that was crunchy and delicious.
Frico shouldn't be confused for the cheese and potato dish born in the Friuli region of northern Italy, frico croccante. While that recipe is warm, thick and hearty, the version that takes shape as a simple cheese crisp is the one that holds opportunity for menu developers today. Frico can be menued on its own as individual snackable pieces or incorporated into a dish through skillful preparation. Although Parmesan is the most traditional ingredient, many semi-soft or hard cheeses can generate delicious flavor variety. Cheddar, Parmesan, provolone, Cotija or Swiss are good alternatives to explore.
Consumers may be more familiar with frico than they think. After all, cheese crisps are a staple on retail shelves as a snack or salad topper. While these products have yet to self-identify as "frico," they certainly leverage its classic umami craveability and engaging texture. Look for frico name recognition to rise, thanks to the increasing references of trend-spotting bloggers and social-media posters, along with savvy chefs leveraging the growing fame of Detroit-style pizza's frico edge. And frico's keto-friendly profile is an added draw for consumers adhering to that style of eating.
APPEAL "It's appealing and approachable because it's crispy cheese. The true spirit of frico is a crispy texture, golden color and fermented flavor of umami, regardless of the type of cheese."

APPLICATION "Shredded cheeses have more moisture than Parmesan, so the trick is to cook these cheese varieties long enough for the water to evaporate. Sprinkle grated cheese onto a hot skillet and cook until it's light golden brown. It'll be pliable when it comes off the heat and will crisp up as it cools. Use a light hand when sprinkling; in other words, don't pile it on because a sparse middle and feathered edges make frico an art form. Sprinkle in fresh herbs while the cheese is cooking, allowing them to melt into the frico. My favorite seasoning combination is cilantro and mint. Crumble frico into toasted panko seasoned with lemon zest, olive oil and ground pepper or perch a perfect round frico on salads and pastas for a halo of flavor. Sprinkle a robust amount of sharp cheddar over a burger, allowing it to fall liberally onto the skillet or griddle, which will create a frico skirt. Frico tacos are delicious: Toast tortillas in a skillet, sprinkle with equal parts Parmesan, Cotija and cilantro, then place a second tortilla on top of the cooking frico to produce a tortilla with unexpected flavor dimension."

ANDREW HUNTER, CULINARY CONSULTANT, LOS ANGELES
FRICO ON THE MENU
APPEAL "In addition to umami, frico has other sensory benefits like salty and crispy, making it an appealing flavor and texture addition to a host of dishes."

APPLICATION "It is important to retain the light crispness of frico when adding it to dishes, so it should either be introduced at the last minute when used as a topping or separated with a moisture barrier if part of a kit like a grab-and-go salad. To push boundaries, I'd love to see frico used in desserts, paired with fruits and custards."

BRAD KENT, CO-FOUNDER/CHIEF CULINARY OFFICER OF PASADENA, CALIF.-BASED BLAZE PIZZA AND FOUNDER OF BAGEL + SLICE
EASY EXPLORATIONS
The simplest frico opportunity is as a snack or appetizer. Cheese crisps can stand on their own as a shareable dish that is straightforward but loaded with umami goodness. Create signature frico experiences by incorporating spices, herbs or other inclusions that can stand up to the heat necessary to create that snappable crispiness. For example, look to black pepper for a "cacio e pepe" version, or add fennel seeds, black sesame or cayenne pepper.
Frico also works well as a unique accompaniment to or component of soups, salads, sandwiches and burgers. At Bocado, a contemporary American restaurant based in Atlanta, the Tomato Bisque is served with a disc of Parmesan frico, arguably a more appealing option than conventional oyster crackers. Boston-based steakhouse Smith & Wollensky also uses Parmesan frico, in this case to top its Caesar Salad. HelloFresh, the popular meal subscription service headquartered in Germany, features a cheeseburger with a cheddar frico topper as one of its rotating menu options.
Next-level uses of frico are in evidence on leading-edge menus. At the Long Island City, N.Y., Jacx & Co. Food Hall, all-day café Ghaya menus a Jambon de Paris sandwich topped with an extra slice of Emmentaler cheese, giving the bread a frico-style cheese crust. The Wolfhound Bar and Kitchen, an Irish concept in Chicago, adds a round of seared provolone to its pasture-raised, buttermilk-brined fried chicken sandwich. And in Portland, Ore., modern Southern spot Yonder tells a trend-forward flavor narrative with its Fried Wild Tennessee Catfish Sandwich, a koji-marinated catfish fillet breaded and seasoned in rice flour, cornmeal and either Nashville hot spice or lemon pepper, and topped with tartar slaw, iceberg lettuce and a crispy cheddar frico crisp, all served on a potato bun.
Impressive frico edges are the hallmark of standout Detroit-style pizza, capturing the hearts of pizza lovers everywhere. Chefs are capitalizing on its popularity and exploring frico's versatility in other formats, highlighting its lacy, crunchy cheese crusts in menu items like quesadillas, grilled cheese sandwiches, burritos and savory pies.
According to a recent consumer survey fielded by Flavor & The Menu, 75 percent of patrons are excited to try something new when dining out. Successful operators recognize, however, that even an adventurous spirit prefers grounding in the familiar. Cue frico; it delivers a nuanced taste sensation with a beloved ingredient.
APPEAL "Frico delivers a fun textural experience to any dish. It's the snap and crunch, paired with intense umami flavor, that makes this a great add to dishes across the menu. The fact that you can make frico with a range of cheeses makes it applicable and relevant for most operators."

APPLICATION "An Eggy Frico is a fun garnish: Lay the cheese—cheddar and pepper Jack are yummy—on a flattop, then put an egg on top. Use this to crown burgers or mac and cheese, or serve it as a fantastic keto egg option. For a Frico Herbed Chicken Parm, lay the cheese down, then top with a sprinkling of herbs and a butterflied chicken breast. When the cheese is crispy, repeat the cheese and herb process and flip the chicken on top, cooking until done. It's an impressive presentation on top of salads, and works great as a sandwich component."

KATHY CASEY, CHEF/OWNER OF KATHY CASEY FOOD STUDIOS LIQUID KITCHEN, SEATTLE