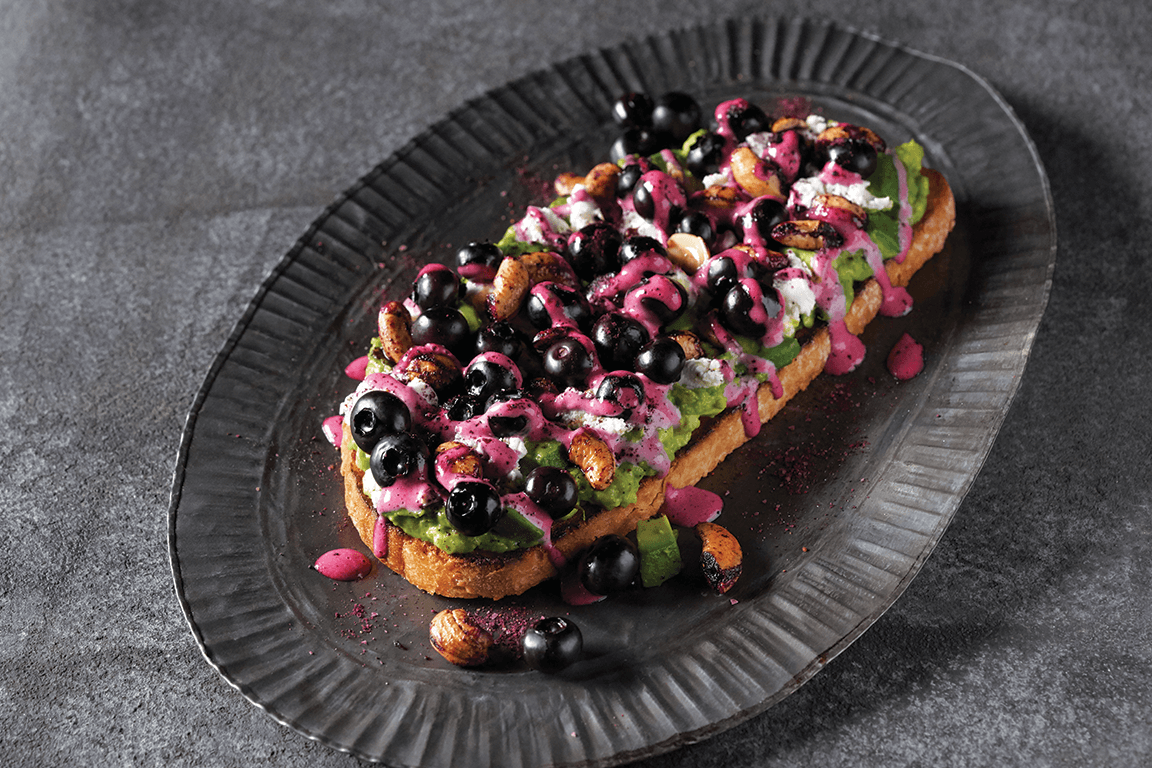 Trend-forward menus reflect a balance of the familiar with the unexpected. Blueberries have the capability to play both roles, signaling comfort here, surprise there. Credit the ease with which blueberries can be used across all dayparts, in a variety of formats—from fresh to frozen, dried to powdered—and demonstrating an enviable versatility for use in a bevy of foods and beverages. Nutritional attributes and a deep-rooted popularity with patrons are added benefits. Is it any wonder blueberries find a place at the heart of so many enduring and emerging menu trends?
SING THE BLUES
Presentation is table stakes, but today's consumers are responding to visual aesthetics with ever-greater fervor, connecting color to flavor and finding joy in the experience. They've also been trained for generations to "eat the rainbow" for nutritional benefits.
"Blue foods are renowned for their nutritive value, which comes from powerful plant compound antioxidants called anthocyanins, which can help support optimal health," says Christie Wood, Group Account Director and Partner, SRG, on behalf of the U.S. Highbush Blueberry Council. A great source of vitamins and fiber, blueberries offer the perfect combination of color, familiarity, approachability, versatility and nutrition, checking all the boxes from both an aesthetic and functional standpoint.
The Blueberry Avocado Toast pictured above puts these values in action. A creative way to take the now-ubiquitous avocado toast trend in a fresh direction, "it's as delicious and nutritious as it is eye-catching," says Wood. Boasting textural contrasts, vibrant sweet-savory flavor, a strong health halo and visual appeal, it can be positioned as an all-day winner on menus. The build features pickled blueberries, blueberry-dusted cashews and a simple blueberry aïoli, components that can be used in numerous other applications, providing another operational advantage.
STICK TO IT
As meat-on-sticks emerges as a trend primed for innovation, blueberries can play multiple roles. "The Turkey Meatballs pictured above showcase how blueberries can provide the perfect touch of sweetness in a savory, umami-forward dish," says Wood. The pop of color lends a visual point of differentiation, and the fruit also adds a pleasing textural component. Blueberries are also a natural source for the glazes and sauces that can be compulsory components of skewered-meat dishes. "They deliver that 'special something' to meats," says Wood, "while remaining familiar and approachable."
73% of patrons believe blueberries make a dish more appealing
Source: USHBC Patron Study 2021
MODERN MORNINGS
As chefs wake up to the opportunity of infusing breakfast menus with Asian flavors, sauces and condiments are critical components that deliver tradition and modernity in equal measure. A Blueberry Teriyaki (above) or Blueberry Chile Crisp both demonstrate how well blueberries can play within an Asian flavor profile. "Both can serve as terrific complements to a breakfast bao, bing, congee and other Asian and fusion breakfast dishes," says Wood. "Blueberries can provide a comfortable gateway to explore less-expected flavors in any daypart."
Discover more on-trend menu ideas featuring blueberries or contact us for custom innovation support at blueberry.org/foodservice.