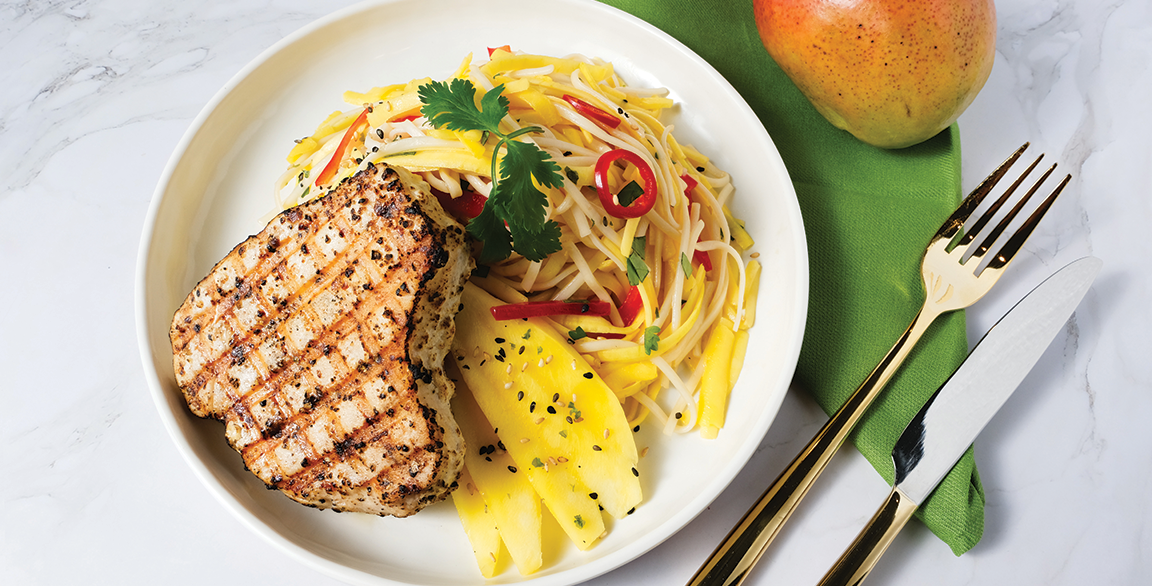 Mango holds an exalted spot in the produce world: It's both familiar to consumers yet still exotic enough to stand out as special. Today, menu developers are leveraging that premium positioning and using mango—in all its forms—in imaginative and sometimes unexpected ways. Mango's versatility helps it naturally integrate with other ingredients fundamental to both mainstream favorites and emerging trends. For example, beverage developers can entice consumers by showcasing mango's tropical sweetness and vibrant color in exotic cocktails and classic blended drinks alike. Chefs also can introduce mango's many nuances to both savory and sweet offerings. The following areas of exploration provide fresh ideas on how to capture and maximize mango's star power.
1

AMCHOOR

This powder, made from unripe green mangos, adds tangy complexity to savory dishes requiring a hit of acidity. Incorporating amchoor into spice blends and marinades creates contemporary taste sensations that drive over-the-top flavor builds.
Amchoor Cod Roasters: Pan-roasted cod chunks (marinated in amchoor-garam masala-Madras curry oil) + basmati rice + toasted coconut-butter sauce
Amchoor Lamb Chops: Seared ancho chile/sea salt/amchoor-rubbed lamb loin chops + roasted potatoes + grilled asparagus
2

CHAMOY

This salty-spicy-sweet-sour Mexican pickled-fruit sauce is at the heart of budding menu-development trends. Sauce, paste and powder forms of chamoy all convey delicious layers of intricate mango flavor to an extensive array of food and beverage recipes.
Chamoy Chimay: Reposado tequila + hard apple cider + mango chamoy sauce + ice + slices of Gala apple and fresh mango for garnish
Blazin' Chamoy Wings: Crispy chicken wings + habanero hot sauce + mango chamoy powder
3

AMBA

This savory pickled green mango condiment brings a spicy warmth to recipes. Elevate breakfast and brunch menus by introducing guests to an original flavor experience with amba added to popular dishes.
Amba-licious Chicken Biscuit: Petite fried chicken breast + fried egg + chunky amba + buttermilk biscuit
Mediterranean Waffle Bowl: Chickpea waffle wedges + wilted spinach + roasted red bell peppers + labneh topped with a puréed amba swirl
4

MANGO CHIMICHURRI

As an influx of Latin influences continues to move chimichurri into the menu limelight, introducing mango can create next-level iterations. Use green mango to impart a crisp texture and complementary tangy refreshment to the smoke and char of red chimichurri. Use ripe mango to add fragrant, floral notes to the herbal acidity and bite of green chimichurri.
Mango Chimi Plant Burger: Seared plant-based burger + Swiss cheese + red chimichurri with shredded green mango + green leaf lettuce + brioche bun
Mango Chimi Veggie Grillers: Grilled yellow squash/red bell peppers/red onion rings + quinoa + green chimichurri with small-chopped ripe mango
5

CHARRED MANGO

Charring ripe mango introduces dimension to its floral sweetness, boosts visual appeal and flavor complexity, and intrigues when used in menu verbiage. In particular, spicy appetizers and simple, refreshing beverage builds would benefit from this unexpected yet impactful example of sophisticated flavor play.
Mango Campechana Tostada: Tostada + classic campechana sauce-vegetable mixture + cooked shrimp/crab/avocado + charred ripe mango slivers
Chi Chi Rodriguez: Unsweetened iced tea + ginger lemonade + charred mango bits + sazón rim
6

MANGO NECTAR

The soothing sweetness of mango nectar is extremely versatile and up to the task of creating memorable offerings on both food and beverage menus. Use it to transform classic comforts into modern flavor stories, developing newfound connections with younger diners.
Mango Tres Leches Cake: Baked, cooled white cake (poked with holes) + evaporated milk/condensed milk/whole milk/mango nectar mixture (poured over cake) + amchoor-whipped cream topping
Puebla Sidecar: Brandy + Cointreau + Ancho Reyes + mango nectar + lemon
6

MANGO VARIETALS

Specific mango varietals, at different ripeness stages, can energize menu items with enticing flavor nuances. Feature the six most common mango varieties available in the U.S.—Francis, Haden, Honey, Keitt, Kent and Tommy Atkins—throughout the year, introducing guests to their unique qualities.
Mango Tripleta: Chicken/ham/beef + Honey mango aïoli + Gouda + crispy potato sticks + French roll
Mango Pozole: Pork pozole + chopped ripe Kent mango + finely shredded green cabbage + sliced radish + queso fresco crumbles + cilantro