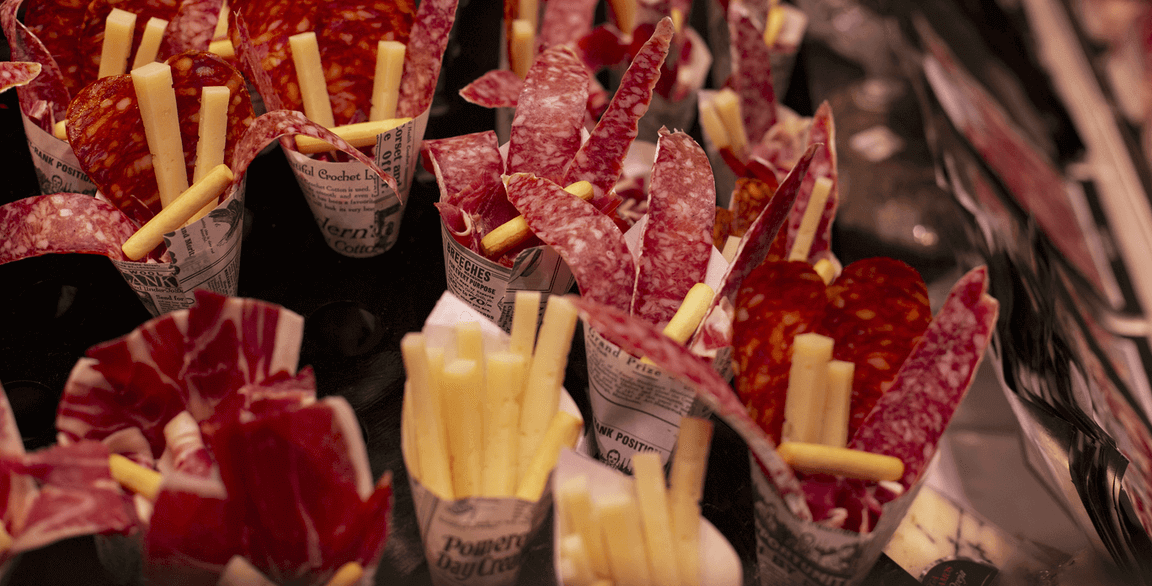 Creative iterations of charcuterie boards serve up high visual appeal and fun flavor delivery, ensuring continued consumer enthusiasm for this trending shareable. Restaurant operations can leverage the popularity of charcuterie boards, packaging them into cones, cups and boxes and transforming them into portable, moveable feasts. These handheld presentations meet today's demands for on-the-go eating and takeout/delivery service.
Mobile charcuterie has a place throughout dayparts, providing an array of options to satisfy guest cravings according to mood or occasion. Chefs should create a range of textures, temperatures and flavors, as well as look within their existing menu for ingredients that fit this grazing style. As the definition of charcuterie has widened, the door is open to signature creations that guests can enjoy at home, in the office or on the go.
MORNING OFFERINGS
Simple charcuterie handheld cones and cups with meat-centric offerings can hold a sweet spot at breakfast. For a trend-forward approach, pair rillettes (similar to confit), spreadable 'nduja or sobrasada with crostini, a biscuit or a crisp hash brown. Serve pork sausages with a complementary cheese and a signature dip, and for a lighter-style savory-sweet breakfast combination, serve mini quiche bites with whole dried fruit and biscotti.
Menu ideas for inspiration:
M. Protein Power Up (served in a cone): A breakfast sausage patty, maple bacon strips, apple-chicken sausage link, whipped cheddar-gravy dipping sauce
That's My Jam (served in a cup): Pork belly/shoulder rillettes, grilled sourdough bread slices, spiced peach jam
ANYTIME OFFERINGS
Charcuterie can serve as both the perfect snack offering and an afternoon in-between meal, filling in nicely during those shoulder periods between lunch and dinner. A simple combination of sliced cured meats, cheeses and nuts makes for easy takeout snacking: sliced chorizo, manchego slivers and whole blanched almonds, for example. Signature finger sandwich bites paired with a pickled side mirrors sit-down offerings, but with a mobile feel.
Menu ideas for inspiration:
Southern Comfort (served in a box): Smoked ham-Gruyère croquettes, peanut-encrusted fried green tomatoes, jalapeño pepper jelly
Mexican Comfort (served in a cone): Habanero-spiced beef jerky, candied and dried mango strips, quick lime-pickled jicama
EVENING OFFERINGS
Younger diners in particular crave an original "Wow!" experience, especially one that is interactive and shareable. Sophisticated charcuterie and "seacuterie" (seafood charcuterie) combinations fit the bill nicely. Chefs can extend beyond the classic, and merge both cold and hot preparations, reach for intriguing flavors and techniques, and generally surprise and delight their guests.
Menu ideas for inspiration:
Summer Griller Box (served in a box): Grilled seafood sausage slices, raspberry-barbecue sauce, grilled miniature charcuterie kabob (mortadella-Calabrese salami-panela cheese-yellow squash), blistered cherry tomato pesto, flatbread
Surf-Turf Walkabout (served in a box): Herb-encrusted slices of roasted tri tip, Brie wedge, roasted red grape cluster, port wine tuna bresaola, preserved lemon aïoli, torn brioche