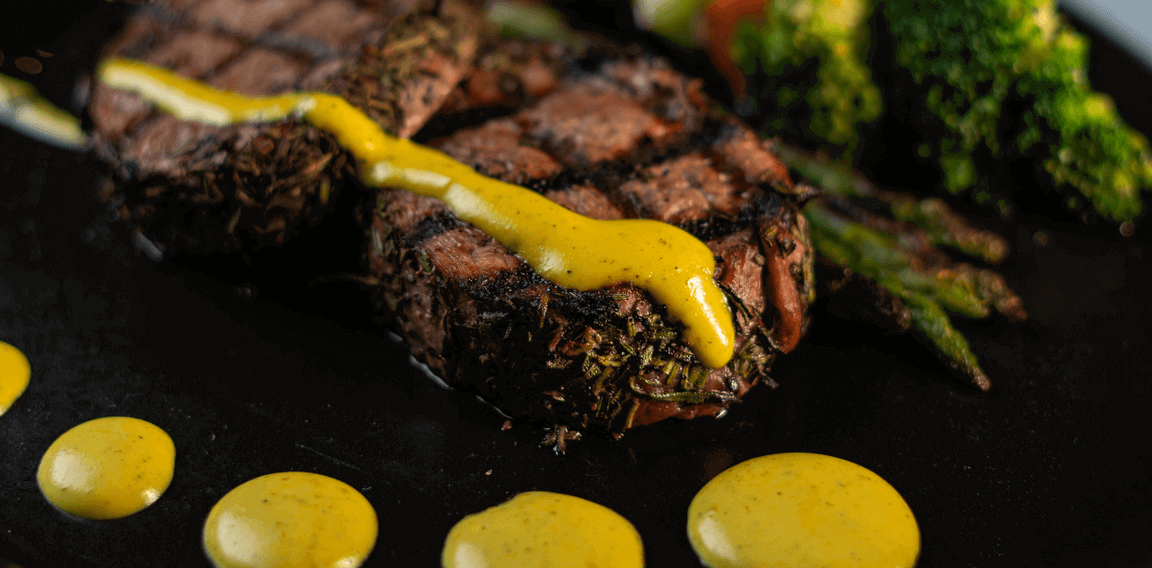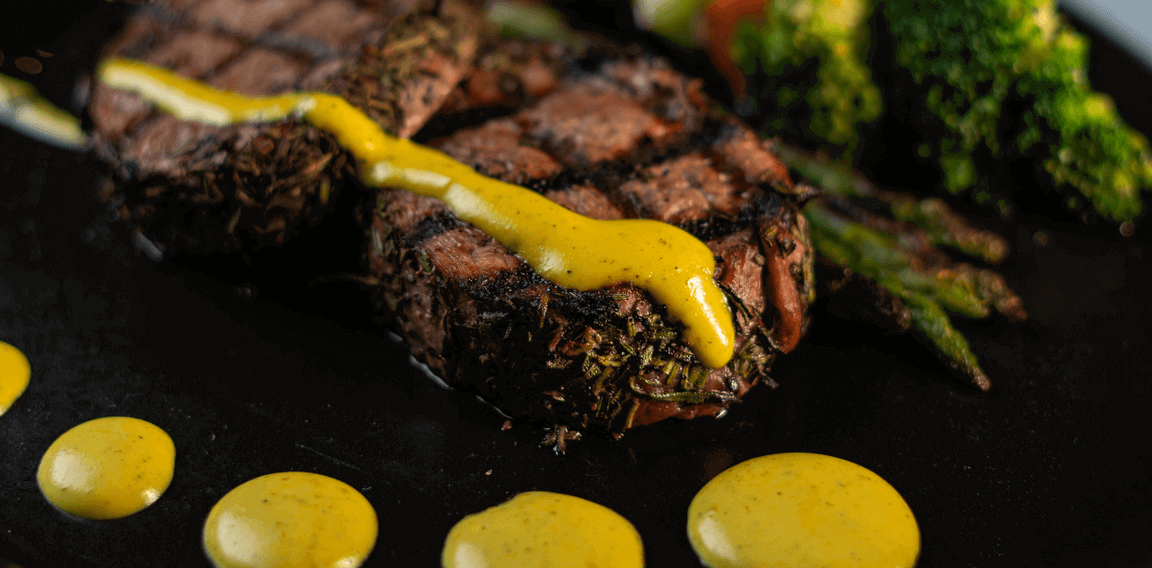 Sauces can close the sale on a steak dinner, enticing diners with a luscious creamy, punchy herb-based or heat-laced sauce, to name a few of the many options. Updating classic sauces with signature flavors reimagines the steak experience for diners. Here, we look at modern ways to contrast and complement, leaning on five classics that still resonate with diners and give operators a foundation of familiar, tried-and-true flavor.
The Fab Five
1

Chimichurri: The herbal-garlic-vinegary assertiveness of this Argentinian beauty cuts beautifully through the richness of steak. It's moved further into the mainstream, with chefs leveraging its herbaceous qualities and kicking it into different flavor zones. Contemporary versions could include adding roasted poblano, olives, toasted spices, or yuzu; or prepare a red chimichurri with sun-dried tomatoes, and follow it through with other ingredients from the Mediterranean, like Italian parsley, olive oil, Calabrian chiles, and of course, garlic.
On the Menu
Wood-Fire Steaks: 14-oz. New York strip, sea bean chimichurri
Voltaggio Brothers Steakhouse, Oxon Hill, Md.
2

Horseradish Sauce: Punch up the charred flavor of steak with a pop of deep, flavorful creamy horseradish heat. Modern versions could include incorporating sweet pickle relish, chile crisp, gremolata, tarragon, buttermilk ranch dry seasoning, Buffalo sauce or powder, swapping beer mustard for Dijon and crema or Greek yogurt for sour cream/mayonnaise.
Try This
Atomic Horseradish Cream: Prepared horseradish + sour cream + ranch seasoning + hot sauce + smoked paprika
3

Hollandaise: The sophisticated creamy lusciousness of hollandaise can take on just about any bold flavor. Updated versions could include adding Worcestershire powder, porcini mushroom powder, Indian or Thai curry paste, harissa, smoked tomato, romesco, avocado purée, bone marrow or the ever-classic Béarnaise sauce.
On the Menu
Bootlegger's Ribeye: Creole spices cooked in a black iron skillet, chipotle hollandaise sauce
Jimmy Kelly's Steakhouse, Nashville, Tenn.
4

Bordelaise: Match premium steak with this premium, classic red wine sauce, given a trend-forward flavor boost with just a few tweaks. Consider incorporating coffee, minced roasted root vegetables, bone marrow, Carolina gold barbecue sauce, stout beer, port wine or bourbon in place of red wine. Pair Bordelaise with a dollop of signature housemade whipped compound butter for extra indulgence.
Try This
Java Bordelaise: Bordelaise + espresso + cacao nibs
5

Peppercorn Sauce: This lightly creamed, peppery sauce with brandy undertones complements steak with elegant finesse. Modern versions could include adding minced candied bacon, white miso paste or pomegranate molasses, or swapping Sichuan peppercorns with cayenne for cracked tri-color peppercorns.
On the Menu
Filet Mignon Forestiere: Tenderloin marinated in mustard, breadcrumbs and herb seasoning; served with a mustard peppercorn sauce
Bernard Mediterranean Restaurant, Tyler, Texas