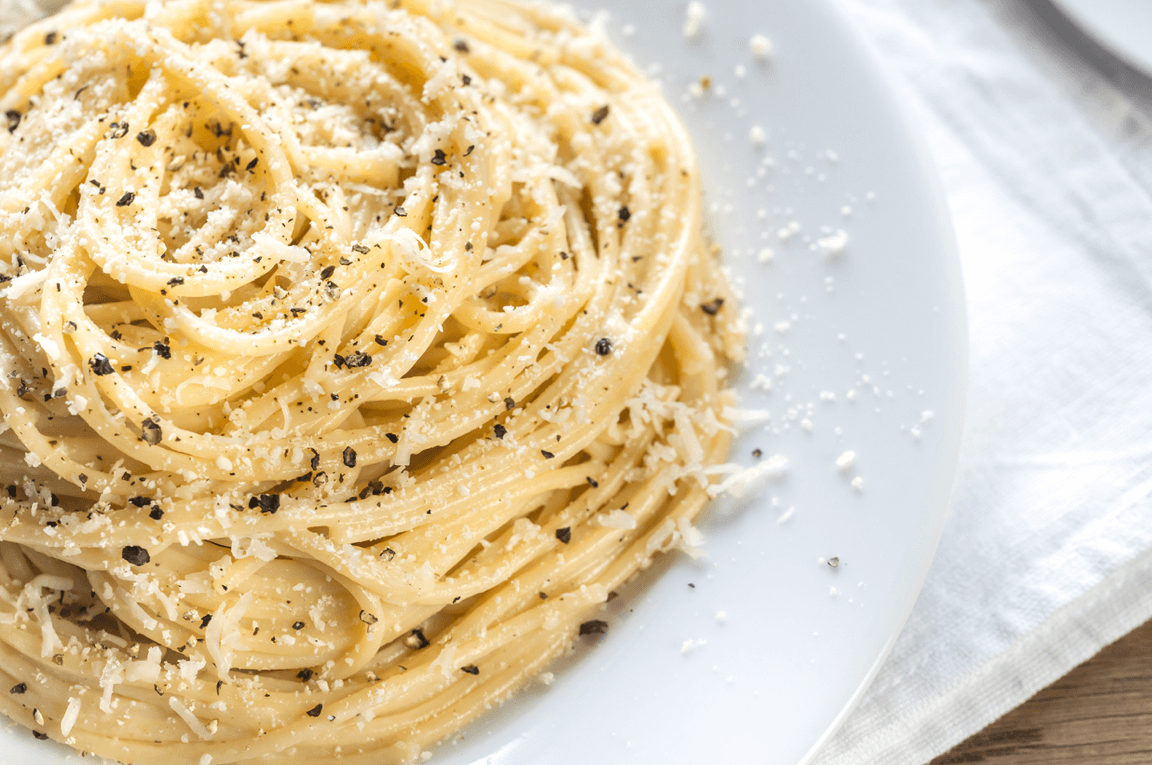 There's never been a better time to extend this Italian classic as a flavor system outside of pasta. Gen Z has discovered this simple yet satisfying comfort food, thanks to viral videos on TikTok, leading to a whole new base of diners who now love—and look for cacio e pepe. Chefs across the U.S. have run with its popularity, menuing their versions of the pasta and extending its flavor system into new formats.
Cacio e pepe, a simplistic Roman pasta dish, translates to cheese and pepper. While pecorino Romano cheese and freshly cracked black pepper take center stage, its simplicity requires finessing a harmonious flavor building technique that lusciously merges al dente long noodles bathed in starchy pasta water, the tangy sharpness of pecorino Romano cheese, and the sharpness of cracked black pepper that comes alive when bloomed in lightly foamed butter.
These building blocks provide big opportunity for chefs to innovate around. Menu developers can start by adding a prominent dose of grated hard Italian or even Spanish cheese and cracked peppercorn varieties to an array of comfort-based menu items, all paired with a buttery mouthfeel that unites the flavors. If desired, overlaying a subtle enhancement can lend additional appeal.
Below, we load up your innovation pipeline with 10 straightforward ideas centered around cheese- and peppercorn-infused potatoes, rice, vegetables, pizza, seafood and meats. All maximize the attention-grabbing words—cacio e pepe.
TRY THIS
Cacio e Pepe Golden Mashers: Buttery Yukon Gold mashed potatoes topped with EVOO drizzle, grated pecorino Romano, cracked tricolor peppercorns
Cacio e Pepe Honey Butter Chips: Housemade potato chips and crispy pancetta rounds tossed with melted honey butter, sprinkled with grated Grana Padano and crushed pink peppercorns
Cacio e Pepe Rösti: Grated Idaho potatoes, yellow onion, pecorino Romano, cracked black and white peppercorns, fresh thyme; clarified butter pan-fried cake; cut wedges topped with finely grated Asiago
Cacio e Pepe Congee: White rice chicken broth congee topped with poached egg, grated Parmigiano-Reggiano, cracked black and green peppercorns
Cacio e Pepe Arancini: Creamy balls of risotto blended with grated pecorino Romano cheese, cracked black peppercorns, Calabrian chile flakes, zested lemon; breaded and fried
Cacio e Pepe Oyster Mushrooms: Garlic butter sautéed oyster mushrooms topped with grated Mahón, cracked black peppercorns, curly parsley
Cacio e Pepe Butternut Noodles: Sesame oil-buttered butternut squash noodles tossed with cracked Sichuan peppercorns and sliced scallions, topped with grated Grana Padano
Cacio e Pepe Pizza: Neapolitan pizza, EVOO drizzle, buffalo mozzarella slices, grated pecorino Romano, cracked black peppercorns
Cacio e Pepe Calamari: Fried calamari tossed with smoked paprika brown butter, grated manchego, crushed pink peppercorns, chopped pickled banana peppers
Cacio e Pepe Chicken Wings: Fried chicken wings tossed with melted cultured butter, a touch of crema and cracked tricolor peppercorns, topped with finely grated pecorino Romano