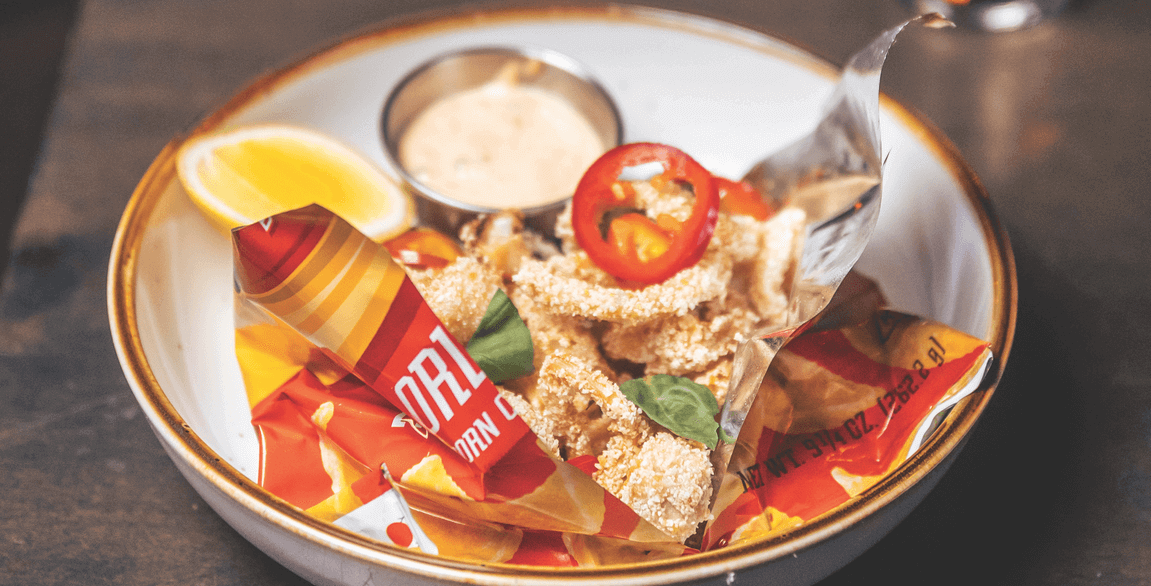 By Mike Kostyo
July 7, 2022
It may not surprise operators to hear that the majority of consumers consider seafood to be a premium category and that nearly 90 percent perceive it to be a healthy option. Recent data points to the significant role that seafood is playing in consumer preferences. Datassential reveals that the percentage of customers wanting to increase the amount of seafood they eat is nearly the same as those wanting to increase their plant-based protein consumption (34 and 36 percent, respectively). Seafood can certainly bring a rich narrative to the table, both from a health and wellness perspective and a sustainability one. Offering flavorful seafood builds can be a promising area of opportunity for operators.
At the Fort Lauderdale, Fla., location of Blue Steel Pizza Company, a pizzeria, scratch kitchen and cocktail parlor based in Bloomfield, N.J., the coastal consumer base is already familiar with classic seafood options like Italian fritto misto. Thus, Lou Narvaez, partner, opted to get more creative in menu development, and the inventive "Fritos" Misto was born. The dish retains the traditional mix of calamari, shrimp, market fish and zucchini, but uses crushed Fritos corn chips to bread these ingredients in a decidedly unconventional twist. The team doubles down on that playful touch by serving the dish in a split-open Fritos bag with a cherry pepper mayo accompaniment.
For operators looking to differentiate their seafood menus, innovation like this is essential. But to date, seafood tends to be used in fairly standard menu applications, according to Datassential, while proteins like beef and chicken are generally standing out in a much wider range of dishes. To propel seafood menus into signature territory, take inspiration from operators who are menuing high-impact builds that reflect trend-forward creativity and give customers the premium options they can only get from foodservice.
A TREND WITH LEGS
Once considered something of a "scary sea monster" for wary mainstream consumers, octopus has slowly but surely become one of the trendiest seafood options on menus. In fact, it's that very "creature-from-the-deep" connotation that appeals to many consumers today, as artfully plated tentacles are prime social media material. According to Datassential, octopus is now among the top five fastest-growing seafood options on menus, with grilled octopus increasing its menu penetration 33 percent in the past four years.
Given the last few years, today's in-person restaurant diners seem more intrigued by and ready to explore unfamiliar options, reports Chris Viaud, chef/owner of farm-to-table restaurant Greenleaf in Milford, N.H. "I think chefs are finding new inspiration from trending topics and ingredients," he says. Viaud's own contribution to this trend is a Haitian-inspired Spanish octopus small plate. The eye-catching, colorful dish features imported Spanish octopus that has been marinated in epis, a Haitian seasoning blend. The octopus is then blanched for tenderness and finally pan fried until it develops a crispy crust. It's plated with plantains, pikliz (a Haitian pickled vegetable relish) and fire-roasted green bell pepper purée.
Industry Kitchen, a New American restaurant in New York, also highlights Spanish octopus on its small plates menu. A single curled tentacle is flavored with saffron aïoli, smoked almond romesco sauce and black garlic and is served with patatas bravas on the side. The octopus is part of a lineup of other appealing shareables like Ahi Tuna Nachos artfully plated down the center of the plate, Hamachi Crudo and Lobster Tacos with mango-apple salsa and fennel slaw.
5 WAYS TO MAXIMIZE CRAB
Deviled Eggs

Blue Devil: Blue crab, deviled eggs, bacon, jalapeño and Old Bay
—Blue Violet, Edwardsville, Ill.

Tostadas

Crab Tostada: Gulf crab, cilantro, pickled onion, Serrano chile
and avocado salsa on a crispy tortilla
—Field & Tides, Houston

Egg Rolls

Crab Cake Egg Rolls featuring the restaurant's iconic crab cakes in egg roll form with a cream cheese blend, mango ponzu and spicy mayo
—Jimmy's Famous Seafood at Oriole Park, Baltimore, Md.

Dip Toppers

Guacamole topped with lump crab meat a la Mexicana, tomato, onion, cilantro, Serrano and fresh lime
—Rosa Mexicano, based in New York

Empanadas

Dungeness Crab "Empanadas" with chipotle mayo
—Tasca Tasca, Sonoma, Calif.