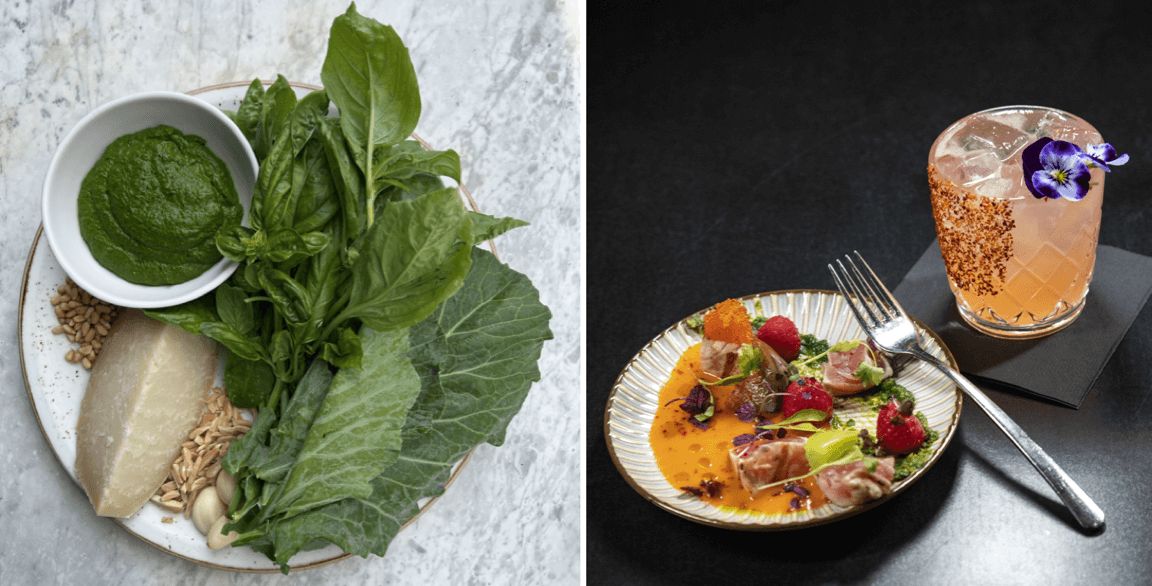 The word "pesto" is said to derive from the ancient Genoese verb pestâ (begetting the Italian pestare), which means "to crush" ingredients with a mortar and pestle. Depending on the source, the Ligurian basil pesto loved around the world appeared as early as the 13th century, and iterations of the recipe go as far back as the Roman Empire and the Middle Ages. Their descendants can be found on restaurant menus worldwide.
Purists argue that authentic "DOC" Pesto alla Genovese is made with only seven ingredients (extra-virgin olive oil, basil, garlic, pine nuts, Parmesan, pecorino and salt) sourced from the region. While ancient trade routes carried pesto to other continents, it continues to evolve thanks to the global popularity of Italian cuisine. Pesto provides an easy opportunity for menu developers to put a regional stamp or twist on the herbaceous and versatile sauce.
GREEN GOLD
Sometimes a chef can combine two Italian classics and end up with something original, as Chef/Owner Amy Brandwein recently discovered when adding Centrolina's signature pesto—which integrates tarragon with basil and lemon zest to create a burst of flavor—to her summery variation on Pomodoro Salad.
"We are known at Centrolina for our pesto, which we call 'green gold,'" says the Washington, D.C.-based chef. "Our Pomodoro Salad is composed of watermelon, tomato, beets, and a squeeze of lemon. But when we top it with our pesto, it pulls all of the flavors together and provides a wonderful balance of sweet and savory. I wasn't sure about the combination of watermelon and pesto when I first created the dish, but it has been so well received. Guests are surprised that the two ingredients complement one another so seamlessly."
In the hands of Joe Milenkovic, chef de cuisine at Easy Bistro & Bar in Chattanooga, Tenn., pesto can not only be tailored to the palates of Southerners but also fit neatly into the cannon of American comfort food. While he originally intended to create a Tuscan black kale pesto, he pivoted toward collard greens when black kale was not available. This opened the door to a highly original dish his customers quickly embraced. After the collards are blanched to achieve a "super creamy and buttery" consistency, they are puréed with herbs, pine nuts, almonds, pecorino, Parmesan and plenty of olive oil.
"I think Southerners love seeing collards on a menu in unique ways," says Milenkovic. "Using the bounty of the land is a pillar of New American cuisine, and using a specific ingredient identified with a region, like collards, makes it even more American. I also enjoy the idea behind this recipe because it also pays respect to Italian cuisine, staying loyal to tradition, while also using what's on hand."
PESTO SOLUTIONS
At Washington, D.C.-based Cranes, Executive Chef Pepe Moncayo has delighted his selective clientele with his distinctive Asian Yellowfin Tuna with Shiso Pesto and Lacto-Fermented Tomato Sauce. While he succeeded in innovating an Asian twist on pesto for the Michelin-starred restaurant, he notes that the increasingly common presence of nut allergies among his customers also prompted him to look beyond nuts. In his recipe, green shiso leaves and fresh parsley are blended with olive oil, apple cider vinegar and whisked with a caper relish to create a bright, acidic sauce that works well with tomatoes.
"The pesto is substantial enough to stand as the base of the dish, which is topped with a lacto-fermented tomato sauce, tomatoes and sushi-grade tuna, and finished with citrus garnishes and micro shiso," Moncayo explains.
In Sedona, Ariz., Lisa Dahl, the chef behind the acclaimed Dahl Restaurant Group, brings cilantro and mint to the pesto equation to bring a modern twist to her Grilled Lamb Costelletes. "Why not use mint pesto in place of mint jelly?" she says, regarding what it can bring to dishes with Middle Eastern and Mediterranean influences. "Combining fresh mint with cilantro or basil also makes a great condiment to top off legume soups or aromatic rice dishes. There are so many things that this pesto brightens up."
In addition to addressing customer food sensitivities, pesto can be a tasty problem solver for restaurants interested in developing family-friendly dishes adults will like, too. "Top Chef" winner Brooke Williamson turned to son Hudson for inspiration in developing her Egg in a Hole with Crispy Prosciutto and Broccoli Pesto breakfast dish. It pleased finicky "Top Chef" judges as well, as it ended up being one of her winning dishes in the "Tournament of Champions" finale.
"Oftentimes people underestimate what they can make with what they already have on hand, in your cupboard, fridge or freezer," says Williamson, who co-owns Playa Provisions in Playa del Rey, Calif., with husband and fellow chef Nick Roberts. "A lot of delicious meals only require a few ingredients, so flavor doesn't need to be compromised for simplicity."
Sometimes swapping out one ingredient can make a big impact as well as help a restaurant stay within its ingredients budget. In the case of Gen La Rocca, owner and recipe creator for garlic-focused blog Two Cloves Kitchen, subbing in almonds can offer menu developers a more economical alternative to pine nuts while adding an earthy layer of flavor. La Rocca recommends it for "preparations such as on pasta and sandwiches, and more creative applications such as a dollop on eggs, mixed into finished soups, and drizzled over salads."