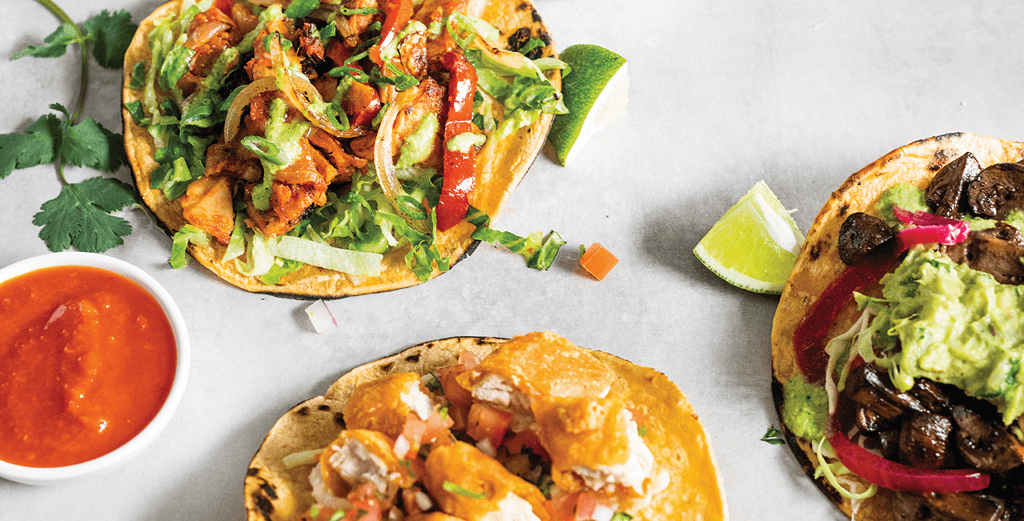 Jeremy Bringardner says that he "went off the deep end" during the last R&D cycle for Mendocino Farms, a fast casual known for craveable, feel-good sandwiches, salads and bowls. "I was working on this new dressing and I went kind of nuts," admits Bringardner, who serves as corporate executive chef for this Los Angeles-based brand with restaurants throughout California and Texas. He threw himself into the process, working through each hit of acid, undertone of umami, punch of heat, herb and spice, and rounding out of fat. "I wanted to keep pushing for more depth, more layers. We take sauces and dressings work to the edge, pushing our limits. It's how we find the magic and land on flavor combinations that are layered, complex and truly delicious."
Losing a bit of sanity is a small price to pay for successful innovation in this category. It almost goes without saying that sauces, dressings, condiments and dips are the fast pass to craveability. They also serve as critical points of market differentiation, showing off a restaurant brand's flavor personality. "A massive share of a concept's flavor identity comes from sauces," says Bringardner. "They're your biggest opportunity. I dedicate a lot more energy, time and R&D to sauce development than anything else because it creates our differentiating factor. Getting that right is incredibly valuable to our brand."
Sauces play a vital role across all four brands in the Veggie Grill family of plant-based concepts. Kajsa Alger is the VP of food and beverage for the Santa Monica, Calif.-based restaurant group, which includes Veggie Grill, a pioneer in the vegan fast-casual space; the Gen Z-focused Stand-Up Burgers; the virtual vegan taqueria Más Veggies; and the brand-new virtual concept Vegan Bowls for All. "Our sauces are incredibly important in delivering craveable flavor," says Alger. "We use strategic ingredients to pump up umami as well as beefing up existing products, like tomatoes and mushrooms, so we can add our own flair."
Lemonade, a "California-fresh" fast casual from Denver-based Modern Restaurant Concepts, is shifting its menu into a more customizable format, developing a roster of flavorful yet approachable proteins and "choose-your-own-adventure" sauces. "Our goal is to let the guest explore and customize to their personal preference. Sauce innovation helps us achieve that goal," says Josh Chesterson, director of culinary innovation. "Operationally, sauces are relatively easy to implement." Modern sauce work gives consumers the reins to flavor experimentation while allowing the culinary team to change things up more often. "As trends move in or as flavor preferences shift, we can change sauces as frequently as we want because their value is high and their complexity at the store level is low," says Chesterson.
THE PLAYING FIELD
Meticulous flavor building is key in each of these operators' sauce innovations. Apart from pride of product, a quick look at the playing field illustrates the need for an A-game approach. Consumers today are spoiled by ever-increasing trend-forward flavor combinations and intriguing new offerings. Tropical flavors like guava and mango are trending, balancing heat levels when paired with chiles like habanero and jalapeño. Abe Conlon's new Chicago restaurant, Noodlebird, offers guests a selection of housemade sauces, including Attack of the Nightcrawlers, which sports cherry bomb and ghost peppers, guava and banana. Application of the global pantry continues to expand, with sauces providing a safe gateway to flavor discoveries like Spanish saffron, Indian tamarind, Japanese yuzu and Chinese black vinegar, to name a few.
At Lou's Takeaway, a locally focused, comfort-food eatery in San Rafael, Calif., an entrée of slow-cooked pork belly is bathed in a rich black vinegar caramel sauce and served with a nutty sesame sauce. Florals are making deeper moves into sauces, too, with ingredients like lemongrass and hibiscus asserting their distinct flavor profiles. At Four Flamingos, Richard Blais' seafood-forward tropical restaurant inside the Hyatt Regency Grand Cypress in Orlando, Fla., the menu features Ice Cold Oysters and Pearls with a spicy hibiscus sauce.
Ukiah, an Asheville, N.C., smokehouse that blends Japanese soul food and Southern barbecue, menus a few dishes that demonstrate modern sauce building. Grilled Prime Ribeye with shiso chimichurri is a great example of taking a trending sauce and bending it toward a brand's personality—in this case, folding in Japanese shiso to drive home that distinct flavor narrative. Likewise, the family-style Crispy Baby Back Ribs with yakiniku sauce allows Michael Lewis, co-founder and executive chef of Ukiah's parent company Scotch + Bacon Hospitality Group, to introduce diners to a signature take on a classic Japanese sauce on a very familiar protein. He combines soy sauce, mirin, sugar, sesame seeds, dark sesame oil, ginger, garlic and sake, then adds rice vinegar, kombu, salt, Korean chiles and gochujang. "It's a little bit of an American style with the sweet and sour, and it has Korean elements with the funky notes and chile flavor, and then the Japanese flavors come through with the sweet-savory teriyaki style—and I love all of those things," says Lewis. "Guests might not know what yakiniku is but they see 'ribs,' and they're up for it. It's among our top-three sellers."
WHAT WERE THEY THINKING?
While "flavor building" is a foundational pillar in menu development, its application can get lost in abstraction. Here, three chefs break down the strategies behind some of their biggest successes and upcoming launches. In doing so, they demonstrate modern flavor approaches that are thoughtful, nuanced and intentional every step of the way.
First, let's go back to the project that made Mendocino Farms' Bringardner so singularly focused. He's working on a salad launch for 2023 themed around a fattoush, a Levantine build that features crunchy vegetables, pita, a zesty vinaigrette and a dash of sumac. "The fattoush is a cool concept that hasn't hit the mainstream, so I feel like there's opportunity there where we can make it fun and colorful and a little different while still respecting the origin story," he says. For the salad, he's using a foundation of Persian cucumber, purple carrots, bright radishes, sliced dried apricots, grape tomatoes, pita chips and either feta or manouri cheese. "I'm marinating the vegetables in a pomegranate vinaigrette, which my team would make at the store level, and is close to the classic dressing that you would expect to find on an actual fattoush: sumac, lemon, pomegranate molasses, garlic, vinegar and oil."
"The real innovation for us is in the creamy sumac dressing," continues Bringardner, explaining that he has struggled with the consistency of the dressing. "Something wasn't clicking. It wasn't thick enough, then I took a step back and thought about our ranch base, which I know works well," he says. He took the base of that classic dressing (sour cream, buttermilk, mayonnaise and buttermilk powder), then enhanced it with tahini, pomegranate molasses, sumac and za'atar. "And just a pinch of cumin and cayenne. I wanted just enough to give it an exotic feel and just a little undertone—the second you can taste the cumin, it's too much. It's like you're painting a wall: Instead of going with an intense blue, you go with white and a drop of blue so it's a tint." Bringardner used the structure of ranch dressing, but stripped away components that identify it as ranch—the dill, chives and parsley—replacing those with ingredients that give it the Middle Eastern flavor notes he was looking for. "I'm excited about the dressing, and now we have to make it operationally viable," he says.
Complexity doesn't wave off Mendocino Farms' menu rollouts that deliver on chef-driven flavors. "We have to take on complexity somewhere. Otherwise, we're not doing anything unique that differentiates us," says Bringardner. "I'm extremely mindful of where we put that complexity. At the store level, it's too hard to manage. With sauces, we develop them, then move them to a third party to produce in bulk. They ship that bag of complexity to the store level. And then, 'Boom!' we have a next-level sauce and a signature build."
Veggie Grill's Alger is similarly painstaking in her sauce development process, ensuring that the group's plant-based menus fire on all cylinders. At the newly launched Vegan Bowls for All, the Korean Kimchi "Beef" Bowl features the brand's Korean BBQ Sauce. Leaning on common terminology for its signature recipe is intentional. "We try to keep our names familiar and non-intimidating so that they lead people to try the item," she says. "This sauce uses gochujang as the base, which gives it that spicy koji zing so familiar in Korean food, but we pump up the umami by working in fermented mushroom 'Worcestershire' and juices from our kimchi. Then we use ketchup as the sweetener."
Alger continues to emphasize the value in melding flavor complexity with consumer recognition and acceptance. "Because we are in the fast-casual space, our world of sauces has to stay on the tamer side, although we do showcase some pretty bold flavors," she says. As an example, Alger points to one of Veggie Grill's most popular shareables, the Japanese Katsu-Style Sliders: seasoned, crispy-fried Impossible mini burgers, pickled vegetables, fresh herbs and sesame aïoli served on steamed bao buns. "Their simplicity is attributed to a few things that are not so simple: a koji- and shoyu-based aïoli and a sauce of tamari, green onion, tons of sesame seeds, sambal, sugar and sesame oil," she says. The tamari-based sauce dials up the flavor of the burger patties, used as a marinade before they're battered and fried.
Lemonade is also leaning into global flavors with its sauce strategy, with options like chimichurri, peri peri, ponzu, s'chug and gochujang either already in market or in development. "At the end of the day, we rule nothing out in the sauce category," says Chesterson. "If it plays well with our menu items and is accessible—even if guests aren't completely familiar with it—we're still comfortable putting it on the menu."