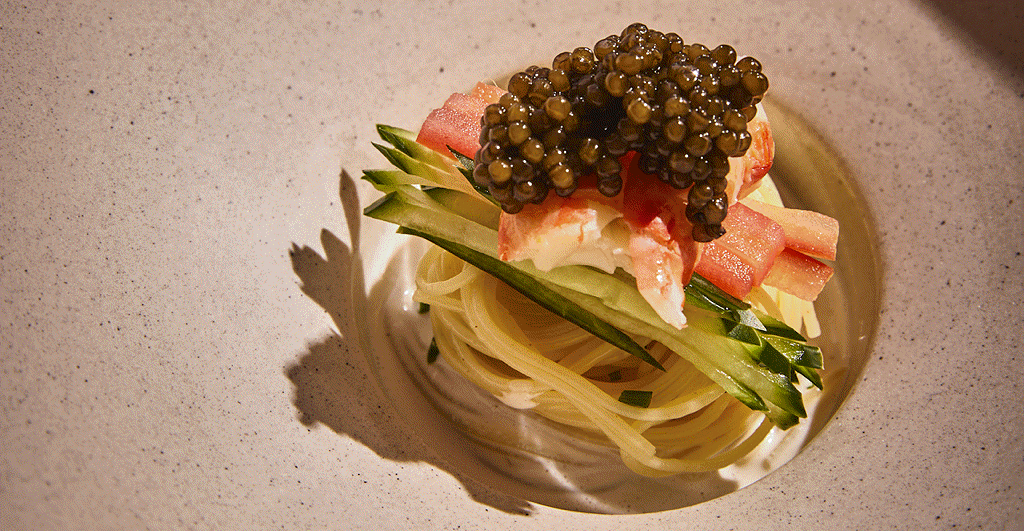 By Mike Kostyo
November 30, 2022
Pasta's reach has long stretched beyond Italian cuisine, with chefs leveraging its comforting, hearty and familiar profile in renditions of dishes like Greek moussaka and Spanish sopa de fideo. We're also seeing pasta and noodles carry more intriguing, modern Asian flavors.
Oiji Mi, a contemporary Korean concept that opened in New York's Flatiron District this year, features Cashew Kong-Guksu on the menu, a cold noodle soup that's a staple in Korean cuisine ("kong" means beans and "guksu" is noodle) and is traditionally made with soy "milk" and wheat noodles. While the inspiration is traditional, the execution is not. The team at Oiji opted to update its version with a creamy cashew broth and capellini pasta, which has the al dente texture that American consumers tend to prefer. It's served with trout roe and pickled tomatoes.
The rise of Japanese cuisine in the U.S. is also driving an interest in Japanese-Italian mash-ups (often called Wafu Italian cuisine), which are common in Japan but still relatively new here. Tonari, the Wafu Italian concept in Washington, D.C., features a range of Japanese-Italian pasta dishes on the menu, including an umami-packed Bolognese made with natto, or fermented soybeans, and mentaiko pasta made with tagliolini, spicy cod roe, tsuyu (a noodle dipping sauce), traditional shiso, lemon and a crunchy nori topper.