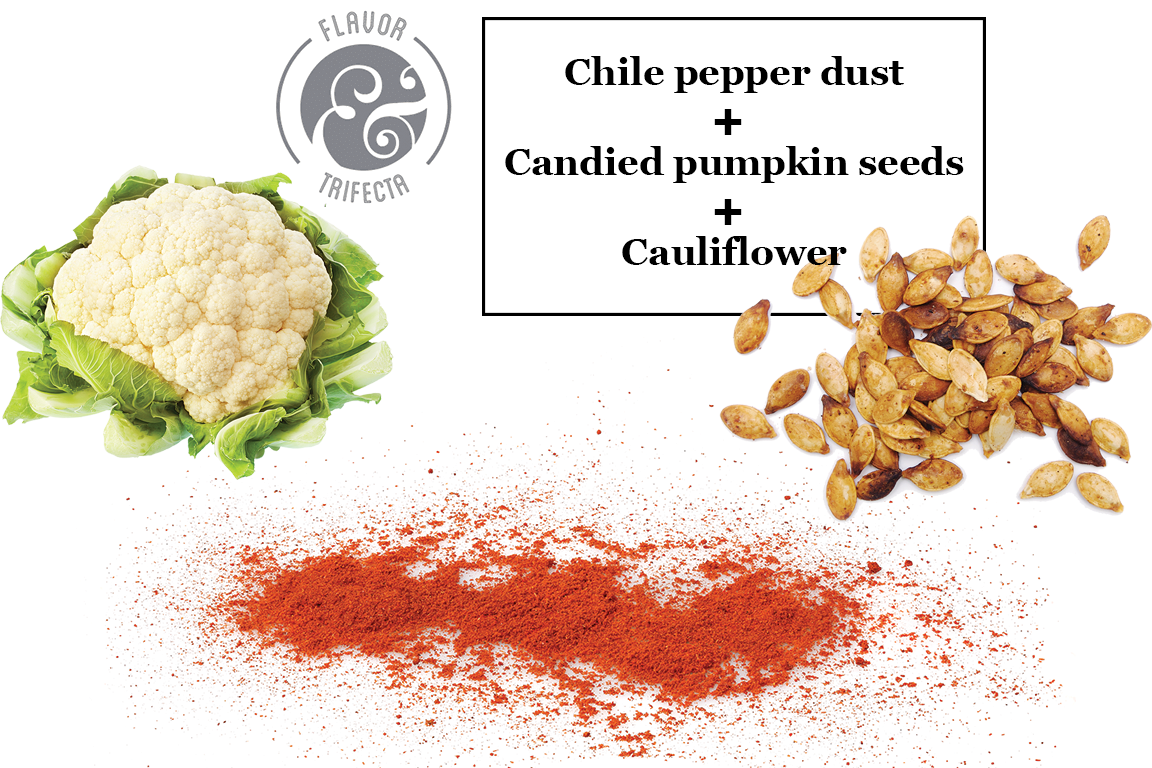 By Flavor & The Menu
April 11, 2023
Venecia Willis is Velvet Taco's director of culinary. This Gen Z-friendly fast casual, with more than 30 locations across Georgia, Illinois and Texas, is home of the irreverent taco build, reflecting both global and homestyle influences. The brand is known for taking craveable flavor systems and turning them into winning menu items: The Korean Fried Rice Taco, a fan favorite, sports egg-fried rice, Korean pork, red chile aïoli, pickled red onion, jalapeños, grilled pineapple and cilantro in a flour tortilla, and the Chicken and Waffle Taco features crisp tenders, peppered bacon, peppercorn gravy, green apple slaw, maple syrup, red chile aïoli and chives in a waffle tortilla.
We asked Willis to ponder a trio of ingredients that, when combined, are greater than the sum of their parts. She came back to us with chile pepper dust, candied pumpkin seeds and cauliflower. And, not surprisingly, says they shine best when carried in a taco. "Every great dish has a combination of three or more elements. This trio captures the sweet, salty, savory and sour," she says. The candied pumpkin seeds introduce a balance of salty and sweet tones while the cauliflower—which Willis beer batters—brings in both savory and salty notes. The chile pepper dust introduces sour, tangy flavors, giving the trifecta that needed complexity. Willis says the beer-battered cauliflower offers menu versatility. "This is a hearty, neutral vegetable that can be applied in numerous applications. It can take on flavors of its surrounding ingredients. Velvet Taco's take on this plant-based protein introduces a beer-battered application that combines tangy and hoppy notes," she says.
This trifecta reflects Velvet Taco's plant-forward sensibility: an important quality for today's flexitarian diners, which encompasses a large number of Gen Z consumers. Other offerings include the Fried Paneer Taco with tomato chutney, tikka sauce, raita crema and Thai basil on a flour tortilla, and the new Mediterranean Mushroom, with grilled portobello mushrooms, french fries, tzatziki, chimichurri, cucumber, grilled heirloom tomatoes, feta cheese and dill, also on a flour tortilla.
Willis suggests the trifecta of chile pepper dust, pumpkin seeds and battered cauliflower could also be used in salads, sandwiches, grain bowls and on flatbreads.