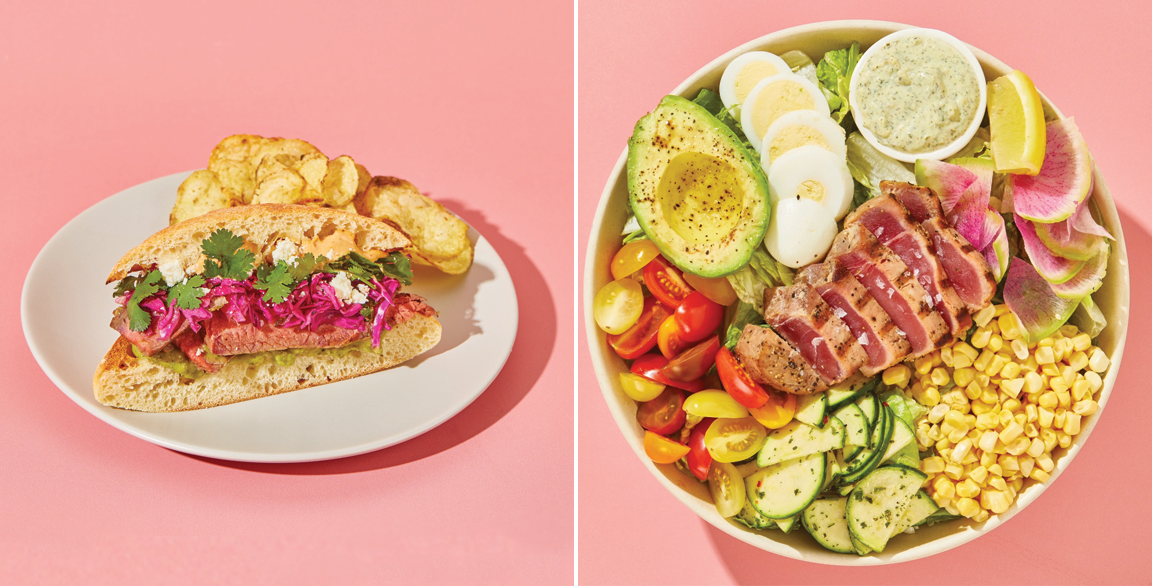 By Katie Ayoub
December 14, 2022
Once upon a time, a restaurant brand could tuck a sustainability pledge or two into its mission statement published on its website. Consumers who cared could find their way to this information and deepen their brand loyalty, or they could give their hearts (and wallets) to a competing brand whose sustainability practices met their values. Today, sustainability has moved from a hot-button issue for a niche group of concerned consumers to a foodservice industry imperative.
"The conversation has shifted from what it was 10 to 15 years ago. Back then, it was, 'Well, you can attract guests looking for sustainability efforts by just changing out your to-go packaging and getting rid of Styrofoam,'" says Nate Weir, VP of culinary for Denver-based Modern Restaurant Concepts, which includes fast casuals Modern Market and Lemonade. "Today, I would argue that, for new brands, demonstrating a commitment to sustainability is table stakes." The restaurant group has environmentally sound practices coded into its DNA, says Weir, and is constantly striving to do more. "Being sustainable is the kind of company that we want to be, so we're always looking for more opportunities to put our money where our mouth is," he says.
There's certainly a broad array of concerns that are taking center stage in today's foodservice sustainability conversations, everything from reducing food waste and eliminating single-use plastics to ethically sourcing products and supporting the well-being of local communities. With so many issues huddling under the sustainability umbrella, where should restaurant brands place their focus? Given all of the worthy strategies aimed at caring for the planet, which ones resonate most with prospective guests? Looking at the issue through the lens of recipe development and flavor building, we've narrowed in on ingredient sourcing, sharing how brands select products and, then, almost equally important, how they share the stories behind those carefully chosen ingredients to demonstrate a commitment to the health of the planet.
CONSUMER WATCH
A sense of corporate responsibility or altruism is reason enough for brands to adapt or broaden their sustainability efforts, but a quick look at recent data solidifies the goal: Restaurants wanting to earn loyalty and dollars should consider championing sustainability.
According to Datassential's Sustainability Keynote Report (October 2022), 64 percent of consumers say that making sustainable choices is important to them. When looking at retail purchasing behavior by consumers, a study published in March 2021 by the NYU Stern Center for Sustainable Business demonstrates a larger commitment today to products that reflect green values: Although sustainably marketed products make up only 17 percent of retail sales, they now account for more than 50 percent of growth. That's seven times faster than products not positioned as sustainable.
Most restaurant brands are not sitting on the sidelines. Datassential reports that 73 percent of operators polled said that sustainability influences what products they purchase (14 percent were "heavily influenced" and 59 percent were "somewhat influenced"). That doesn't mean that each soundly sourced ingredient and every Earth-friendly decision must be broadcast on restaurant menus. "We try to embrace transparency, and the way that we define that today is being proud of the answers to questions we receive about the ingredients we use on our menu," says Weir.
Nordstrom Restaurant Group, with 17 distinct concepts, both full serve and quick serve, at more than 200 locations throughout the U.S. and Canada, implements a range of sustainability initiatives. "Our responsible sourcing efforts drive our food and beverage program," says Michael Boyer, Nordstrom's F&B product development chef. "We strive every day to improve upon the delivery of best-in-class experiences by sourcing products that are responsibly grown, caught and produced by communities that are treated well and share our same corporate values for quality."
The values piece cannot be overestimated. Consumers today are demonstrating that they care about the future of the planet, and they want to actively support brands that can prove a similar commitment. "How our customers are spending their dollars is ultimately how they voice their values around sustainability," says Boyer. "In menu development and marketing, we're focused on telling our story, asking our teams to pass it along to guests, highlighting our own values and, hopefully, shining a light on food producers in the U.S. and internationally that are doing a really great job in this arena."
A FINE LINE
Restaurant brands like Nordstrom and Modern Restaurant Concepts have folded sustainability practices into their corporate governance, with efforts running both deep and wide. So as not to overwhelm guests with messaging, broadcasting white noise instead of clear vision, they're judicious in how they distill and communicate their partnerships, commitments, improvements and achievements.
"It can be a difficult needle to thread," says Weir. "Our approach has been to highlight stories, seeding the menu here and there so our guests understand what we're about." Those stories are often about suppliers. For example, Weir uses only 100 percent grass-fed beef, touting how proud the company is of that choice on its website. "Our steak is one ingredient of which we're particularly proud. We'll be honest. It was a challenge to find a steak that meets our high standards for flavor, animal welfare and environmental sustainability. We tasted over 20 grass-fed and grass-finished steaks before finding this flank steak, and we're thrilled with it on every level." Modern Restaurant Concepts' sustainability messaging shares these details without turning them into an environmental lecture.
"We get a great response to the grass-fed beef," says Weir. "It's a popular item for us. We source flank steak from Australia, and it is just delicious with a classic 'steaky' flavor. Deciding to menu Australian beef speaks to our sustainability journey, too. We did a lot of research into it, knowing that we were adding a product that comes from half a globe away." Those learnings included finding out how livestock are raised humanely Down Under, on pasture and natural grasslands, and that the journey the product takes across the sea shouldn't be a deterrent from sourcing something that meets a brand's other sustainability objectives. "Food miles" are not necessarily a suitable indicator of environmental impact. "I like to tell that story because we thought we knew one thing going in, and then when we researched what Australian grass-fed beef was actually about, it changed our minds," says Weir.
In addition, he sources ahi tuna only from fisheries certified by the Marine Stewardship Council, ensuring that it's sustainably line-caught from day boats. Its salmon is farmed sustainably "from cold, deep Norwegian fjords." Modern Restaurants communicates these sustainability standards to guests via in-store marketing and online messaging.
Nordstrom employs "one-pager sheets" displayed in the restaurants that detail key partnerships with suppliers. "We cover the health benefits or environmental impacts of a particular product we're highlighting on the menu that month, giving our guests information on why Nordstrom has chosen that company as a preferred supplier partner," says Boyer. Apart from these visual cues in restaurants, he says the most successful way that Nordstrom shares information about suppliers committed to environmentally sound practices is through QR codes that are printed on those displays. "That was the best tool that came out of COVID," he says. "The interaction with our guest may only be two minutes while they're in line for a cup of coffee and a snack. So how do we tell a story about the quality of coffee that we're serving? That it's women-produced coffee, holds fair-trade certification and is part of the Rainforest Alliance? With the QR code, the customer can take that information back to their home and do a bit more researching on their own time."
The products highlighted have rich stories of sustainability behind them. Nordstrom sources blue wild Mexican shrimp, fished off the coast of Sonora and Sinaloa in day boats that use the wind and the tide to drift their nets and minimize bycatch. It menus wild salmon, halibut and pollock from Alaska, a state that has sustainability written into its constitution. And Nordstrom serves Australian lamb, proudly sharing the provenance of the product, messaging through signage and employee/guest interactions that Australia's lamb producers lead the world in sustainable practices.
EMPOWERING EMPLOYEES
The best evangelists for a restaurant concept are its employees. Educating them on sustainability initiatives helps them share salient details as part of meaningful guest interactions. "We give our staff the resources and training materials they need so they can get excited about the suppliers we're highlighting and talk to our guests about the features we're running," says Boyer. "We make sure our teams are well prepared with info, knowing what they're serving and why they should be proud of that."
Weir agrees that getting employees behind sustainability efforts is key. "The internal story is just as important as the external story," he says. "We're all dealing with staff retention issues, and Gen Z makes up a lot of our employee base. A sustainability story is really important to that group of team members. We have good retention with people who stick around because, in part, they feel good about working for a company that's trying to do things the right way."