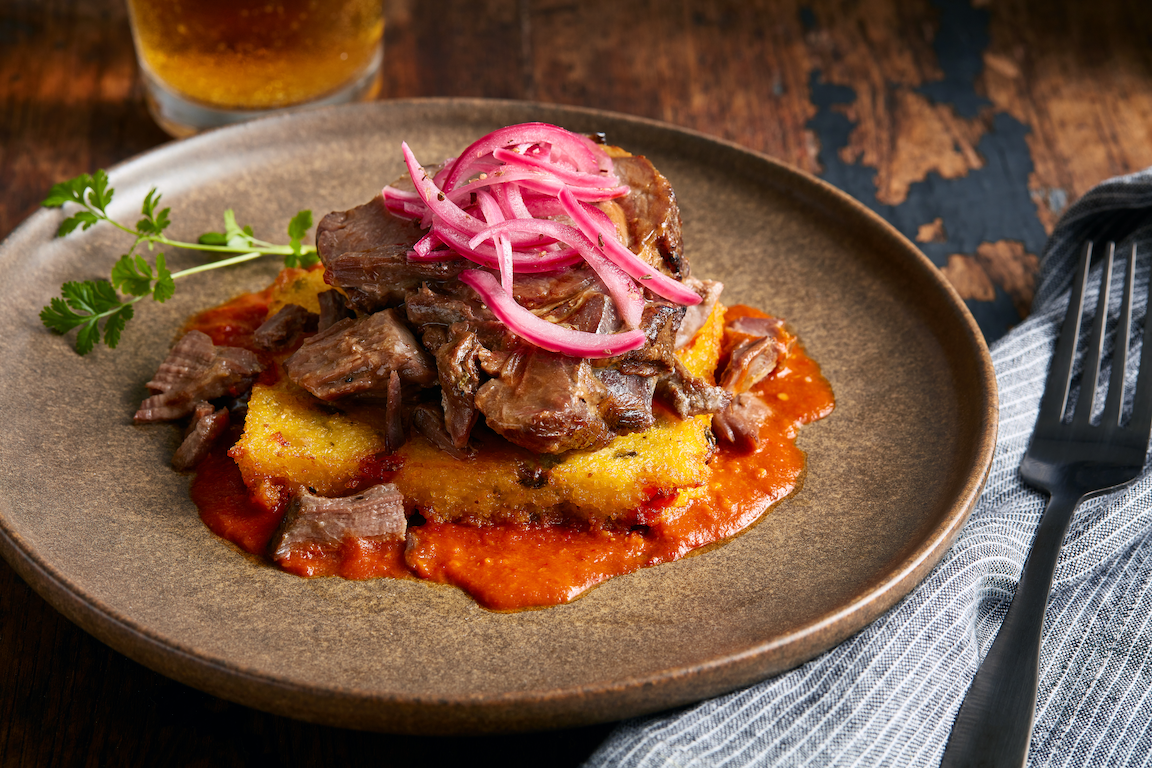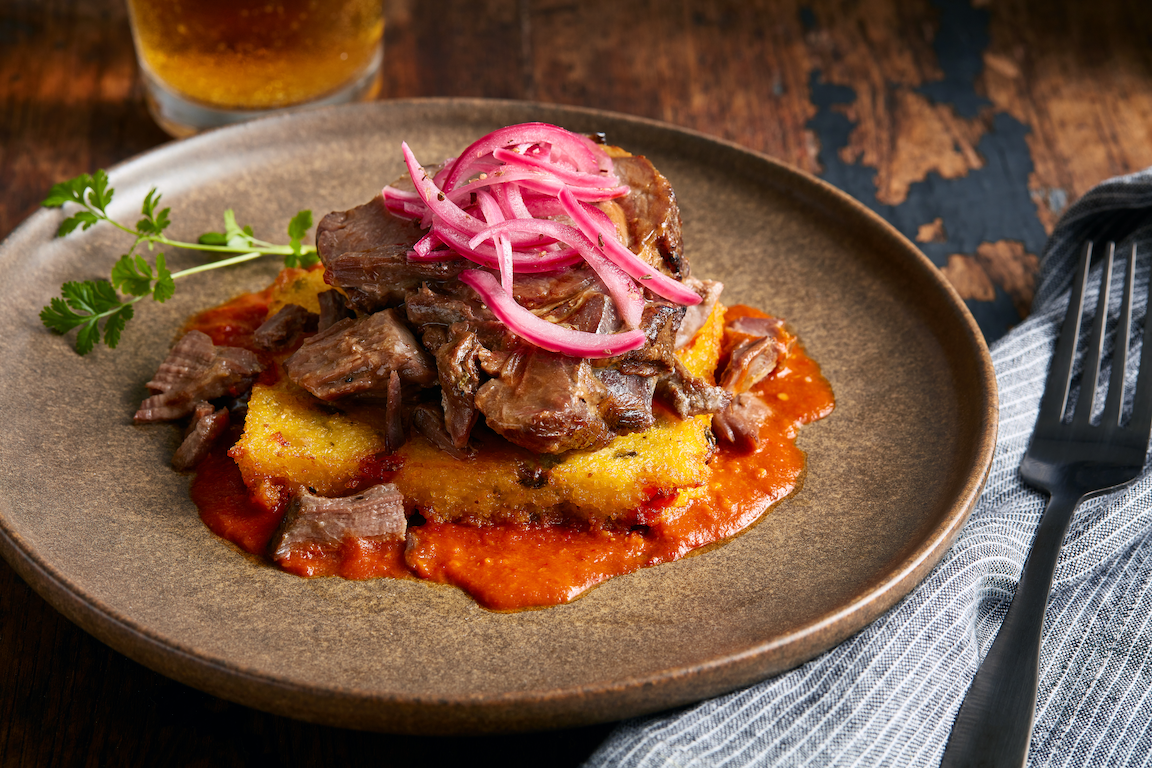 Braised Birria-Style Lamb with Crispy Polenta
Recipe courtesy of Juan Serrano
Sponsor: Aussie Beef & Lamb
Servings: 10
Ingredients
Sauce:
Olive oil, as needed
2 oz arbol peppers, sliced
5 oz cascabel peppers, sliced
5 oz pasilla peppers, sliced
1 onion, cut into fourths
8 garlic cloves
Braised Lamb:
5 lb boneless Australian leg of lamb, cut in 8-oz portions
1 onion, diced
1 carrot, diced
2 celery stalks, diced
5 bay leaves
2 cinnamon sticks
1 tsp nutmeg
2 Tbsp dried oregano
5 thyme stems
Crispy Polenta:
4 c water
1 c polenta
Black pepper, as needed
1 Tbsp Parmesan
1 green bell pepper, small dice
1 red bell pepper, small dice
1 jalapeño, small dice
Curtido:
1 c red wine vinegar
1 c water
1 tsp dried oregano
1 onion, slivered
Kosher salt, as needed
Garnish:
Radishes, thinly sliced, as needed
Cilantro leaves, as needed
Directions
For the Sauce:
In a sauté pan, heat oil over medium heat. Pan-fry the peppers in batches until tender, 3 to 5 minutes per batch. Remove to a hotel pan or pan lined with paper towels.
In the same pan, sauté the onion and garlic until they have softened. Be careful not to let garlic burn.
Transfer the peppers, onion and garlic to a pot and cover with water. Bring to a boil. Turn off the heat and remove vegetables to a blender.
Blend vegetables, adding 2 c of the cooking water to make a smooth sauce. Add more water as needed for consistency.
Strain the sauce into an 8-qt container. Cover and refrigerate.
For the Braised Lamb:
In a hotel pan, rub the lamb portions with about one-third of the sauce. Rub them all over, making sure they are well-marinated. Cover with plastic wrap and refrigerate for 1 hr.
To cook lamb, add onion, carrot and celery mirepoix to a deep hotel pan. Add the bay leaves, cinnamon, nutmeg, oregano and thyme. Put the lamb on top and cover with the remaining sauce. Cover the pan with foil and place it in a 235°F oven with fan #3 for about 4 hours, until very tender.
Remove the lamb and hold it warm for service. Strain the sauce and hold it warm for service.
For the Crispy Polenta:
Bring the water to a boil.
Whisk in the polenta and pepper. Cook, stirring, until thickened.
Stir in the Parmesan and peppers. Pour the polenta onto a buttered half sheet pan. Refrigerate for 3 hours.
Cut the polenta into 10 squares.
For the Curtido:
In a container, combine the vinegar, water, oregano and onion. Generously salt them and cover.
Refrigerate for 1 hour, then drain and hold.
For Plating and Garnish:
To plate, flash fry one portion of polenta at 375°F for 15 to 20 seconds to crisp the exterior.
Place it on a plate and top with a warm portion of braised Australian lamb.
Ladle 4 oz warm sauce around the lamb.
Garnish the plate with sliced radishes and cilantro.
Garnish the lamb with some of the Curtido.
Project Management: Summit F&B
Photography: Carlos Garcia // Food Styling: Peg Blackley