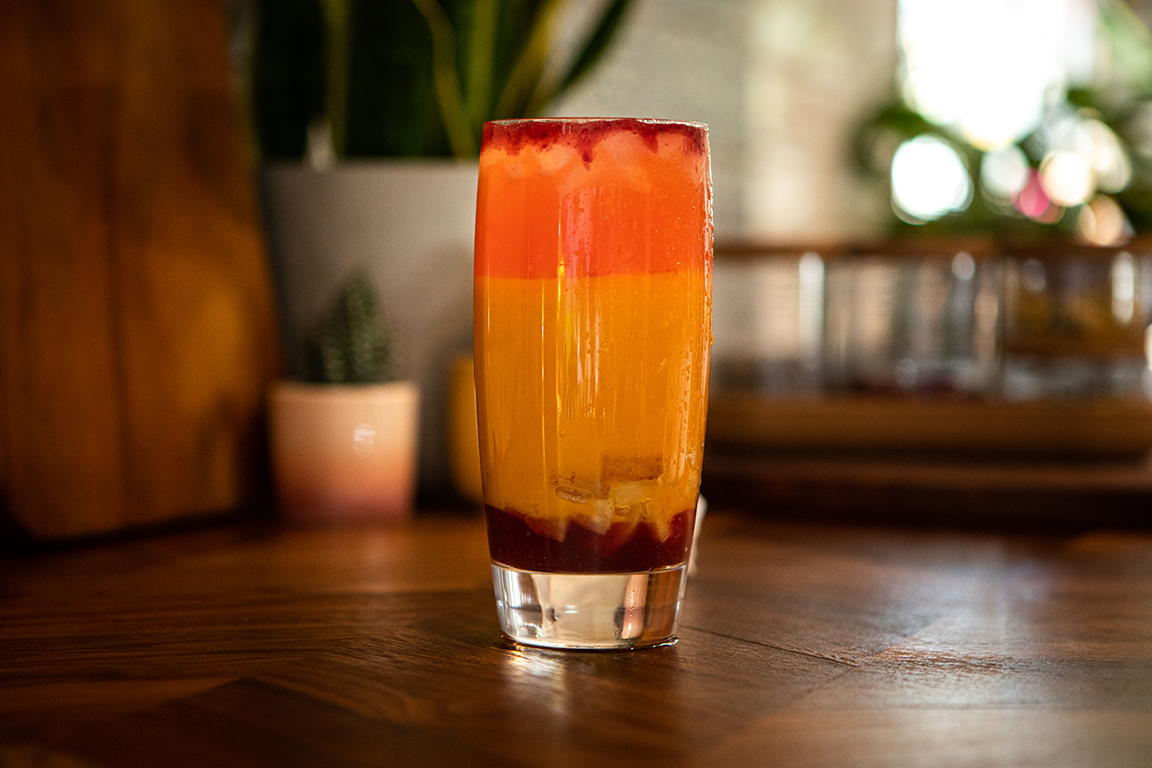 Operations looking to target their non-alc beverage programs at Gen Z must lock down three crucial, and intertwined, areas of focus: color, complexity and connection. Ombré drinks hit this mark.
The initial appeal of ombré drinks is served up by stunning visuals of contrasting colors and textures. Social media is proof positive that Gen Zers drink with their eyes first, as they relentlessly share Instagrammable beverages, viewing them as arm candy, something to show off that reflects their vibe or online brand. Gen Z customers see color as an element of self-expression, and it's a driver for many of their purchasing decisions, including beverages. It's crucial that menu developers recognize the value that vibrant colors, unique ingredients and evolving techniques hold with younger consumers. Ombré drinks are a great tool to deliver both familiar flavors in new forms and more attention-grabbing pairings.
The palette for the palate is rich with options. Popular color schemes include comforting pastels, vivid hues, warming orange-reds, soft earthy greens and darker brooding blends. These are being applied across iced coffees, teas, ciders, lemonades, plant "milks" and smoothies.
Personal customization is another key to mining Gen Z interest. In tandem with ombré techniques, provide opportunities that allow diners to select their choice of various drink elements, such as cold foam add-ons, unique foam dustings, ice levels, swirled-in flavors and foundational base layers.
Here, we outline ideas for developing a signature ombré drink, highlighting a relationship between color and pop culture. Our inspiration comes from Viva Magenta, Pantone's "It Color" of 2023: "Viva Magenta is brave and fearless, and a pulsating color whose exuberance promotes a joyous and optimistic celebration, writing a new narrative." This declaration by Pantone speaks directly to the ethos of Gen Z, and our Joy at Sunset drink embodies that spirit with bold and lighthearted fun, strength in mood, energy in color and flavor packed with personality.
OMBRÉ OPPORTUNITY:
Anatomy of a modern layered beverage
Credit: George Lomas Photography
This Joy at Sunset layered beverage is a hybrid of gently infused colors and flavors, with magenta prickly pear purée topping a layer of blood orange lemonade, which tops a layer of roasted pineapple horchata flecked with piloncillo; all covering small chunks of roasted pineapple and an additional splash of prickly pear purée waiting to be discovered at the bottom of the glass.
1
BLOOD ORANGE LEMONADE
Blood orange lemonade delivers a vibrant orange-reddish layer. Classic lemonade tartness is elevated with the bold citrusy floral flavor of blood orange. The lemonade fills one-quarter of the cup.
Other Options:
Frozen blood orange lemonade
Tangerine lemonade or tamarind-orange juice lemonade
2
ROASTED PINEAPPLE HORCHATA
This creates a natural yellow layer, flecked with piloncillo and cinnamon. Traditional horchata, flavored with a purée of roasted pineapple, imparts charred, caramelized notes and produces a more viscous horchata. The roasted pineapple horchata fills half the glass.
Other Options:
Roasted ripe mango horchata
Roasted ripe banana horchata
3
ROASTED PINEAPPLE
Small, chopped chunks of roasted fresh pineapple lie on the bottom, soaking in all the layered flavors from above. This textural element creates a secondary "surprise" experience to enjoy once the beverage has been consumed.
Other Options:
Cubed flavored jellies; cubed Jell-O varieties; or sweetened boba pearls
Chopped fresh fruit; charred, roasted or pickled treatments of fresh fruit; or freeze-dried fruit slices
4
PRICKLY PEAR PURÉE
Prickly pear purée boasts an energetic magenta hue which seeps down into the next two layers, creating immediate visual contrast and a subtle melon taste. Pink dragon fruit drinks paved the way for the rise of exotic fruit as a craveable mainstream experience.
Other Options:
Hibiscus syrup or pomegranate syrup
Roasted strawberry purée or black raspberry purée
5
BULLET ICE
Bullet ice is poured over the horchata, creating a barrier that allows the lemonade to slowly infuse into the horchata. Plus, the small surface area of the ice produces a colder temperature throughout the beverage.
Other Options:
Medium-size cubed ice or chipped ice shavings
Flavored ice cubes
6
PRICKLY PEAR PURÉE
In this bonus layer, the magenta purée sits underneath the roasted pineapple chunks, creating a vivid contrast.
OPTIMIZE KEY FLAVORS
With SKU management firmly in focus, here are ideas to cross-utilize three high-impact ingredients in multiple menu items that carry serious sway with Gen Z.
Prickly Pear Purée
Chocolate-Covered Prickly Cherry Smoothie: Chocolate-dark cherry smoothie, Prickly Pear Purée swirl
Sparkling Prickly Lemonade: Sparkling yuzu lemonade, Prickly Pear Purée, mint boba
Prickly Iced Red Tea: Iced rooibos tea, Prickly Pear Purée, diced jellies, cold foam topper
Prickly Pear Dalgona Coffee: Dalgona candy crunch, fluffy whipped instant espresso powder/hot water/sugar, iced Prickly Pear Purée, milk
Blood Orange Lemonade
Blood Orange Lemonade Dreamsicle: Coconut "milk," vanilla yogurt, banana, Blood Orange Lemonade
Mulled Cider-Blood Orange Slushy: Chilled mulled cider, frozen Blood Orange Lemonade
Blushing Berry Iced Tea: Raspberry iced tea, Blood Orange Lemonade, fresh whole raspberries, fresh mint sprig
Sunrise Nitro Brew Shandy: Nitro cold brew, Blood Orange Lemonade, fresh blood orange slice
Roasted Pineapple Horchata
Hawaiian Horchata Smoothie: Roasted Pineapple Horchata smoothie, passionfruit-whipped cream topper, macadamia-granola crumble
Tajín Pineapple Horchata-Limeade Whip: Roasted Pineapple Horchata, lime juice, vanilla ice cream, Tajín-rimmed cup
Iced Matcha-Pineapple Horchata: Matcha, Roasted Pineapple Horchata, ice
Brown Sugar Roasted Pineapple-Horchata Chai: Iced chai tea, brown sugar syrup, Roasted Pineapple Horchata
OMBRÉ DRINK LTOS
South Beach Cloud Tea
Soft and fluffy cold foam clouds (made with skim milk) sit atop cooling color tones reminiscent of Miami's glistening waters and warm sandy beaches. These images are brought to life via an enchanting beverage with ombré shades of aqua (lychee-oolong tea + non-alc blue Curaçao syrup) layered over creamy tan (unsweetened oat "milk") and blueberry popping pearls.
Summer Storm
This drink speaks to embracing the chaos of any stormy day, finding beauty and relaxation in a quiet moment while sipping a delicious and soothing ombré beverage. Light grey (coconut "milk" + activated charcoal + hydrated basil seeds), purplish white (ube-coconut "milk") and soft pink (roasted strawberry-oat "milk") complete the impression. Serve over bullet ice.
OMBRÉ INSPIRATION
Layer Gen Z iced drinks with a foundation flavor, a cold foam topper and many flavor and texture options in between. Here are six ombré builds for inspiration, each starting at the bottom of the glass:
Espresso jellies + Thai tea + cubed ice + sweetened condensed milk + cinnamon-cardamom cold foam
Vanilla flan (cut to fit bottom of cup) + cubed ice + Mexican chocolate mocha + hot honey cold foam
Brown sugar syrup boba + oat "milk" + cubed ice + strawberry cream soda + raspberry powder cold foam
Fresh kiwi purée + Moroccan mint tea + cubed ice + gingered coconut "milk" + turmeric cold foam
Mango-mamey purée + cubed ice + yuzu lemonade + butterfly pea flower-cold milk foam
Bing cherries (halved) + condensed milk + cubed ice + oat "milk" + star anise-Sichuan peppercorn syrup + espresso + cold milk foam
FOAM-TOPPED DRINKS
Cloud-like, airy cold foams are popping up on menus, delivering a sensory experience, along with an instant upgrade to an array of beverages. A burgeoning extension of the layered drink trend, cold foams create an eye-catching top layer, then gently melt into drinks, presenting a multi-dimensional flavor element with every sip. Moreover, foam-topped drinks offer operators another artisan approach sure to entice fun-seeking Gen Z diners and attract new customers.
They also deliver bonus rewards:
There is opportunity to upsell cold-foam drinks, as younger consumers perceive these to be of higher quality.
Neutral foams pair with just about any beverage, while flavored foams are a fantastic way to augment seasonal LTOs with memorable flair.
Tempt Gen Z further by offering personalization options, such as dusting choices for topping a foam or flavor infusions to add to neutral foam.