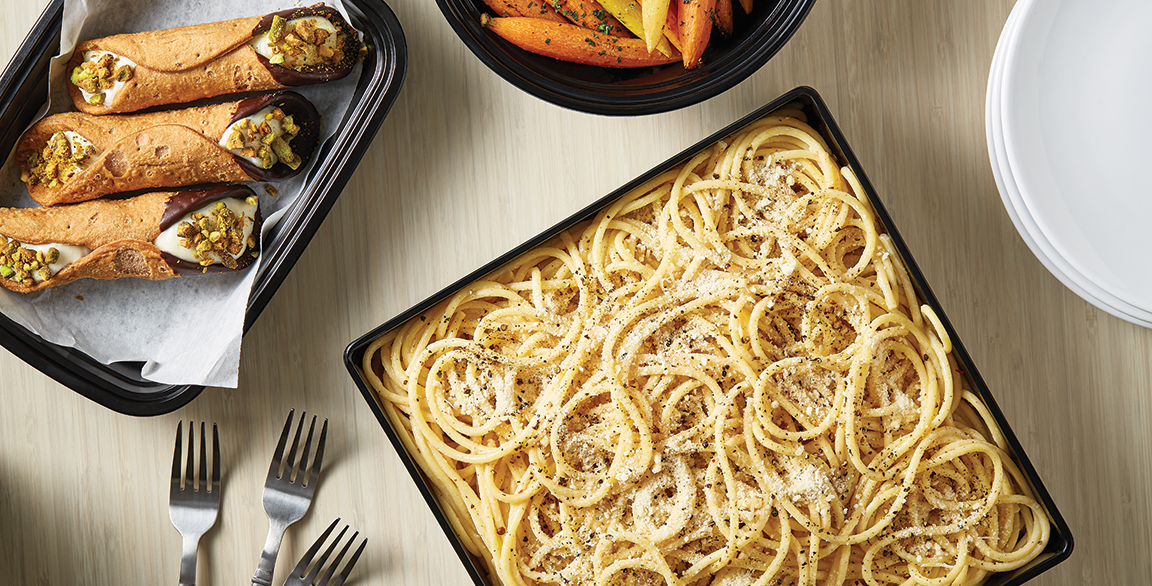 By Mike Kostyo
December 7, 2022
When it comes to the pasta category today, innovation is the name of the game. Take cacio e pepe. Although a centuries-old classic, the simple Italian dish made with black pepper and pecorino Romano cheese was virtually unheard of on American menus a decade ago. Indeed, market research firm Datassential says there wasn't a single mention of the dish in its menu database in 2012. It's currently one of the fastest-growing pasta dishes in the U.S., increasing 58 percent on menus in the past four years alone, progressing from virtual unknown to national chain menu staple. And it's evolving into a flavor platform that can enliven other categories, showing up in everything from a Cacio e Pepe Flatbread Pizza launched at Cheesecake Factory this year to Organic Cacio e Pepe Puffs found in the snack aisle of Trader Joe's (don't tell the Italians).
With pasta trends like cacio e pepe moving so quickly through the trend cycle, continued flavor exploration in this area is essential for keeping consumers excited. At 40North Restaurant Group, which oversees six restaurant brands in New Jersey and Pennsylvania, cacio e pepe shows its versatility in a range of twists and updates, from a Cauliflower Cacio e Pepe, showcasing linguine, roasted cauliflower, fresh cracked pepper and Parmesan, offered as a weekly special at its Piattino Italian neighborhood bistro concept, to Town Bar + Kitchen's Cacio e Pepe Fiocchi, little pasta sacks filled with a four cheese-and-pear blend and doused in a black pepper-pecorino sauce.
During the rise of off-premise dining in 2020, Kevin Felice, 40North director of operations and food/beverage, developed a special cacio e pepe recipe that would arrive at the point of consumption at the ideal creamy consistency instead of the gummy mess that can sometimes show up on doorsteps after cacio e pepe has been sitting for too long. To create it, Felice melts a quartet of cheeses—Asiago, fontina, Parmesan and smoked manchego—in the pasta water itself. The decadent sauce is then tossed with bucatini.
"For off-premise orders, we bump up the pasta water ratio in the sauce so it's a bit looser, and we sauce it a little bit more," says Felice. "The pasta absorbs the excess sauce in transit, and it's in perfect shape when it arrives." That type of innovation can be found in pasta dishes across the country today, showcasing how a category can be both comforting and forward-thinking at the same time.
GOING WILD
Pasta has long been a canvas for flavor building, but today's chefs are experimenting with a wider range of ingredients, focusing on unique and often-foraged herbs and mushrooms, produce options beyond tomatoes and incorporating spicier flavor profiles to satiate American consumers' increasing demand for heat.
At Delfina, the James Beard Award-winning trattoria in San Francisco, chef/owner Craig Stoll combines Italian flavors with seasonal ingredients from the Bay Area. For his Tagliatelle Al Ragù Nostrano, he celebrates the flavor of prickly nettles, which grow wild throughout the West. Stoll first simmers the nettles in boiling water to eliminate their sting and render them safe to eat. They are then puréed and combined with melted butter to create a nettle sugo. Handmade tagliatelle is tossed into the pan with Parmesan and toasted pine nuts for depth, and the strands of pasta, now coated in the vibrant green sauce, are plated with a sprinkle of pine nuts and Parmesan. In another seasonal pasta offering, Stoll adds green borage leaves to pasta dough, imparting a cucumber-like taste. That dough becomes francobolli, a type of postage stamp-sized ravioli. He fills them with goat cheese, cucumber (to double down on the refreshing flavor) and house-cured salmon roe. They're topped with vibrant blue borage flowers for a sweet, floral finish.
Kristopher Welz, executive chef of contemporary American restaurant The Fox & Falcon in South Orange, N.J., also goes a little wild with his fettuccine entrée served with a wild mushroom conserva. "We get these beautiful, locally foraged mushrooms and poach them in olive oil that is perfumed with roasted garlic, Calabrian chiles, shallots and herbs," he says. That's just the beginning of the flavor building that amps up the dish. Tomato paste and smoked paprika are toasted off and added, followed by a splash of apple cider vinegar that balances the smoke and spice. "We also roast our ricotta salata, which introduces a layer of nuttiness, and use that to finish the pasta, along with the crunch from a Parmesan breadcrumb," Welz says. "Each bite is well balanced, earthy, spicy and filled with umami."
While nettles and borage may be familiar to U.S. consumers, very few have likely heard of the herb that flavors a pesto used at Montesacro, a pinsa restaurant based in San Francisco: nepitella, which grows throughout the Mediterranean and is commonly used in dishes throughout Italy's Lazio region. "It's pretty much unknown in the U.S., but we found a farm that grows it in Northern California, and we are now their No. 1 customer," says Mattia Marcelli, Montesacro's executive chef. "It's incredibly aromatic and tastes slightly of mint." He uses it in the restaurant's Pesto di Mentuccia, combining blanched nepitella with olive oil, garlic, almonds and a combo of Parmigiano-Reggiano and pecorino Romano to create an all-purpose pesto that's tossed in al dente paccheri (a large-tube pasta) and served with lemon zest.
SHAPING UP
True Italian cuisine makes use of more than 400 pasta shapes, by some counts, yet only a fraction of these grace U.S. menus with any regularity. But that's changing. Importers, operators and enterprising chefs have been researching the wide range of pasta shapes produced in Italy and bringing them to the U.S. to meet demand by American consumers for more regional options and novel dining experiences. Indeed, 37 percent of consumers say they are likely to try next-level pasta shapes at a restaurant, according to Datassential, and it's a number that jumps to 53 percent of Gen Z and Millennial consumers. Plus, after the success of cascatelli, the so-called "world's newest pasta shape" developed by "The Sporkful" podcast host Dan Pashman and released in 2021, suddenly it has become "alla moda" to invent entirely new shapes thanks in part to new manufacturing technology and equipment.
Looking for shapely inspiration? Go beyond fettucine with these pasta forms showing up on menus across the country:
PIPE RIGATE
A hollow, curved pasta sometimes likened to a snail shell
On the Menu:
Superfrico, the "Italian American psychedelic" restaurant in The Cosmopolitan Hotel in Las Vegas, highlights the snail reference with its Lamb Ragu Babbaluci, referencing the tiny snails, or babbaluci, eaten in Sicily. This pipe rigate pasta dish features lamb sausage, tomato, mint, parsley and lemon labneh and za'atar for a Middle Eastern twist, a common feature on chef Mitch Emge's nontraditional menu.
ROSETTE DI PASTA ALLA ROMAGNOLA
Fresh pasta sheets or lasagna noodles rolled into the shape of roses, found in the Emilia-Romagna region of Italy
On the Menu:
Pasta roses are springing up everywhere from Valentine's Day menus to Instagram posts. At The Langham in Boston, Tyra Medina, sous chef, started making rose-shaped pasta in a nod to the brand's signature pink roses. She creates strikingly hued saffron Ravioli di Fiore roses stuffed with lump crab and herbed mascarpone, with sautéed asparagus and a watercress emulsion to finish.
CORZETTI
Small, thin rounds of pasta found in the Ligurian region of Italy embossed with images or symbols
On the Menu:
The stamped pattern on corzetti not only helps sauce cling to the pasta better, but it provides a branding opportunity for some operators who have sourced corzetti stamps made with their logos. Look to the example of pasta bar Fiorella in Philadelphia where the stamped coins are doused in sorrel pesto and dollops of creamy burrata.