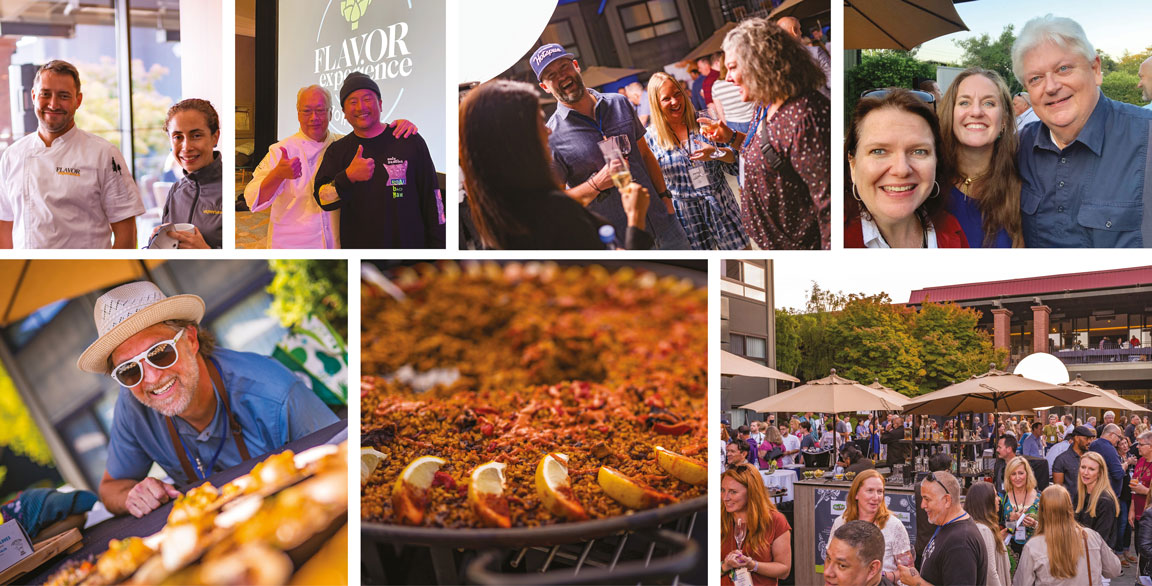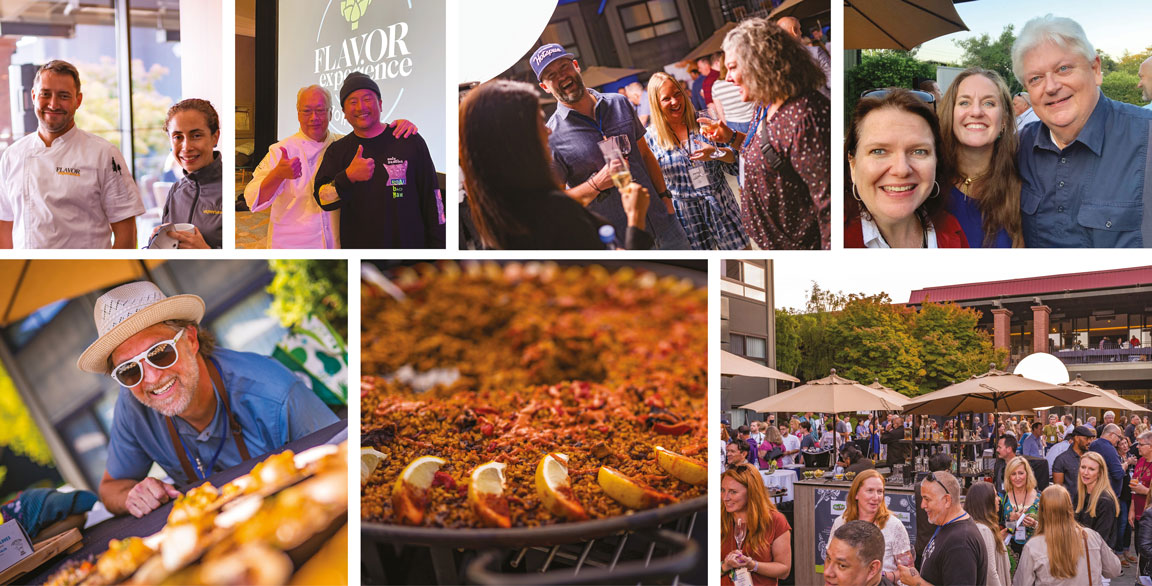 By Flavor & The Menu
November 10, 2021
This year's Flavor Experience delivered three days of dynamic presentations, roundtable discussions, and trend-forward food and beverage tastings that explored menu opportunities built on flavor. The event also served as a jubilant celebration among friends, coming back together after weathering turbulent times, commiserating over shared challenges and brainstorming ideas on how to find a clear path forward.
Presented by Flavor & The Menu magazine and helmed by Cathy Nash Holley, president of the Flavor Experience, the event was held in early September in Monterey, Calif. The passion for flavor—still very much alive in the industry today—was on full display throughout the event.
Attendees were able to taste their way through trends that will inform menus in 2022 and beyond. Indeed, under the guidance of Executive Chef Valeria Molinelli and the trend-forward ideation from sponsors, the food and beverage menus provided a wealth of inspiring bites and sips. What follows are highlights from this very special Flavor Experience.
Inspiring Bites
Trend-forward tastes provided plenty of inspiration. Examples included:
Good Catch Foods' Teriyaki "Salmon" with togarashi, rice cake, shaved cucumber
Idaho Russet "Loaded Potato" Takoyaki
Impossible Chimichurri-Avocado Crunch Burger
National Honey Board's Apple and Bacon Baklava Bites
Barilla Penne with Mole Blanco
Pilgrim's Okinawa-Style Crispy Chicken Sata Andagi
California Avocado "Cacio e Pepe" Grilled Cheese
Hot Cheetos-Crusted Boursin
EPI Breads' Crispy Cheesy Buldak Bun with crispy chicken, fiery buldak sauce and Carolina Reaper Jack cheese on a mini gochugaru-studded bun
Australian Lamb Birria Slider with birria stew for dipping
Kikkoman's Tamago Sando: Egg salad, smoked ponzu cream, soy-marinated soft-boiled egg, milk bread, signature togarashi
Sips to Savor
Beverages provided inspiration for trend-forward drink development. Examples included:
Monin's Spicy Passion Fruit Cooler: Hornitos Cristalino Tequila, Bruxo Mezcal, passion fruit, fresh lime, mint, jalapeño, organic agave, hibiscus-Tajín rim
Red Bull Aperitif: Sparkling wine, Amaro Nonino, vanilla, and Red Bull Red Edition (Watermelon)
Fresh Apple Tonic: Tree Top 3 Apple Blend Juice with fresh lemon, honey, a splash of ginger beer and elderflower tonic
Leche de Tigre: Natural Brands Orange Juice, Natural Brands Lime Juice, ginger-turmeric-chile syrup, coconut, garnished with coconut rim, edible flowers, chile threads
Lavender Hot Cocoa: Ghirardelli Dark Chocolate and Cocoa Sweet Ground Powder, milk, dried lavender
Beam Suntory's Forest Collins: Roku Gin, pinecone honey, fresh lemon, club soda, pickled huckleberries, edible pinecone, Douglas fir
Hard Seltzer Watermelon Summer-Rita: White Claw Hard Seltzer Watermelon, Silver Tequila, fresh sour, strawberry purée, fresh lime juice, salt rim
Pineapple Sour Barley Water: Dole's Sweet and Sour mix infused with barley, honey and a touch of lime
Truly Rum Punch Cocktail: Truly Fruit Punch, dark rum, triple sec, fresh lime juice, pomegranate juice, Tiki bitters and fresh mint
Throughout the event, attendees took in engaging sessions showcasing menu innovations, flavor trends and consumer insights and participated in interactive, small-group think tank sessions.
Maeve Webster, president of Menu Matters, kicked off the Flavor Experience with an insightful look at the fundamental changes shaping the future of foodservice and the opportunities inherent in those changes for operators ready to evolve. She also pointed to a number of macro trends for 2022, including indulgent health, full sensory experiences and elevated off-premise offerings.
In his session, Mike Kostyo, trendologist with Datassential, pointed to Persian, Sonoran and Nordic among the global hotspots that operators should be tracking. Gerry Ludwig, former corporate consulting chef with Gordon Food Service and a longtime Flavor Experience presenter, came out of retirement to share a valuable retrospective on his crowd-favorite street-level trends tour.
And, knowing there is no better way to fully appreciate flavor trends than through tasting them, the Flavor Experience put forth its signature array of trend-forward tastes, provided by sponsor partners. The bites and sips throughout this year's event offered memorable tastes and an abundance of menu inspiration.
Be sure to join us at next year's Flavor Experience, August 15-18, 2022 in San Diego.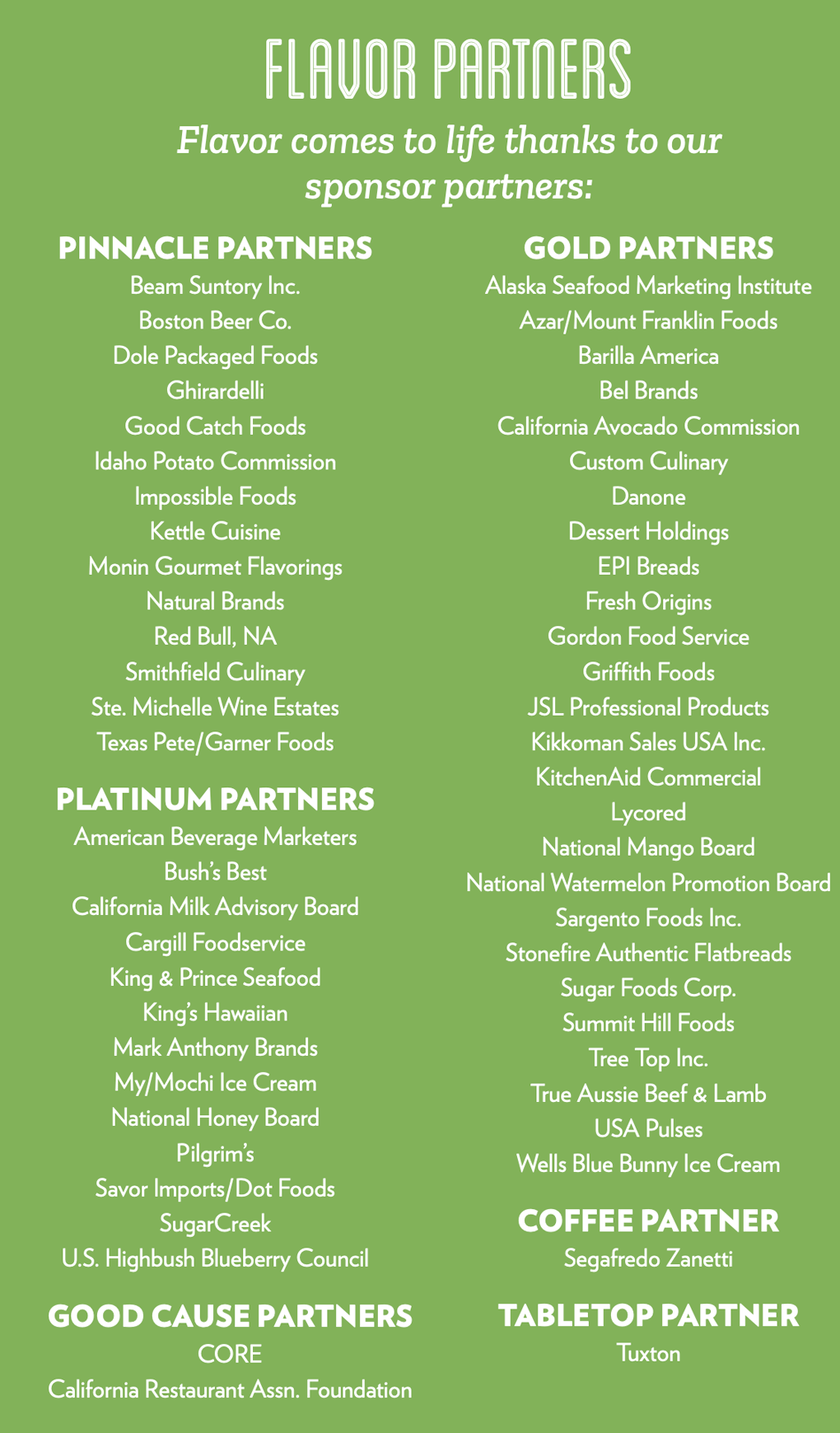 A special callout to supporters of both the Flavor Experience and Flavor & The Menu.