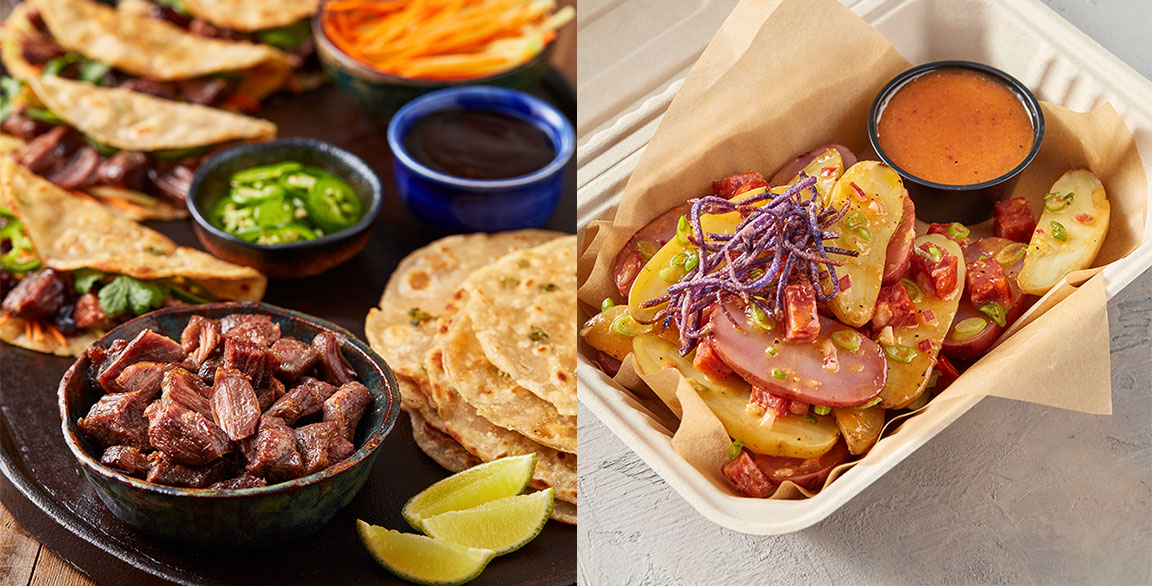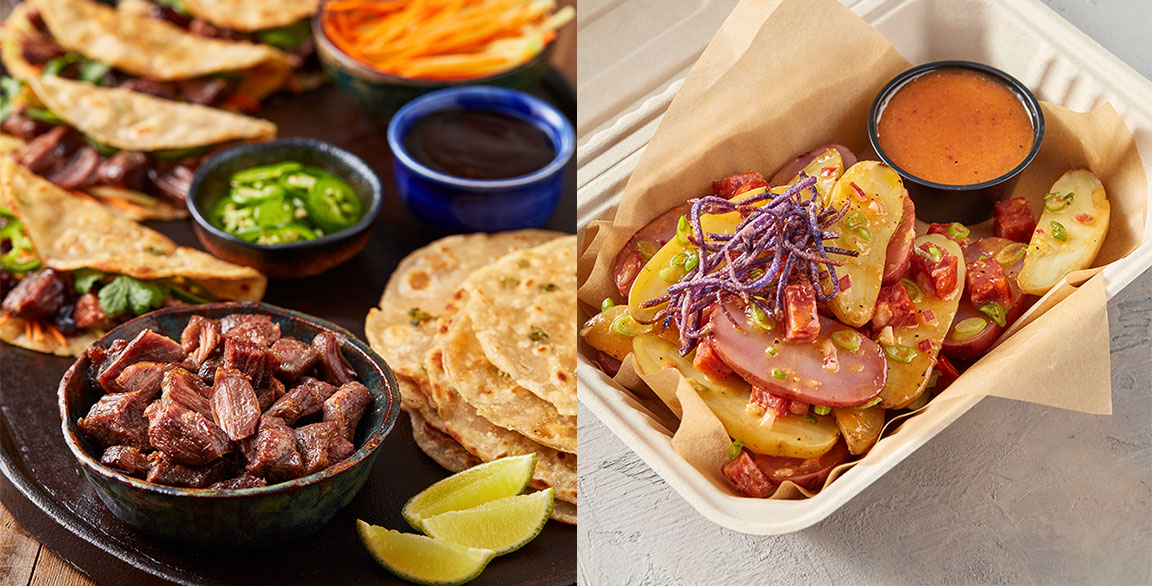 By Flavor & The Menu
October 26, 2021

Kitchen Collaborative is a recipe-development initiative formed by Summit F&B and Flavor & The Menu. To fuel flavor innovation, a group of talented chefs partnered with sponsor brands and commodity boards to create recipes that showcase the passion and potential of our industry.
CHEF SPOTLIGHT: Jessica Tomlinson
As the new Director of Culinary for Ford's Garage, the Tampa, Fla.-based gourmet burger bar concept, Jessica Tomlinson may not have an opportunity to menu the Australian Goat Bulgogi Tacos she developed for Kitchen Collaborative, but she'll be applying a similar fearlessness in challenging herself to deliver flavor experiences that intrigue and satisfy in equal measure. As demonstrated by her Korean-Vietnamese-inspired Australian Goat Bulgogi Tacos and the Spanish-styled Warm Idaho®️ Potato Chorizo Salad, Tomlinson applies a deft touch in maximizing the power of her pantry.
Australian Goat Bulgogi Tacos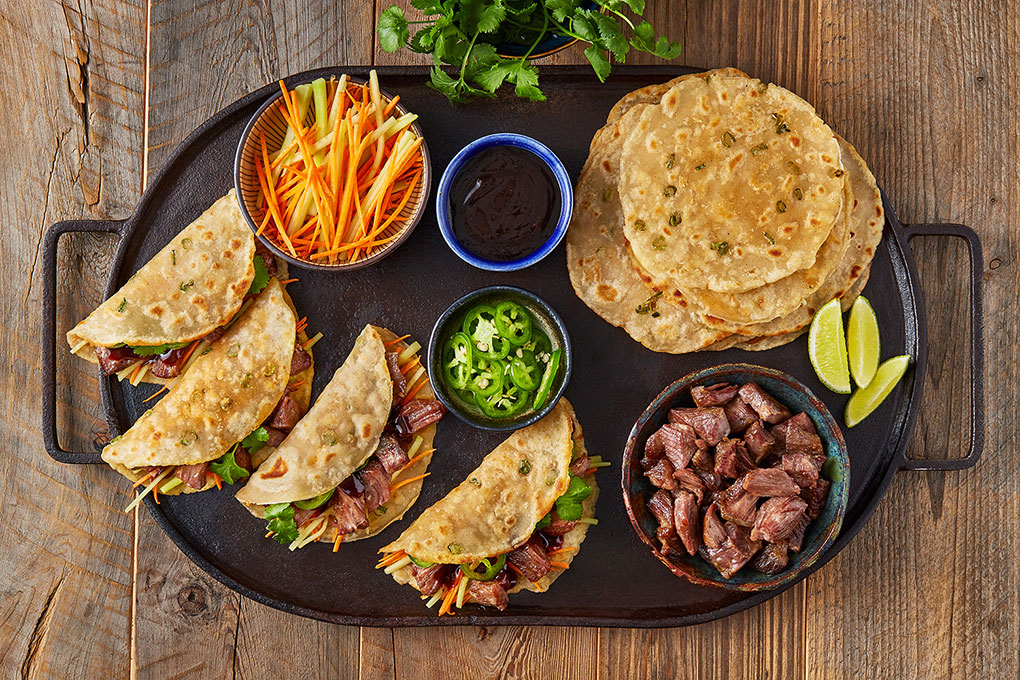 Photo: Carlos Garcia // Food Styling: Peg Blackley & Bree Williams
Tomlinson was excited to learn that her Kitchen Collaborative assignment would be True Aussie Goat. "I'm a big fan of goat, especially curry goat," she says. "I find goat more approachable than lamb, not as gamey, but with a bolder flavor than beef. I would encourage those who want to work with something other than beef to give this a try, and they will be pleasantly surprised." Goat meat is an authentic staple across much of the globe and, as a sustainable and lean meat option, is growing in popularity here in the U.S., as well, with goat meat imports from Australia having more than doubled in the last decade.
Tomlinson opted to create a taco application, counting on its familiarity to win over diners who may be hesitant about the meat. Although originally inclined to make a curry goat handheld, "I wanted to challenge myself to create something different," she says. And indeed she did. Even setting aside the unusual protein, her dish is hardly a conventional taco. The Australian Goat Bulgogi Taco features braised meat in a sweet-umami marinade mixed with fresh cucumber and carrots, plus jalapeños and wrapped in a scallion pancake as the carrier.
"I'm a big fan of the Korean-Vietnamese profile," she explains of her mash-up choices. "The taco is such a great foundation to build from. I decided to braise the goat—my favorite cooking technique—with a bulgogi flavor profile." Tomlinson starts by searing goat neck meat on all sides to get a good outside crust. Then, it's transferred to the oven—along with rough chopped onions, minced garlic and fresh ginger, red chile flakes, soy sauce, orange juice and water—where it cooks for 2 ½ hours prior to assembly.
"I absolutely love scallion pancakes," Tomlinson says of her decision to swap out the conventional tortilla. She further commits to the global mash-up spirit with her choice of vegetables. "With all the rich flavors of braising, I wanted to provide a bright element and a crunch, which is where the cucumber, carrots and jalapeños come in." These, she notes, are traditional in a bahn mi sandwich. A drizzle of hoisin finishes the dish.
Warm Idaho® Potato Chorizo Salad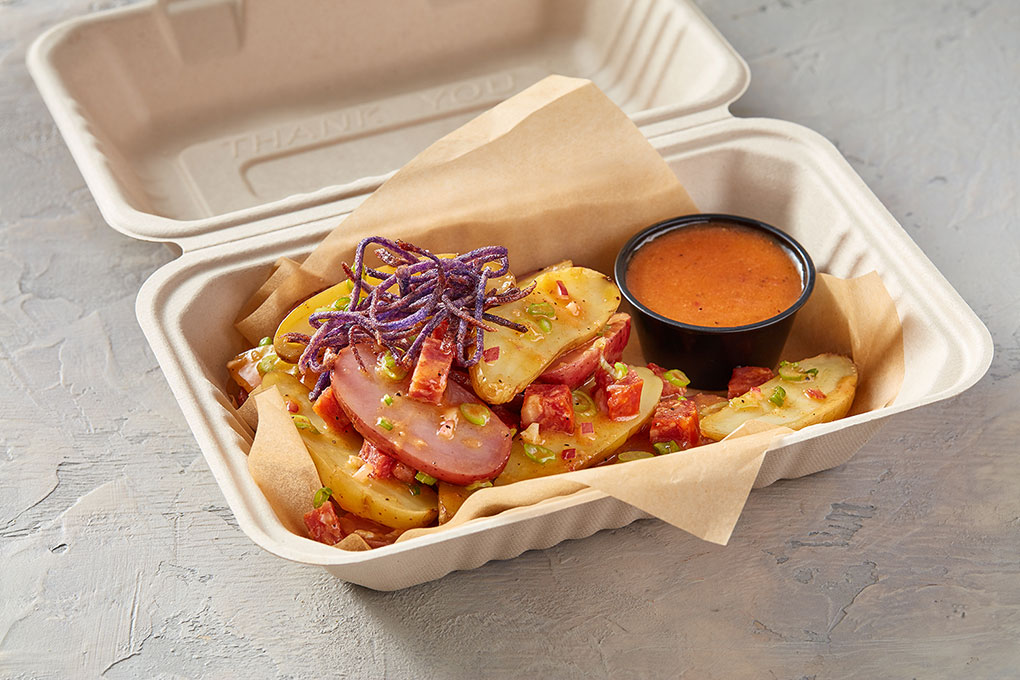 Photo: Carlos Garcia // Food Styling: Peg Blackley & Bree Williams
Imitation is said to be the sincerest form of flattery, and chefs frequently pay tribute to unforgettable taste experiences through reinvention. With her Warm Idaho® Potato Chorizo Salad, Tomlinson channeled memories of "a taco place in Chicago that makes amazing chorizo potato tacos." In this warm, Spanish-style dish, "the fattiness of the chorizo plays well with the creaminess of the fingerling potatoes," says Tomlinson.
The simple build begins with confit potatoes, made with red and white Idaho® fingerling potatoes, garlic cloves, kosher salt and a canola-olive oil blend. After baking in the oven for an hour, she removes the potatoes from the cooking liquid, reserving the oil to use in the vinaigrette, which features red onions, red wine vinegar, Dijon mustard, honey, paprika, cumin, salt and pepper. Purple fingerling chips (or fried strings, as pictured) add color and texture. "This dish needed a crunch," says Tomlinson, "and I wanted to use the fingerlings in two different ways. Fried strings are fun, because you can create height and drama, but the chips may be more operation-friendly."
The dish would fit well on a tapas menu, she notes, adding that it could also be a fantastic shareable side to pair with fish or roasted chicken. "The combination of roasted chicken, potato and chorizo may just rival peanut butter and jelly."
Project Management: Summit F&B
Photography: Carlos Garcia // Food Styling: Peg Blackley & Bree Williams