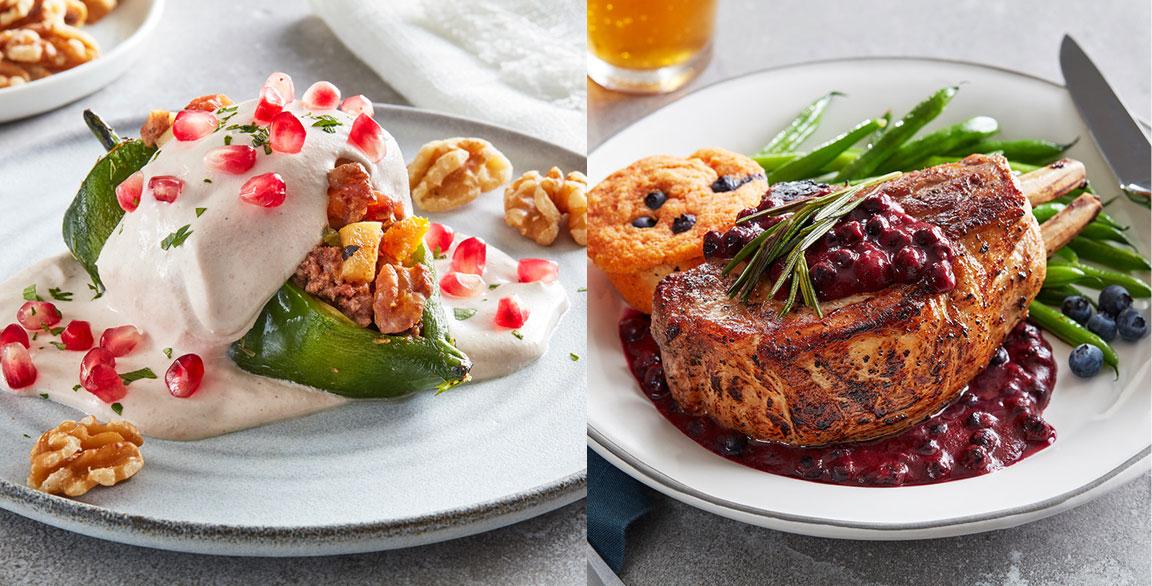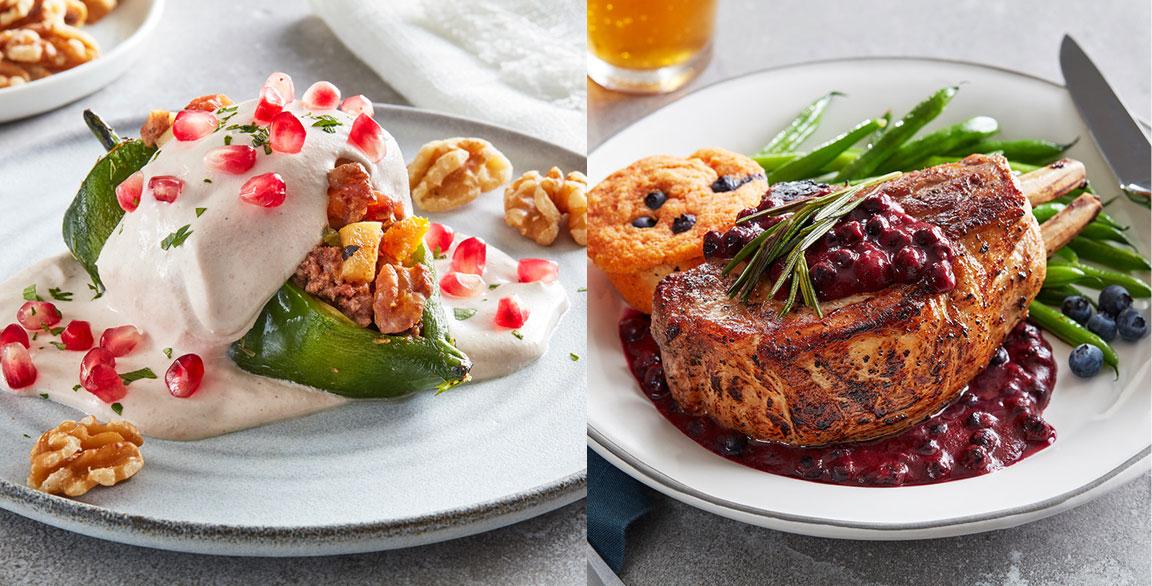 By Flavor & The Menu
July 9, 2020
Kitchen Collaborative is a recipe-development initiative formed by Summit F&B and Flavor & The Menu. To fuel flavor innovation, a group of talented chefs partnered with sponsor brands and commodity boards to create recipes that showcase the passion and potential of our industry.

CHEF SPOTLIGHT: JAMIE CARAWAN
Jamie Carawan's culinary passions come through in the recipes he created for the Kitchen Collaborative project. His inspirations tap into meaningful touchpoints that have influenced his career. As VP of brand menu and culinary for Inspire Brands, parent company of Buffalo Wild Wings, Sonic Drive-In, Rusty Taco, Jimmy John's and Arby's, he balances forward thinking with institutional knowledge and personal experience. All are at play here.
His California Walnut Chile en Nogada reflects his years of cooking Mexican cuisine, along with a modern approach of dialing up the plant-forward profile for added functionality and textural play. Carawan's Smoky Blueberry Bourbon Chutney and "Big Thicket" Double Bone Pork Chop recalls a deep appreciation for regional traditions in East Texas while highlighting a creative application of blueberries in a savory application.
California Walnut Chile en Nogada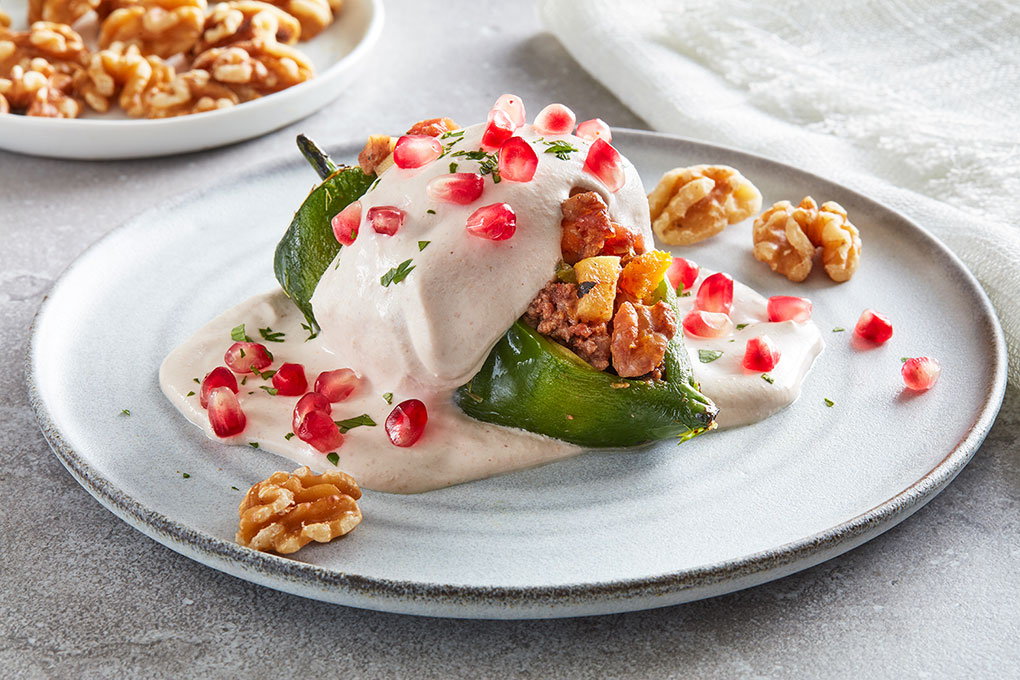 Photography: Carlos Garcia // Food Styling: Peg Blackley & Bree Williams
Chiles en Nogada is an iconic Mexican dish, with its green, white and red colors representing the Mexican flag. This festive dish is traditionally served in late summer, when ingredients are in season, but also to coincide with Mexican Independence Day festivities. In the U.S., Chiles en Nogada is offered year-round, and, given its colors, often as a Christmastime recipe, its rich flavors and velvety cream sauce holding wide appeal. "Though there are varying presentations, the staples are some form of picadillo, poblano, walnut cream sauce and pomegranate seeds," says Carawan. "This elegant presentation is a showstopper."
He was inspired to build upon this recipe by recalling his many years in Mexican cookery. "After almost five years in varied menu/sports brands, I thought it would be nice to look back on my 18 years in Mexican cuisine, and Chiles en Nogada is one of my absolute favorites," he says, noting that he first encountered it in Oaxaca, and first cooked it at The Culinary Institute of America in San Antonio, under the guidance of noted chef Iliana de la Vega, now chef/owner of El Naranjo in Austin, Texas.
For his take on the recipe, Carawan made modifications to the picadillo filling. "Given the 'meatiness' of walnuts, I thought it would be interesting to cut some of the protein in the picadillo with walnuts I had soaked in water overnight. The walnuts enhanced the texture and offered some earthiness to the chile filling," he says. "By adding walnuts, you also dramatically improve the functional health benefits of the dish, including improved omega-3 oils, antioxidants and more." For his picadillo, Carawan sautés the finely chopped walnuts with ground beef, diced apples, onion, garlic, jalapeño, tomatoes, roasted butternut squash and raisins, seasoned with ancho chile powder and cinnamon.
"This is a perfect confluence of sweet, smoky, heat and savory. Given these attributes, it is easy to interchange many of the components to your own taste. Plantains are very common in place of butternut squash, and a mixture of slow-cooked pork and beef is also used. Raisins are commonly used in moles, and a staple in Oaxacan cuisine," he says. "The flavors are complex and varied but all play nicely together."
The walnut cream sauce over the stuffed poblano is a smooth blend of soaked California walnuts, sour cream, milk and cream cheese, honey and cayenne. "I sweeten it slightly with honey to balance the slight heat of the cayenne pepper," Carawan says. "The dramatic white sauce on the bright green pepper makes it a beautiful—and delicious—dish."
Smoky Blueberry Bourbon Chutney and "Big Thicket" Double Bone Pork Chop
"When I was offered blueberries for this project, I immediately thought of East Texas," Carawan says. "This region, known as 'The Big Thicket,' is famous for its blueberries. Its culture, traditions and terrain feel more like the Deep South and follows many of those traditions as opposed to the Southwestern traditions you find in most of Texas." One of those traditions is the prevalence of pork barbecue, he adds. "I decided to lean into blueberries and pork barbecue—both regional treasures—to make this dish."
For the pork, Carawan chooses a double bone-in chop so that he can get a good sear and caramelization, but still be able to preserve a juicy, tender bite. The pork is seared in a cast iron pan before being cooked through in the oven. While the double bone-in pork chop is a real showstopper, the shining star of this dish is the blueberry-bourbon chutney. "I love working with blueberries. Both of my daughters devour pounds of blueberries as they literally eat them like popcorn," he says. "Given their tremendous health benefits, blueberries are a great way to improve the functional health benefits of any recipe."
Carawan's goal was to utilize blueberries in a savory application, which he achieved by creating a savory/smoky chutney, starting with a base of sautéed onions, garlic, jalapeño and Roma tomatoes. Puréed with honey, Tabasco, soy sauce, bourbon and ancho chile, the mixture is then heated to a simmer with blueberries (Carawan uses frozen blueberries here, thawed and drained). "Blueberries provide a perfect balance of sweetness and tartness. I wanted to enhance both of those qualities with apple cider vinegar and honey, and the addition of soy sauce helps build character and umami. The smoke flavors are acquired from the bourbon and the reconstituted ancho chiles," he says. "This chutney really mimics a barbecue sauce—it has heat, tartness, sweetness and smoke. It could easily be served alongside smoked chicken or even beef brisket." The dish is served with a savory Blueberry White Cheddar Corn Muffin and blistered green beans.
Project Management: Summit F&B
Photography: Carlos Garcia // Food Styling: Peg Blackley & Bree Williams