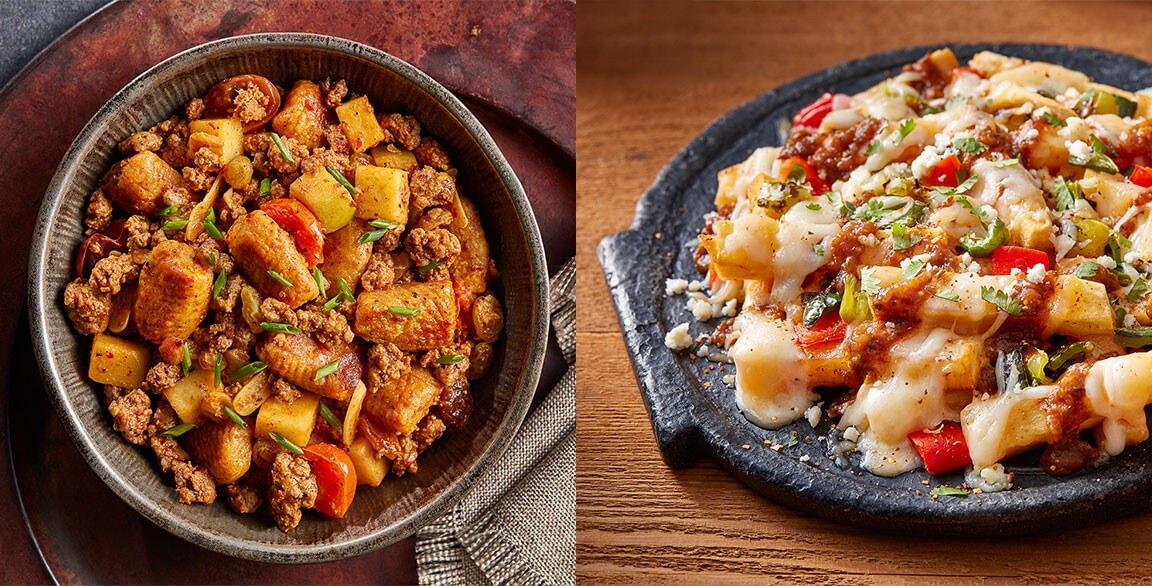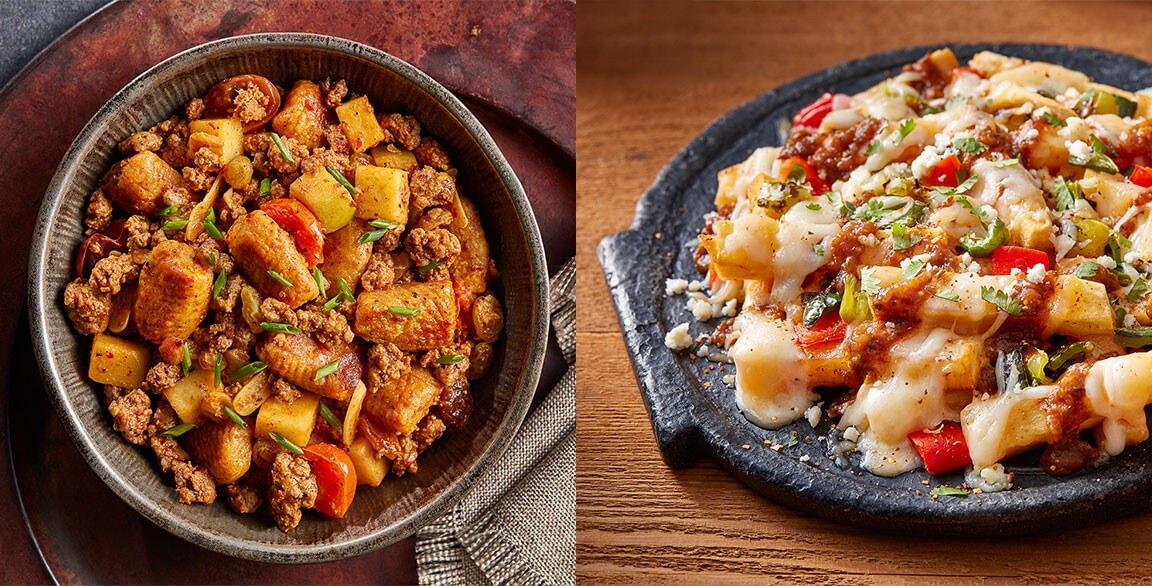 By Flavor & The Menu
June 9, 2021
Kitchen Collaborative is a recipe-development initiative formed by Summit F&B and Flavor & The Menu. To fuel flavor innovation, a group of talented chefs partnered with sponsor brands and commodity boards to create recipes that showcase the passion and potential of our industry.
CHEF SPOTLIGHT: BOB GALLAGHER
The comfort zone is a safe place for recipe development these days, but to keep it interesting, chefs know they've got to push out a little. Bob Gallagher, former senior VP of F&B with Romacorp, shows just how it's done in both recipes created for Kitchen Collaborative.
His Seared Aussie Lamb & Moroccan Spiced Sweet Potato Gnocchi is a bowl full of comfort, familiar, yet distinct, and packed with assertive, interesting flavors. His California Cheesy Yucatán Poutine is a fresh take on loaded fries, showcasing bold flavors wrapped in a familiar format.
Seared Aussie Lamb & Moroccan Spiced Sweet Potato Gnocchi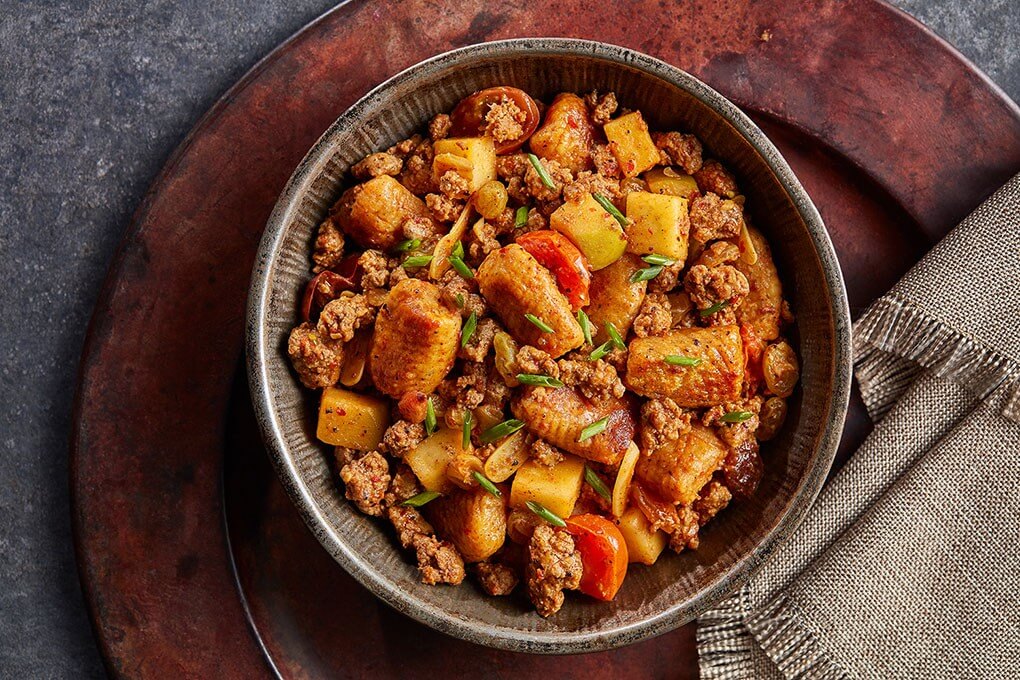 Photo: Carlos Garcia // Food Styling: Peg Blackley & Bree Williams
Gallagher's Seared Aussie Lamb & Moroccan Spiced Sweet Potato Gnocchi is rich and comforting, boasting the heady flavors of the Eastern Mediterranean. "The baharat seasoning is a combination of sweet and earthy flavors that complements the lamb. There are different varieties, but this particular combination is very aromatic with warm spices like cinnamon, coriander, black pepper and turmeric," he says. "I like the Aussie ground lamb because of its bright pink color, pleasant flavor and soft and juicy texture—those are important qualities when preparing dishes using ground lamb."
He first sautés shallots in grapeseed oil, then adds the ground lamb, breaking it into a small crumble and spreading it over the surface of the sauté pan. Gallagher seasons the meat with the housemade baharat mix, along with salt, pepper and garlic, then lets it sit, browning it on one side until the meat juices emerge. He transfers the ground lamb to a bowl, then sears the sweet potato gnocchi in the sauté pan. He puts the lamb and juice back into the pan, along with grape tomatoes, green apple and raisins. Once the ingredients are sizzling, he deglazes with white wine and reduces the heat to a simmer. Gallagher finishes the dish with a dollop of harissa butter. "The sweet potato gnocchi absorb any fat rendered from the ground lamb, so the harissa butter, when melted, completes the final flavor of the dish with a touch of buttery creaminess and a taste of light spice and red pepper," he says.
California Cheesy Yucatán Poutine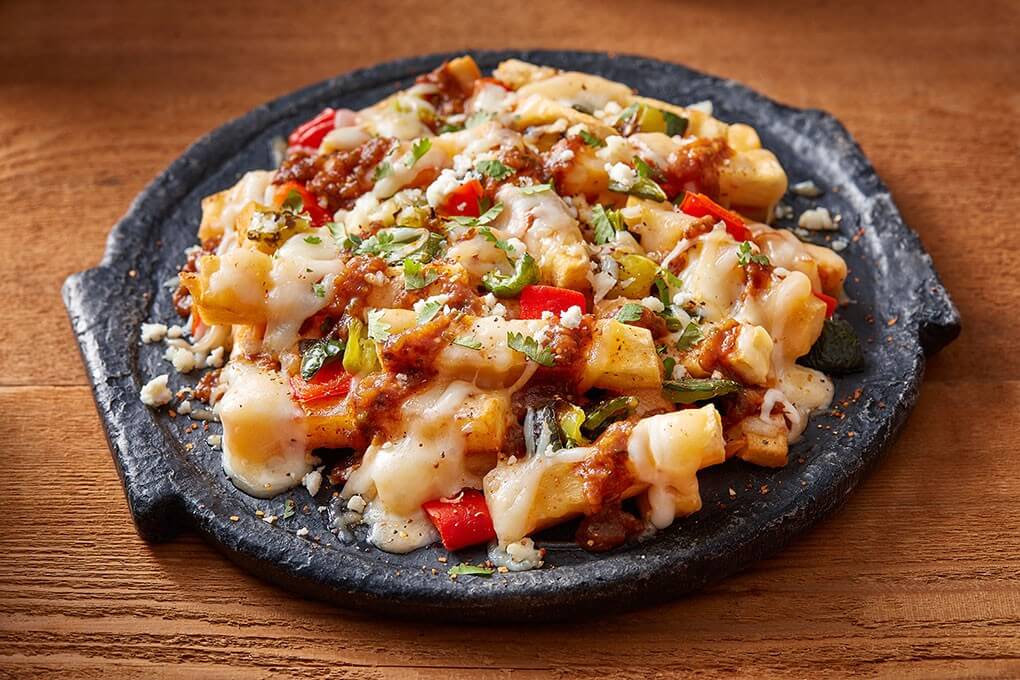 Photo: Carlos Garcia // Food Styling: Peg Blackley & Bree Williams
This California Cheesy Yucatán Poutine serves up smoky, spicy, bright flavors, cleverly mashing up Montreal's version of loaded fries with regional Mexican flair. His foundational pairing is crunchy yuca fries (seasoned with cumin, smoked paprika, ancho chile and lemon pepper) and two types of cheese: Real California manchego and Oaxaca cheeses. "The manchego has similar melting characteristics to mozzarella so consumers love this cheese's stretch and creaminess when melted," says Gallagher. "Combining the Oaxaca with melted manchego cheese gives it a light nutty flavor."
To create a flavorful salsa, he chars the vegetables (tomatoes, tomatillos, onion, red bell pepper) and chile peppers (Anaheim, jalapeño, Serrano), then blends them. He adds Southwest seasoning, lime juice, cilantro and olive oil. "The fresh-grilled salsa delivers a deep charred flavor with a touch of lime that complements the rich cheese," he says.
The order of the build is critical. "Layering this dish is essential to maintain the crisp coating of the yuca fries when serving," says Gallagher. He layers fries on a platter, topping them with half of the manchego and Oaxaca cheeses, then builds a second layer with the remaining fries, the salsa and the rest of those two cheeses. He tops the poutine with diced peppers, bakes it until bubbly, then tops the dish with Real California queso fresco, cilantro and Southwest seasoning.
"The spice blend on the yuca fries does not include salt," says Gallagher. "Using queso fresco provides that saltiness guests crave when eating french fries."
Project Management: Summit F&B
Photography: Carlos Garcia // Food Styling: Peg Blackley & Bree Williams