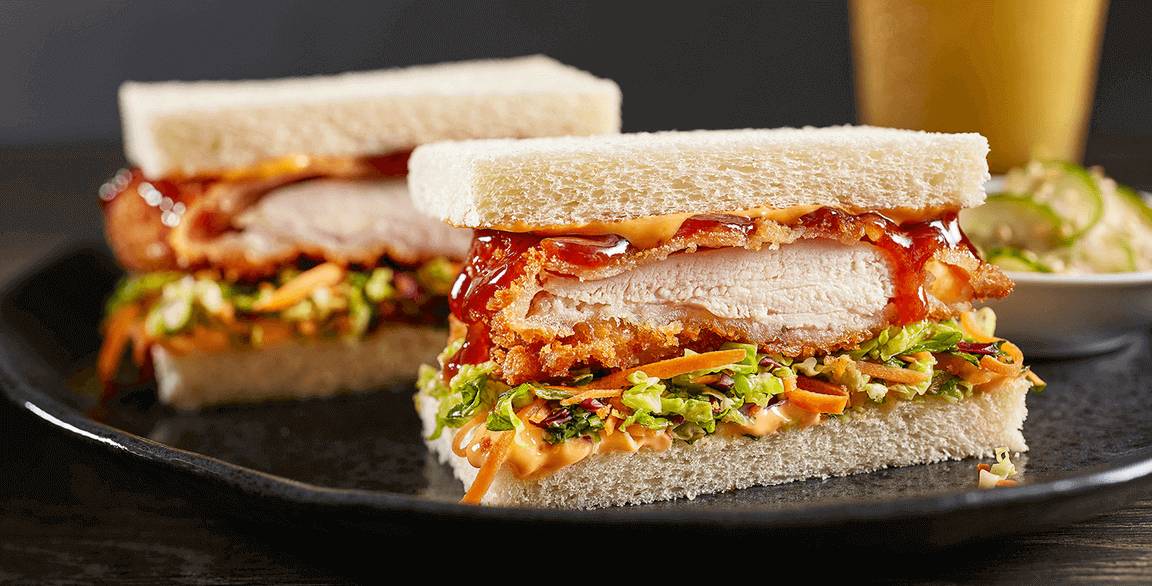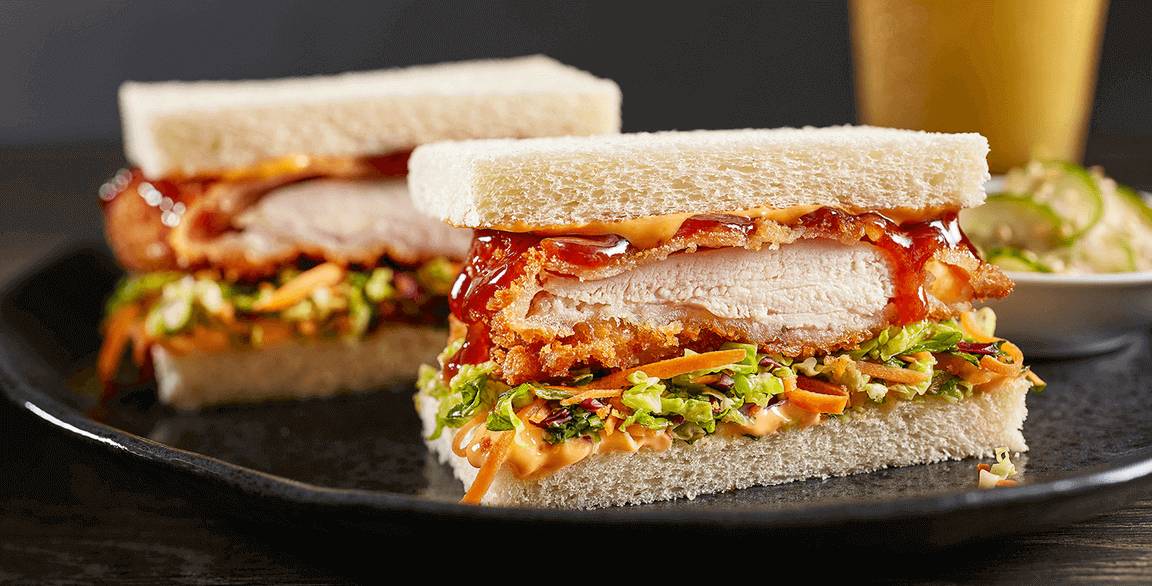 Honey Teriya-Q Katsu Sando
Recipe courtesy of Chef Eric Stein
Sponsor: Kikkoman
Serves: 10
Ingredients
Honey Teriya-Q Sauce:
1 ½ c Kikkoman® Teriyaki Glaze
2/3 c honey BBQ sauce
¼ c applesauce
Ponzu Slaw:
2 lbs angel hair slaw mix of green and red cabbage, carrots, mustard greens, scallions
10 fl oz Kikkoman® Ponzu Sauce
2 Tbsp Kikkoman® Sesame Oil non-GMO
2 Tbsp lemon zest, finely minced
Katsu Chicken:
10 (5-oz) chicken thighs, boneless and skinless
1 Tbsp umami seasoning blend
5 c Kikkoman® Tempura Batter Mix
3 ¾ c ice cold water
8 c Kikkoman® Panko Breadcrumbs
For the Sandwich:
20 slices Japanese milk bread, thick cut and crusts removed
1 ½ c Kikkoman® Sriracha Mayo
Directions
For the Honey Teriya-Q Sauce: Whisk together the Kikkoman Teriyaki Sauce and honey BBQ sauce in a medium bowl. Transfer to a squeeze bottle and set aside until ready to use.
For the ponzu slaw: Combine all ingredients in a large bowl and mix well to combine and fully coat the cabbage. Set aside until ready to build sandwiches.
For the katsu chicken: Preheat fryer to 350 degrees F. Rub the chicken thighs with the umami seasoning and allow to marinate for 1 hour before frying.
Place the tempura batter mix in a medium bowl and whisk in the ice cold water. Place panko breadcrumbs into a large bowl. Bread the chicken thighs by dredging them through the tempura batter and into the breadcrumbs. Press each thigh firmly into the breadcrumbs and transfer to a sheet tray. Repeat breading process with all of the chicken thighs.
Once thighs are breaded, transfer them to the deep fryer in batches and cook for 5 minutes, or until they reach an internal temperature of 165 degrees F.
Remove chicken from the fryer and allow them to drain well.
To build the sandwiches: Lay out two slices of milk bread and spread 1 Tbsp of Sriracha Mayo over each slice. Mound 3 oz of ponzu slaw on one slice of bread. Place one katsu chicken thigh on top of the ponzu slaw. Squeeze 2 Tbsp of honey teriya-Q sauce over the chicken to evenly coat. Place second slice of bread on top of chicken. Press the bread down slightly to secure the sandwich and slightly crimp on all sides to secure the filling in the sandwich. Slice Katsu Sando down the center and serve immediately.
Chef Notes
The ponzu slaw should be prepared far enough ahead of time to allow the cabbage to marinate in the dressing, but also not too far away from serving to ensure the cabbage maintains its crispness for adding crunch to this sandwich.
Project Management: Summit F&B
Photography: Carlos Garcia // Food Styling: Peg Blackley & Bree Williams