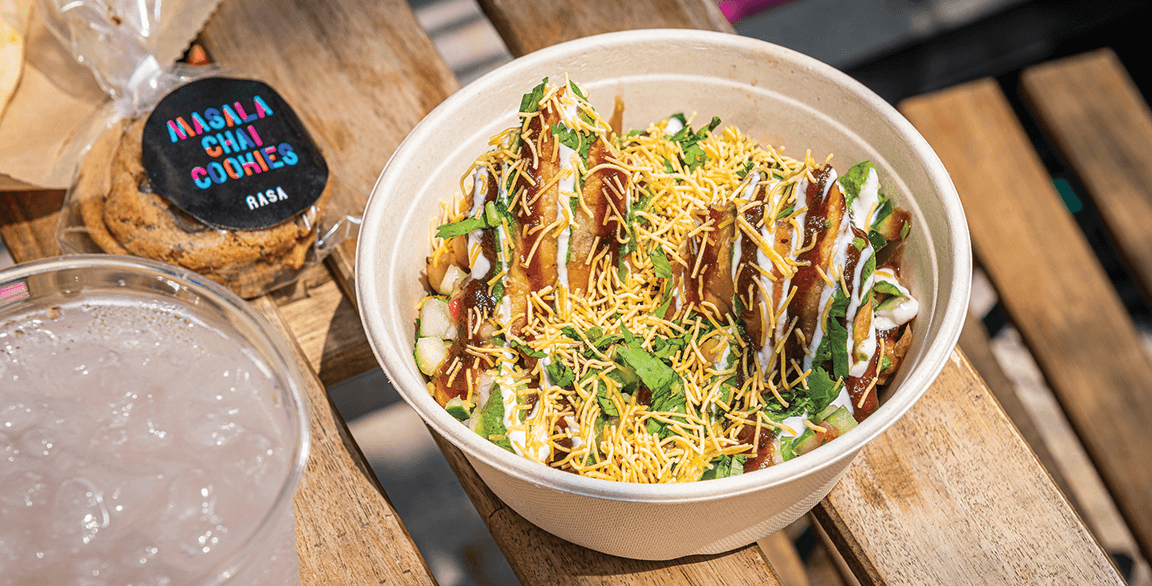 By Maeve Webster
December 19, 2022
Although the pandemic is receding, the uncertainties and anxieties that have dominated in recent years linger. As a result, consumers are looking for an escape, and that escape can often be found in food and beverage. High-impact sensory experiences and layered flavors help consumers transport themselves mentally and emotionally, if only for a short time. In chaat, the term for a whole swath of Indian street-food snacks, operators can find all the elements needed to create a truly engaging dining experience.
In Hindi, chaat means "to lick," earning that moniker because of its craveable, mouthwatering profile. In its many varieties, chaat typically consists of fried dough (samosa or puri, for example), vegetables (chickpeas, potatoes), savory sauces or chutneys (mango-tamarind chutney, raita), crunchy garnishes (crispy chickpeas, potato sticks) and chaat masala, a spice mixture that includes amchoor (savory mango powder), cumin, coriander, dried ginger, black pepper, asafoetida (a pungent powder reminiscent of leeks), chile powder and garam masala. Chaat is a savory snacking experience that is perfectly primed for adoption on modern menus.
APPEAL "Chaat is sweet, spicy, tart and smoky. A combination of all different flavors is what makes it so appealing. Chaat is seasonal and fresh. It is very approachable, but it's a matter of creativity."

APPLICATION "Chaat always needs to have a combination of flavors to create a party in your mouth. Textures are also very important. I am constantly coming up with new ideas. I have, more often than not, made chaats with ingredients I've gotten from grocery stores in Middle America; for example, lemon for tartness, fruit for sweetness and yogurt for creaminess. There is a whole world of experimentation; it depends on where your creativity will take it."

MANEET CHAUHAN, CO-OWNER/EXECUTIVE CHEF, CHAUHAN ALE & MASALA HOUSE, NASHVILLE, TENN.
CHAAT INNOVATIONS
Finding chaat at Indian restaurants in major metropolitan areas would seem a straightforward expectation, but even among these concepts it remains somewhat elusive, making menu sightings bona fide examples of innovation. These progressive operations, especially in larger urban areas, are featuring chaat in both traditional and nontraditional formats, demonstrating a depth of potential.
Lijo George and Max Boonthanakit, co-executive chefs at modern French bistro Camphor in Los Angeles, have created a Pommes Anna that layers potatoes and celeriac with brown butter and a chaat spice mix of fennel seed, star anise, cinnamon and cardamom. It is menued with a choice of three sauces: mint-parsley purée, garlicky yogurt and tamarind chutney. At Washington, D.C.'s modern Indian restaurant Rania, the Shiso Leaf Chaat sees shiso leaves dipped in chickpea batter, fried, set adrift atop yogurt and mashed white peas, and garnished with mango and pomegranate seeds.
The expansion of Indian cuisine into smaller metro areas speaks to growing demographic diversity across the U.S., as well as the impact pioneering ingredients such as curry and chai have had in increasing the familiarity of Indian food among American diners. Chaat can now be found in smaller cities with vibrant food scenes. At award-winning Indian restaurant Chai Pani, based in Asheville, N.C., the Aloo Tikki Chaat delivers textural excitement as crispy Indian potato fritters are served over a spiced garbanzo bean stew, then topped with crunchy chickpea noodles, along with tamarind chutney, green chutney and sweetened yogurt. Urban Village Grill, a Lone Tree, Colo., restaurant elevating traditional Indian cuisine, menus a Kale Moong Dal Chaat, which delivers complex textures and aromas from crispy kale, sprouted lentils, fresh mint, tamarind, cilantro purée and roasted cumin yogurt.
Chaat can easily move beyond traditional Indian menus to create wholly new experiences for consumers. Sheal Patel, pitmaster at pop-up Dhuaan BBQ in Chicago, tops his hot dogs with chaat masala-giardiniera, a nod to both his Indian heritage and suburban Chicago childhood. In Oxford, Miss., Vishwesh Bhatt, executive chef of Southern brasserie Snackbar, combines his Indian background with regional ingredients in his Okra Chaat, which features thinly sliced okra that's flash fried, seasoned with a custom blend of spices and then tossed with peanuts, herbs and other "bright flavors." Chaat need not be relegated to the kitchen, as is well demonstrated at Chicago's progressive Indian restaurant Indienne. Its Kolkata cocktail combines Indian single-malt Scotch, ginger, roasted mango and raspberry-chaat masala.
Chaat is, arguably, a boundary-pushing category for non-Indian restaurant brands. Still, in both its more authentic forms, and in melding traditional chaat elements with broader and familiar formats and applications, it serves up a unique flavor experience and satisfies the desire for experimentation and exploration through food. If chaat itself is perhaps too trend-forward, a lot can be learned from how chaat dishes are built and what the components—taken singly and in combination—offer modern diners. When innovating in snack, appetizer, entrée or even beverage categories, consider applying key chaat attributes—especially its complex, savory-forward flavor profiles and broad spectrum of textural elements—to create compelling, cutting-edge menu items.
APPEAL "In recent years, we have continued to experience a higher level of affinity and inclusivity of diverse food cultures. Chaat is one of the latest to emerge. We have known chaat and enjoyed chaat, but, just like tapas and mezze at one time, we don't always know it by its category name."

APPLICATION "Opportunities are endless. Just take any legacy and/or new recipe, change spice mixtures, perhaps add yogurt, and there you have it. Chaat as a category is broad enough to allow tests and trials. But an authentic spice melange unique to Indian cuisine is absolutely critical. You can do all sorts of vegetables and proteins; in the end, it is the flavor and aromas that bring it together and will make it a chaat."

RAFI TAHERIAN, ASSOCIATE VP, YALE HOSPITALITY, YALE UNIVERSITY, NEW HAVEN, CONN.
IT'S TIME TO CHAAT
Chaat offers U.S. menu developers an exciting first-to-market opportunity. Despite the growth of authentic Indian cuisine in this country, along with the recent rise of Indian mash-ups, chaat has yet to build solid name recognition with diners. But with its savory profile and crunchy texture, it's worth a closer look. Chaat is easy to signaturize—it offers multiple dimensions to explore, providing literally hundreds of variations and no clear favorite that tops all popularity lists.
As chaat's roots are in street food, traditional offerings are typically meant to be easy to eat and portable. Its street food status gives it inherent credibility as a snack, appetizer or small plate on menus here and helps operators position it as an off-premise menu item, too.
Chaat is on the early side of the trend cycle, earning just 1 percent menu mentions nationwide, according to analysts at Datassential. Still, the research firm predicts that chaat will grow on menus over the next four years. This confidence should be seen as a signal for innovation and menu differentiation, whether offering authentic dishes, inspirational mash-ups or applying certain signature elements to bowl builds or salads in an effort to combine craveability with global intrigue.
CHAAT ON THE MENU:
Feringhee's Chaat with white pea ragda, potato tikki, yogurt mousse and shiso leaf
—Feringhee Modern Indian Cuisine, Chandler, Ariz.
Khasta Kachori Chaat: Crispy puffed fried pastry, filled with potatoes, onions, sprouts and
lentils, topped with yogurt, spices, chutney and crunchy noodles
—Bombay Kitchen, based in Port Washington, N.Y.
Samosa Chaat: Base of chickpeas topped with pieces of potato-filled samosas and three condiments: sweet tamarind chutney, mint-cilantro chutney and cumin yogurt
—Rasa, Washington, D.C.
Tater Chaat: Tater tots, onion, tomato, imli chutney (tamarind, jaggery and ginger), mint chutney, yogurt, sev, mint and cilantro
—Tava Indian Street Food, New Orleans
Rice Kheer: Overcooked rice with sweet milk reduction and boondi (crispy snack of tiny balls made from chickpea flour)
—Spice Kraft Indian Bistro, with locations in Arlington and Alexandria, Va.