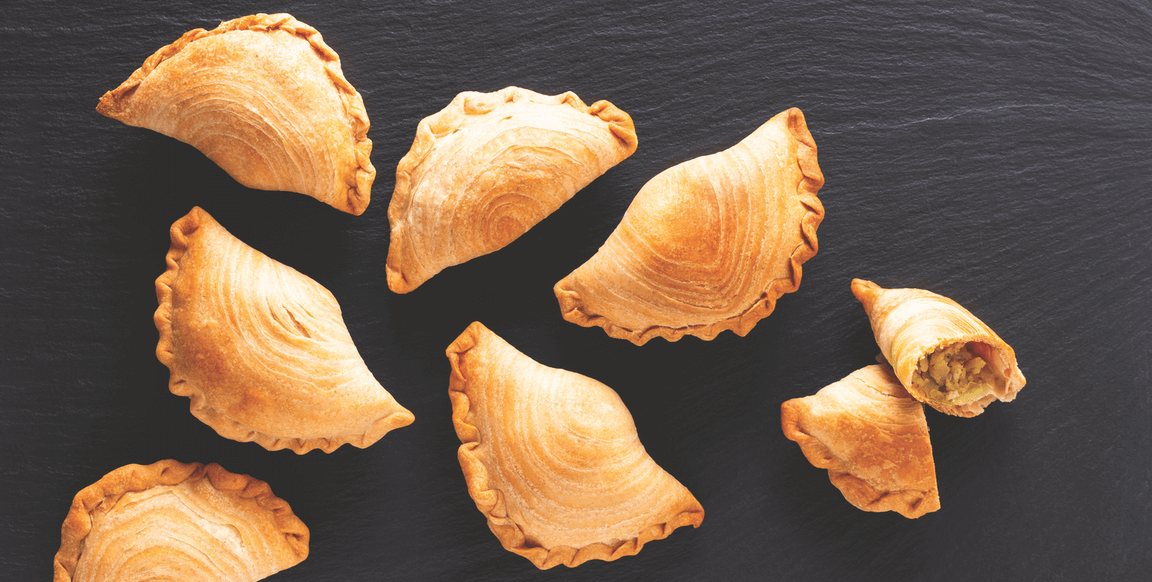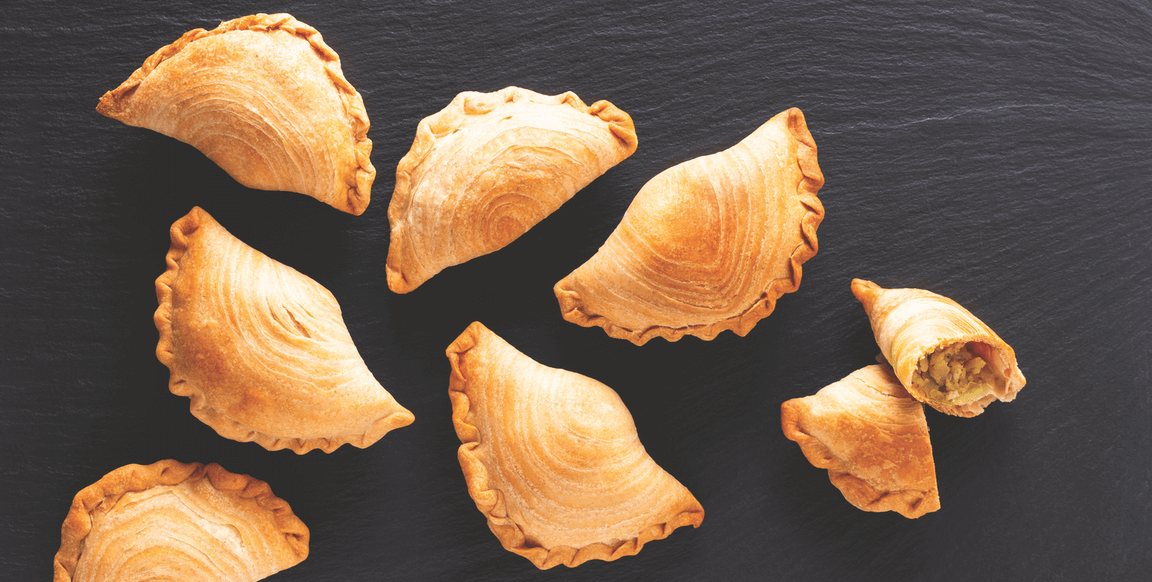 By Katie Ayoub
February 7, 2022
Something thrilling is happening with savory hand pies today. This category, now a hotbed of innovation, covers a world of encased pastries, from Australian meat pies and Argentinian empanadas to Israeli bourekas and Malaysian curry puffs. The comfort-centric pie's innate talents underpin the trend: It's handheld, portable, dippable, craveable and malleable. "There's almost nothing you can't do with hand pies once you decide to adapt them for your operation," says Maeve Webster, president of Menu Matters, a foodservice consultancy. "Empanadas, meat pies, pasties, puffs—they are infinitely adaptable, whether you highlight Colombian flavors or Southeast Asian, or go with a mash-up and turn them toward your culinary brand. There is so much potential for expansion, creativity, flavor melding and experimentation with fillings, casings, toppings and dipping sauces."
Savory hand pie concepts at modern food halls have revved up the engines of innovation and fired up the appetites of consumers, showcasing a spectrum of exciting offerings. With three Chicago locations, including an outpost at Revival Food Hall, Mexican-inspired Lito's Empanadas serves turnover-style pies. Its Al Pastor Empanada features marinated pork, pineapple, cilantro and cheese, demonstrating how well suited this format is in enveloping tried-and-true flavor systems. DelSur, an Argentinian empanada shop at The Market at Malcolm Yards in Minneapolis, introduces American diners to traditional builds like the Beef Empanada, with ground beef, red peppers, potatoes, scallions and green olives, along with offering more eclectic menu items like the vegetarian Sweet Corn Empanada, with sweet corn, scallions, red pepper and mozzarella.
At Chicago's French Market food hall, Barangaroos Aussie Pies shares variations of the Aussie meat pie. Along with the Classic Mince (ground beef with sautéed onions in a thick gravy), the menu features equally comforting, but less traditional choices like the Buffalo Chicken Mac N Cheese, with macaroni and chicken in a creamy cheese-Buffalo sauce. These food hall spots are helping to drive consumer awareness about global iterations of hand pies. They're also serving as idea incubators, inspiring operators across the country.
"Menu developers don't need to 'hard fit' this trend," says Webster. "The format is so universal, so worldwide that it will fit into virtually every concept out there."
---
Lean into Latin
Empanadas have gained huge momentum on menus over the last year. The Argentinian model leads the pack, coming out in front with a sturdy yet flaky dough and a baseline of traditional fillings, such as ground beef, onions, spices, green olives and hard-boiled eggs. Helping put it over the top is the accompanying chimichurri, a condiment that has gained favor with American diners over the last few years, and moves the Argentinian empanada—or mash-ups that draw from here—into seriously craveable territory.
With locations in Houston and Chicago, 5411 Empanadas serves 16 varieties of the Argentinian savory pie, including the Malbec Beef, with shredded Angus beef slow-roasted in a red wine reduction with onions, carrots and rosemary. Two signature sauces are on offer: the Chimichurri (olive oil, parsley, cilantro, red onion, tomatillos and garlic) and the Red Hot (roasted jalapeños, aji molido, tomatoes, paprika, red onion and garlic).
Tacocraft, a Mexican taqueria and tequila bar with three locations in Florida, menus an Oxtail Empanada with golden raisins and manchego, serving it with a chimichurri, but leaning the condiment toward its Mexican sensibility with an infusion of chile de árbol.
Latin-inspired Chica, with locations in Miami, Las Vegas and Aspen, Colo., runs with the red-hot birria trend, packaging it into an empanada called the Wagyu Quesa-Birria Empanada, served with a guajillo consommé. "I was inspired by the flavors and techniques of birria tacos, so we created a delicious, savory Wagyu beef stew that is slightly sweet, sour and spicy," says Lorena Garcia, chef/owner of Chica, in collaboration with 50 Eggs Hospitality Group. "I also added melty cheese, all wrapped in a flaky pastry dough that is baked and then grilled."
San Francisco's ¡Chao Pescao! homes in on Colombian empanadas, serving an appetizer of mini turnovers made of the traditional masa cornmeal, then stuffed with various fillings, including a combination of sweet potato, chickpeas, tomato, kale, rice and aji verde, and slow-cooked garlic pork, sweet plantain, black bean, queso fresco and hot sauce.
At Everyone's Empanadas in Oakland, Calif., owner Jo Buckby combines Argentinian-style, baked empanadas with the buttery, flaky dough of the Cornish pasty from England. These hybrid offerings demonstrate the flexibility of format housed in savory pies. The Choripan Empanada reimagines the Argentinian street-food sandwich, stuffed with chorizo, bell pepper, potato, onion and proprietary spices.
---
British Invasion
The pasty is a British hand pie with a long-held tradition of comfort and heartiness. Like other hand pies, it's open to translation, and chefs here are leveraging the hominess of this dish and making it their own. At Cornish Pasty Co. in Las Vegas, the menu is extensive, including an impressive lineup of plant-based pasties. The Vegan Cubano is a build of house mojo jackfruit, vegan "ham," vegan "cheese," dill pickles and yellow mustard. The restaurant also cleverly packages up the famous English breakfast into an on-the-go format: The All-Day English Breakfast Pasty stars bacon, a soft-poached egg, potato, roasted tomato, mushroom, sausage and baked beans, and is served with a side of HP brown sauce or ketchup.
Jonathon Sawyer, chef of Adorn Bar & Restaurant at the Four Seasons Hotel Chicago, took another British classic, beef Wellington, and shrunk it down to an elegant "Beef Wellington for One." "It's the classic, but modernized and sped up," he says. "We love the grandeur of the large format Wellington, with the tableside slicing of the puffed pastry and serving two people or a whole table, but the problem was pick-up times—25 to 55 minutes depending on the size." To reformat the savory pie into a mini version, he took the portion size down, but added extra duxelles on the top and bottom of the inside of the crust to form a symmetrical shape for even cooking. "Using a combi oven or impinger oven is paramount, as we need zero moisture," says Sawyer. "The result is an 11-minute pick-up for a showstopper of an entrée."
---
Other Global Inspirations
Practically every culture boasts some kind of savory hand pie. "Using the format of savory pies to feature adventurous global flavors is smart because the format is so familiar," says Webster.
For inspiration, look to Southeast Asia's curry puff, a deep-fried or baked pastry shell filled with a thick curry, along with other ingredients, like chicken and potatoes. At the newly opened Thai fast casual Silom Station in Sugar Land, Texas, the Curry Puff is stuffed with chicken, potatoes and curry powder and served with a cucumber sauce.
"The hallmark of the curry puff is its signature appearance and flaky texture, which is a result of the layers of laminated dough that are rolled up, sliced into slabs and rolled out again," says Robert Danhi, co-founder and chief innovation officer of Flavor 360Solutions. "Add other fillings to these signature flaky dough 'hand pies,' such as a black pepper chicken or spicy tomato shrimp, or riff on the popular stir-fries like orange chicken, kung pao chicken and Mongolian beef."
The Sausage 'n' Char Siu Roll at Dai Pie Dong, a British-Cantonese savory pie pop-up in Los Angeles, expresses a trend-forward version of the hand pie beautifully. A twist on the classic British sausage roll, it features juicy pork seasoned with sage, along with cubes of char siu (Cantonese barbecue pork), all encased in a flaky puff pastry. "Growing up in the U.K., I fell in love with the ultimate comfort food—savory pies," says Kitty Lam, chef/owner. "The name of my pop-up is a play on 'Dai Pai Dong,' the quintessential Hong Kong open-air street food stall, and I wanted to create pies filled with exciting Cantonese flavors." A global mash-up, indeed.