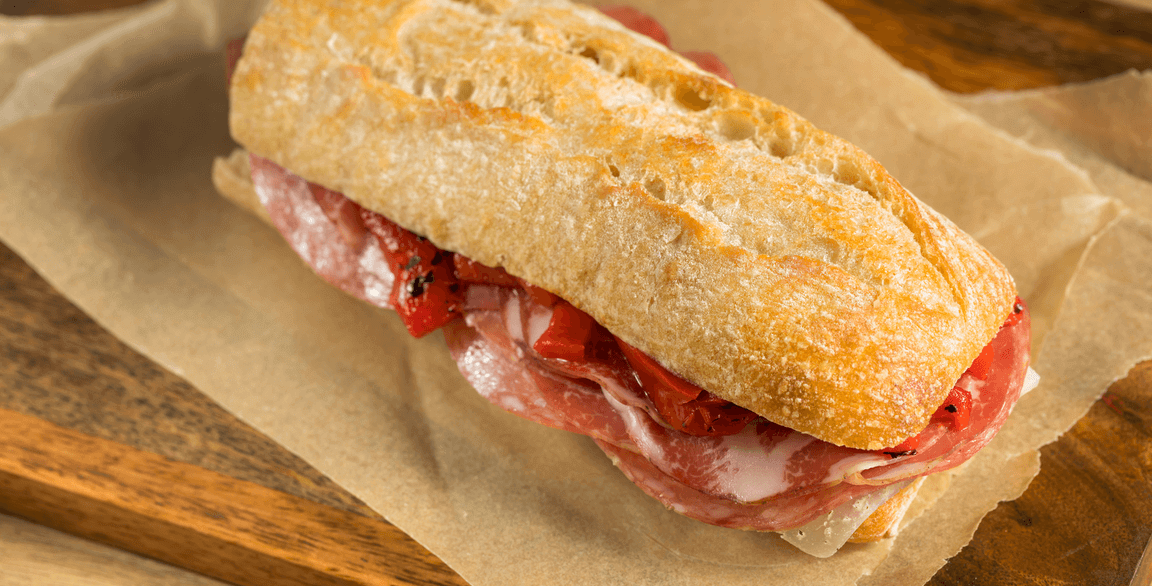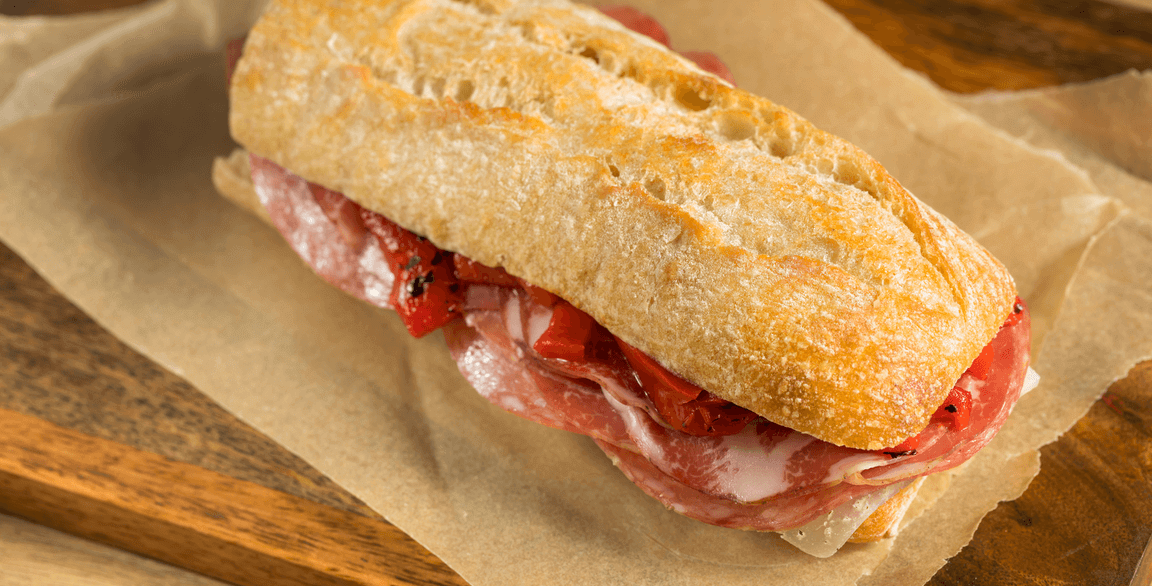 By Katie Ayoub
February 1, 2022
Spain's iconic bocadillo, or bocata, is the sandwich ambassador of a food culture that Americans are embracing with increasing enthusiasm. In fact, many consumers here have long since adopted the tapas-style dining that Spaniards set their clocks by. The overall vibe of Spanish cuisine—and for that matter, the broader Mediterranean region—is right in line with modern dining preferences. That kind of openness to Spanish imports has helped clear the path for the bocadillo to make inroads on American menus. The ongoing trend in next-level sandwiches bolsters the opportunity, with chefs looking at new ways to differentiate their offerings.
At its core, the bocadillo is a sandwich served on "pan de barra," a Spanish-style baguette. Its construct is simple, starring anything from Spanish jamón to tuna to manchego cheese to an omelette to chorizo, and it's served either cold or hot. The bread is moistened simply with olive oil or grated tomato and perhaps rubbed with garlic for flavor. Every region has its own variation, and they can be found everywhere, including cafeterias, roadside cafés, tapas bars and luncheonettes. Although different builds abound, the bocadillo's defining factor is simplicity marked by quality of ingredients.
"What I think is most interesting about the bocadillo and the opportunity it presents for operators here is how it relates to what's been going on with sandwich trends in this country," says Maeve Webster, president of Menu Matters, a menu consultancy. "We've seen chefs lean heavier into super stacked sandwiches. The bocadillo is much more about quality over quantity. It's not about creating a monster sandwich; it's more about how to create a satisfying, distinct flavor experience, but with better quality ingredients and fewer of them. This trend is for operators who want to offer an elevated sandwich option—whether it's for on-site or off-site."
Indeed, that off-site potential makes the bocadillo an attractive proposition for restaurant operators today. Its simplicity of layers and hearty bread component make it a takeout-friendly option. "It can be made in advance for grab-and-go and travels well because it's rarely heavily sauced," says Nancy Jo Seaton, president/owner of Seaton Food Consultants.
---
First Moves
It's no surprise that the biggest champions of the bocadillo are Spanish-born chefs who have adopted the U.S. as their home and have adapted their homeland's cuisine on their respective menus. With the opening of New York's Mercado Little Spain food market, Ferran Adrià and José Andrés brought this sandwich into sharper focus, using their star power to cast a white-hot spotlight.
At Spanish Diner, one of three anchor restaurants in Little Spain that recently opened a second location in Bethesda, Md., the bocatas are served on pan de cristal, a signature bread from Spain that is crisp and airy. Slices are spread with crushed tomato and then filled with simple ingredients, like jamón or manchego.
El Chiringuito, one of the Mercado's casual, outdoor spaces, menus several bocatas, each filled with traditional ingredients like marinated pork, Spanish ham, manchego cheese, sweet piquillo peppers and creamy goat cheese. La Barra, another of Mercado's anchoring restaurants, features a version with Mahón cheese, sobrasada-cheese spread and honey.
In Chicago, Bonhomme Hospitality's Mama Delia, a modern Spanish restaurant, sherry bar and gourmet market, menus the Almussafes Bocata, with sobrasada Ibérica, goat cheese, confit onion and white vermouth purée, and truffle-aged balsamic on pan de cristal. The executive chef, Marcos Campos, is a native of Valencia, Spain. "The whole menu at Mama Delia features dishes that bring me back to childhood memories," he says. "Almussafes is a small city that is 15 minutes from where I grew up. I remember my father on Sundays bringing me to this little place there that used to make this sandwich with a really crispy baguette, sobrAsada, caramelized onions and manchego."
The pan de cristal is actually not deeply rooted in Spain, although it has become more common over the last decade, introduced in Barcelona about a decade ago by a local baker. "In making the bocadillo, the best part of the sandwich is the sobrasada, and I wanted to make sure it could stand out by itself without something overpowering the flavor," says Campos. He brings in parbaked pan de cristal from Spain, then bakes it daily in the restaurant. "I was looking for something really crispy and light that is actually just enough for you to hold it and eat it, but you're almost not going to feel the bread. It doesn't have a lot of flour; it's mostly water. When you bake it, it's all air. It doesn't have any weight to make it a doughy bread. It's all crust, which works really well for the bocadillo."
While this Mama Delia sandwich reflects a very personal story, it's resonating with diners unaware of its origins but who appreciate the bocadillo's layering of flavors and textures, along with its rustic heartiness. "Most people are ordering the bocata at the bar, drinking a glass of wine, beer or a cocktail and not looking for anything fancy," says Campos. What they get fills the bill: something crunchy, earthy, cheesy, with a little acidity coming from the truffle balsamic.
---
Spinning the Sandwich
Naturally, chefs familiar with the format are leveraging the inherent qualities of the bocadillo while adding their own flavor touches. It's the bocadillo's more conservative layering of ingredients that allows for a richer, more premium sandwich experience. "There are indicators right now that consumers are of the mindset that they would prefer to pay more for better quality," says Webster. "That's showing up in a lot of different trends."
Teresa Montaño, executive chef/owner at Otoño, a modern concept in Los Angeles featuring elevated Spanish cuisine, features the bocadillo as a special, using housemade stecca bread (a salty, crunchy sourdough) to house the simple builds. Her nod to Madrid's famed calamari bocadillo sees fried East Coast squid and aïoli. Toro, a tapas bar in Boston, pushes the boundaries, but still keeps the build simple: The Uni Bocadillo features miso butter and pickled mustard seed, and the sandwich is served pressed and warm.
In Los Angeles, Mediterranean small-plate concept Soulmate demonstrates how well the bocadillo plays at brunch. Its Hangover Bocadillo stars jamón serrano, manchego, tomato jam and a sunny-side-up egg on sourdough. Chicago's new Bocadillo Market, a Spanish café with counter service, features six "afternoon bocadillos," including the Smoked Lamb, with Nora pepper aïoli, fresh herbs, pickled green beans and carrots, and the Spanish Chorizo, with squash blossoms, avocado and goat cheese.
With the bocadillo's natural affinity to Spain's meats and cheeses, a formidable partnership between a charcuterie program and a bocadillo menu makes a lot of sense. Lardon, an all-day salumeria in Chicago with an extensive charcuterie menu, boasts a sandwich menu that highlights a charcuterie-driven, bocadillo-style sandwich. The Finocchiona and Butter features Lardon's cured fennel seed salami with Wisconsin farm butter, arugula and sea salt on a rustic baguette. The Frenchie showcases house-cured ham, country pork pâté, Brie, mustard and cornichon mayo.
---
One for the Road
Portability and simplicity go hand in hand. "Served with minimal toppings and spreads, the bocadillo is a sandwich centered on rustic bread and flavorful meats," says Mike Buononato, senior VP of Creative Food Solutions consultancy. "This simple yet premium ingredient format is the perfect backbone for layering different craveable flavors and textures. It's a great takeout or delivery sandwich that drives both flavor and authenticity—something every operator needs today."