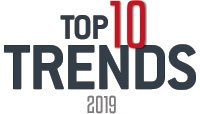 Hailing from Turkey, lahmacun (pronounced "luh-muh-joon") traditionally consists of a crispy, thin flatbread either topped with or rolled around richly seasoned ground meat, usually beef or lamb. It's complemented by a salad of parsley, sumac, lemon juice and onion.
"You either pull pieces of the flatbread off and roll them around a bit of salad, or you serve it like street food as a wrap," says Loryn Nalic, chef/owner of Balkan Treat Box in St. Louis. "There's a lot of liberty to be taken with lahmacun, and there's so much room for interpretation," she says.
In her version, spicy lamb sausage is spread over the flatbread that's cooked at a high temperature in a wood-fired oven.
Lahmacun's emergence onto the food scene signals an eagerness by diners to explore authentic global flavors, especially when presented in a user-friendly and familiar format like a flatbread.
Taking cues from the success of other handhelds that star heavily seasoned meats—shawarma and döner kebab, for example—opportunity awaits those who successfully translate this craveable dish.