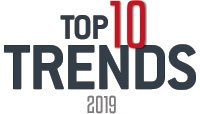 QUINN ADKINS, Director of Menu Development at Prairie du Sac, Wis.-based Culver Franchising System, LLC, leads all aspects of menu management and new product development for the 680+ unit brand, famous for their signature ButterBurgers and fresh frozen custard, which pretty much makes him the luckiest guy in the world. A native Oklahoman, Quinn has been cooking professionally in fine and casual dining for more than 25 years. He currently lives in Madison, Wis., his seventh (and favorite!) state of residence.
CHARLIE BAGGS is Executive Chef/Founder at Charlie Baggs Culinary Innovations in Chicago, leading a team of chefs, scientists, nutritionists, brand specialists/marketers, stylists and photographers to develop innovative foodservice solutions. For more than 15 years, he has consulted on product development, new item commercialization, national account representation, technical lab analyses, concept development, portfolio reviews and benchmarking, marketing and consumer insights, and culinary training. He is a recognized speaker, teacher and author, and also sponsors an employer-of-choice intern program.
JESSICA BOGRAD is a Director of Culinary R&D at CSSI Marketing + Culinary in Chicago. She is a graduate of Johnson & Wales University, Denver, with an AS degree in Culinary Arts and BS in Foodservice Management. With 12+ years of experience in foodservice and independent restaurant groups, she has honed her skills in culinary and brings her talents to CSSI. Jessica is a long-time competition BBQ pitmaster and award-winning culinary competition chef, taking home the 1st place title in several Chicago-based underground culinary competitions.
MICHAEL BUONONATO is Senior VP at Creative Food Solutions, a collaborative company that merges product design with food marketing. A graduate of The Culinary Institute of America, Mike has over 25 years of experience in the development of products from inception to commercialization. Currently, his focus is on developing recipes and food products that are craveable, on-trend and scalable for foodservice clients. Mike loves a challenge in product design and holds a patent for the flavored encapsulation of salt.
GABRIEL CALIENDO has served as executive chef, VP of food & beverage, and co-founder of Lazy Dog Restaurant & Bar based in Huntington Beach, Calif., since he helped found the concept in 2003. Gabriel traces his culinary roots to his days spent at his family's delicatessens where he began developing his culinary talents by weaving buffalo mozzarella from scratch and grinding and stuffing fresh and dry sausage. In 1992, Caliendo joined the Ritz-Carlton Hotel team, and during his 10 years there, assumed various chef positions. As a member of that distinguished team, he traveled to Europe and worked alongside such well-known chefs as Paul Bocuse. With a belief that you don't fully understand something until you've taught it to someone, Gabriel also served as a Culinary Chef Instructor at Orange Coast College in Costa Mesa, Calif, for five years.
KATHY CASEY is a celebrity chef, mixologist, and pioneer in the bar-chef movement. Early in her career she was named one of Food & Wine's "Hot New American Chefs." Kathy is the owner of Kathy Casey Food Studios – Liquid Kitchen, a global agency specializing in food and beverage innovation and concept development. Her team can often be found in the field training staff and supporting new openings. A successful restaurant owner and operator, Kathy's concepts include Dish D'Lish and Rel'Lish Burger Lounge. Kathy is a founding partner in 1915 KCHouse Concepts, a women-owned airport food & beverage operations company. Lucky Louie Fish Shack will be their first location, opening at Sea-Tac Airport this year. She is the author of 10 cookbooks, including the James Beard Award-nominated Kathy Casey's Northwest Table (Chronicle Books, 2006). kathycasey.com; liquidkitchen.com
CHRIS CASSON honed his culinary career in chef positions at noted Colorado venues, including The Flagstaff House, Restaurant Kevin Taylor, Mexico-Modern Mexican and the historic Brown Palace Hotel. Growing up on a farm in Illinois, Chris has always been passionate about agriculture and food. He is now Director of Produce & Specialty Products for Shamrock Foods Company, a leading broadline distributor in the Western United States.
JORGE CESPEDES received his Culinary Arts degree at Johnson & Wales University in Providence, R.I., and has spent years traveling around the world searching for the origin of flavors. With a business degree from Universidad Latina in San Jose, Costa Rica, Jorge has the capability of understanding the marketing side of the foodservice industry and is able to apply that knowledge to each idea he develops in his current role as Culinary Creative Director with Marlin Network, based in Springfield, Mo.
DAVID COMMER, President of Commer Beverage Consulting, is a chain account specialist with over 35 years of experience in the hospitality industry. Since 2001, Commer Beverage Consulting has provided independent and unbiased beverage services and strategies to numerous clients, including TGI Friday's, Red Lobster, Cheddar's and Chuy's, to name a few. On a project basis, David provides sales and marketing strategy services, product analysis and recipe development to major beverage suppliers. He brings deep and diverse experience in all aspects of restaurant management and operations. David's background in operations has been invaluable to creating successful beverage programs in over 17 years as an independent consultant. During his 13 years with TGI Friday's as a General Manager, Regional Manager and as Director of Beverage Marketing, David established himself as a proven sales builder in all of his roles.
STEFANO CORDOVA is President of Cordova Food Design, a consultancy for organizations looking to apply design thinking, innovation and cutting-edge health trends to their food services. From national catering chains to fast-casual restaurant groups to schools and school systems, Stefano believes well-designed meals fuel communities. Born in Rome, Italy, he brings a lifetime of experience in cuisine by design. From baking as a child to cooking in some of the finest restaurants in Europe and New York, to catering the largest sporting events in the world, to a decade of expertise in fast-casual dining globally, Stefano combines art with eating to create food by design.
ROB CORLISS is a three-time James Beard House guest chef with more than 20 years of experience that includes running world-class hotels, launching new concepts, working in top marketing agencies and, currently, owning a consulting company, ATE (All Things Epicurean), focused on flavor, menu and restaurant innovation. Based in Nixa, Mo., he has an energizing passion for food and is dedicated to connecting people to their food, environment and wellness.
ROBERT DANHI is a Curator of Cultures and has a mission to curate, code, archive and share the world's culinary cultures, hence he has created Flavor360, a software platform with a series of apps for the food and beverage industry to blend qualitative and quantitative research methodologies and document the 360° Flavor Experience. The Flavor360 team partners with organizations to efficiently capture and share the tribal knowledge of their organization. They are launching this year with the first app, Flavor360_Explore, used for weekly research, food tours and trend treks—saving those great ideas and getting deeper insight into cooks' and chefs' food that satisfies consumers. Robert is also owner of Chef Danhi & Co Consulting, the author of the James Beard finalist book Southeast Asian Flavors (Mortar & Press, 2008), host of the 26-episode docuseries, "Taste of Vietnam" and a main judge on "Top Chef Vietnam."
ROSALYN DARLING is a Chef and Culinary R&D Manager at CSSI Marketing + Culinary in Chicago, specializing in insights-based culinary ideation and menu concept development, working with foodservice operators to help expedite their menu development processes. Rosalyn loves designing dishes that are not only delightful for the palate but also healthful. In this role, she's worked as a culinary instructor for Premier Culinary Clinics, collaborated with The Culinary Institute of America for K-12 school nutrition and Menus of Change, and worked closely with many of the top 200 restaurant chains.
BRIAN DARR is Managing Director of Publications at Datassential. His team produces the Keynote Reports, the TrendSpotting digital publications and the TIPS report. Brian has spearheaded hundreds of industry studies during his 25-plus years in the foodservice industry, the last 16 years with Datassential. His expertise is in the areas of restaurant trends, foodservice industry size and structure analysis, and consumer behavior and demographic analysis. Brian earned his MBA at Southern Illinois University-Edwardsville, and holds a culinary degree from Le Cordon Bleu in Chicago. [email protected]
T.J. DELLE DONNE is Assistant Dean, Culinary Relations and Special Projects at Johnson & Wales University, College of Culinary Arts, in Providence, R.I., from which he graduated in 2004. After a stint at the Hay Harbor Country Club on Fishers Island, N.Y., he returned to the university as Assistant Director of Culinary Events and personal chef to the university president. He earned an MS in Foodservice Education and in 2010, was promoted to Director of Culinary Events, then to Associate Instructor and personal chef to the university chancellor. T.J. is a contributor to Flavor & The Menu and has served as Executive Chef for The Flavor Experience event.
RON DESANTIS is Principal Advisor of CulinaryNXT consulting. A Certified Master Chef (CMC), Ron began his food immersion in his family's grocery store. After cooking in the U.S. Marines, he graduated from The Culinary Institute of America and spent five years cooking in Germany. Ron returned to the United States with a position teaching at his alma mater, the beginning of a 25-year career at the CIA. Ron then joined Yale Hospitality as Director of Culinary Excellence. His duties included the production of over 14,000 meals a day, and leadership for all facets of culinary concept design, development of innovative menus and cuisine, and training of the culinary team. As the first CMC to enter college & university dining, Yale's progressive approach to student dining is proof of how Ron's approach to thinking like an independent restaurant in a multi-operational institutional environment has changed the format for delivering students' meals. In 2010 Ron co-authored Modern Batch Cookery (Wiley, 2011) with CMC Victor Gielisse, DBA. Ron also holds an MBA from Empire State College.
MATT HARDING is a classically trained chef and restaurant professional with experience from fine dining to fast casual. After attending The Culinary Institute of America, he worked at The Willard InterContinental in Washington, D.C., Campton Place Hotel in San Francisco and Kimpton Hotel's first free-standing restaurant, Splendido. After extended culinary travels through Europe, the Eastern Mediterranean and Africa, he settled in Columbus, Ohio, as executive chef at Lindey's, voted best restaurant in Columbus. Matt then joined Bravo Brio Restaurant Group, opening the first Brio Tuscan Grill in 1999. He remained with the corporation until 2015 when he became VP of Culinary at Piada Italian Street Food, based in Columbus, Ohio.
STEPHEN KALIL leads Flavor Design Studio, providing independent consulting for major food companies. He serves as president of the Culinology Education Foundation and is past president and strategic advisor to the board of the Research Chefs Association, for which he received the President's Award in 2011. He was the Corporate Executive Research Chef at PepsiCo. for 11 years, and before that, Director of Culinary Innovation at Chili's. A member of the American Culinary Federation, Stephen has been honored as a Distinguished Visiting Chef at Johnson & Wales University. He presents at industry events on both culinology and food product development.
CHRIS KOETKE has worked in culinary arts for almost four decades and recently founded Complete Culinary, LLC, a consulting firm dedicated to the 360° comprehensive view of food and beverage. This allows him to bring together his previous work experiences in international and national culinary education, sustainability, professional kitchens, R&D, writing, video work and television.
GERRY LUDWIG is a nationally recognized food writer, speaker and trend tracker, and leads the Culinary R&D department at Gordon Food Service, based in Grand Rapids, Mich. Using a proprietary street-level research method as his exclusive data source, Gerry and his team create trends-based menu solutions that are executed at the operator level by the company's team of culinary specialists. Gerry is a contributing writer for Flavor & The Menu and conducts seminars and workshops at numerous industry events in both the United States and abroad, and oversees customer-facing restaurant research tours in major cities throughout the United States.
LOUIS MASKIN graduated from the University of Southern California, where he studied business administration and psychology. His love for food comes from his mother encouraging him to be comfortable in the kitchen at a young age. Louis is now Marketing Director at The Culinary Edge, a San Francisco innovation agency providing companies with strategic food & beverage, brand, and operations solutions.
ADAM MOORE is the founder of Flashpoint Innovation, a food and beverage growth network, located in Chicago. Over the course of his food-focused career, Adam has spanned roles, from owning his own restaurant to strategizing with Fortune 500 companies around the globe. At Flashpoint, Adam marries his experience with a national network of chefs, scientists and strategists to provide culinary support, product development and foodservice strategy services for his clients.
ELIZABETH MOSKOW is the Culinary Director at Sterling-Rice Group, a Boulder, Colo.-based branding and innovation firm. A culinary and strategic thought leader in CPG and foodservice trends, Liz tracks and predicts the future of food and beverage. The author of SRG's biannual publications, "Top Ten Cutting-Edge Trends" and "The Natural Nine," Liz provides insight into culinary trends in both CPG and foodservice. She lends culinary perspective and strategic insights for all food-related innovation and brand projects.
KARA NIELSEN is a food and beverage trend expert with over a decade of experience translating trends for strategic brand growth and innovative product development. She is VP for Trends & Marketing at CCD Helmsman, a strategic food and beverage innovation agency based in the San Francisco Bay Area. Kara also has experience creating and sharing consumer and culinary trend content at Innova Market Insights, Sterling-Rice Group and CEB Iconoculture Consumer Insights. She is a frequent speaker on trends at industry trade shows and conferences, and is quoted regularly in national and industry media. Her success at placing trends in a larger societal and cultural context comes from her background in culinary arts and restaurant hospitality as well as her master's degree studies in gastronomy at Boston University.
SHARON OLSON is Founder & Executive Director of Chicago-based Culinary Visions, which works with food companies to inspire big-idea innovation and to deconstruct trends into a relevant context that helps build brands. Services include focused original research with custom-crafted professional and consumer panels, innovation labs and a wide range of culinary marketing services. Culinary Visions publishes Conference Beat reports throughout the year that identify trends spotted at leading domestic and international food and beverage trade conferences.
TONY PEREYRA developed his expertise in every facet of the bar and beverage industry, delivering innovations in mixology, developing structured bar programs, establishing strategic partnerships and creating positive training and educational experiences. His Los Angeles-based beverage consultancy, The Spirits In Motion, co-founded with business partner Phil Wills, has kept him involved with developing top-shelf beverage logistics since 2011. By attending and speaking at seminars and national conferences as an industry influencer, and applying countless hours of real-time research, Tony stays ahead of the game with industry trends to deliver top-notch bar and beverage solutions.
RICK PEREZ is Chef/Founder of R&D Culinary Consultants, a product & menu development firm serving food processors and foodservice operators. With 30-plus years of experience, Rick is a member of the American Culinary Federation and was honored as a 2013 inductee into the American Academy of Chefs. Based in Jamestown, N.C., he has assembled an extensive team of professionals, which is instrumental in developing next-generation food products with clean labels, including reductions of sodium, phosphates and sugars.
IAN RAMIREZ has over 20 years of experience in the restaurant industry. After serving as the executive chef at several restaurants, he made a transition to the private chef and corporate chef world. Currently, Ian serves as the Corporate Chef for Creative Dining Services in Zeeland, Mich., as Director of Culinary Innovation and Operations. In addition, he chairs the Culinary Innovation Council, a group that focuses on staying ahead of food trends, annually hosting a three-day hands-on chef training summit called Chef Lab, and develops design-thinking approaches towards menu development. His current passion is his Millennial Innovation Panel where he focuses on culinary trends through the lens of the Millennial consumer.
SHANE SCHAIBLY has been in the industry since the young age of 14. A graduate of Johnson & Wales University, Shane has been with First Watch Restaurants since 2014 and has been working on revamping the existing regular menu and seasonal feature menu offerings, along with fine-tuning some the brand's already fantastic fresh and healthy menu items. First Watch is known for its industry-leading, out-of-the-box approach to breakfast, brunch and lunch while still maintaining a health halo around many of its menu items.
TAMRA SCROGGINS is Director of Food Culture at Sizzler USA, responsible for the successful development, testing and implementation of new menu items, products, food sourcing and nutritional development for Sizzler's franchise system, which includes more than 134 restaurants in 10 states. Tamra joined Sizzler USA in 2008 with more than 20 years of experience in the restaurant and hospitality industry. Prior to this role, Scroggins served as the brand's R&D manager for five years. Before joining Sizzler USA, she owned and operated her own restaurant, Our Filling Station, in Canadian, Texas, for 10 years. An Oregon native and third generation chef, Tamra graduated from University of Wisconsin-Stout with a BS in Hotel & Restaurant Management, and now resides in Southern California.
BEV SHAFFER is a culinary specialist and cookbook author known for her creativity in recipe development and international market research. She is the owner of Cook. Write. Travel. Repeat., a culinary consulting and food/travel writing business. Bev is currently First VP/President-Elect of Les Dames d'Escoffier International, an invitational organization of women leaders in food, fine beverage and hospitality whose mission is education and philanthropy.
PAMELA SMITH, RDN, is a nutritionist, culinary consultant, best-selling author and radio host, and provides strategic menu innovation and insight for clients such as Disney, Food First Global Restaurants, Brio and Bravo, Firebirds Wood Fired Grill and Aramark Business Dining. She is the co-creator of Darden Restaurant's Bahama Breeze and Seasons 52, and has hosted all 23 years of the Epcot Food & Wine Festival. As founding principal of Shaping America's Plate and co-chair of The Culinary Institute of America's Healthy Menus R&D Collaborative, Pam works to increase offerings of fresh, innovative and tasty menu options that are nutritious and delicious.
KATIE SUTTON is VP of Culinary Innovation at Food & Drink Resources in Denver. She has worked for Relais & Châteaux Hotels including Meadowood Resort in Napa, Calif., and the Crescent Court Hotel in Dallas. She has also worked as an executive chef of a winery, owner of a catering company, corporate chef of a large chain, and in R&D with a manufacturer selling products to Costco and Trader Joe's. She is a certified Level One Sommelier and holds degrees from the French Culinary Institute in New York and Michigan State University in East Lansing, Mich.
MAEVE WEBSTER, President of Menu Matters, is a lead consultant for foodservice manufacturers and operators. She has spearheaded hundreds of major industry studies during her 18 years as a foodservice specialist. Today, Maeve focuses her consultancy on helping manufacturers, operators, commodity boards, and marketing firms leverage food and consumer trends, using her expertise in trends analysis, market assessment, consumer behavior, product testing and brand optimization. Maeve has an MBA from the University of Illinois, a culinary degree from Le Cordon Bleu in Chicago, and owns a cafe in Bennington, Vt., where she runs the kitchen and designs the menu. She is a regular speaker at industry events and a contributor to major media outlets and industry publications, including Flavor & The Menu.