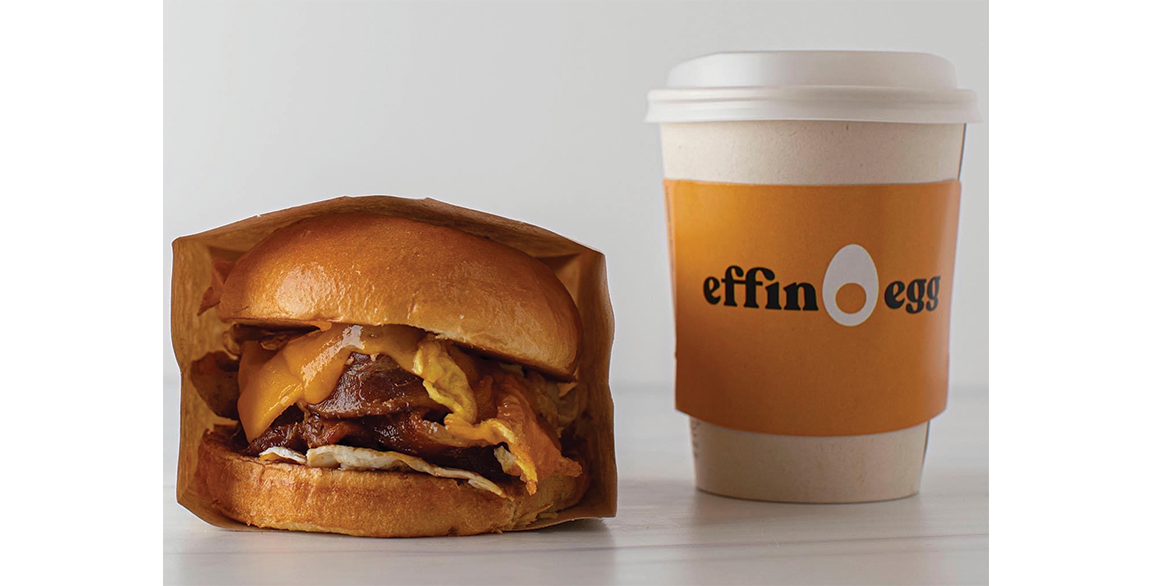 By Mike Kostyo
October 4, 2022
Breakfast is back. As customers return to some normalcy after a bumpy few years, operators across the industry are reporting that breakfast has bounced back, causing them to double down on new ideas again, particularly in to-go options. It's been hard-fought. No daypart felt the sting of the COVID-19 pandemic more than breakfast. Consumers, initially stuck at home, changed their routines, no longer picking up coffee and a breakfast sandwich on the way to work or school. Full-service concepts that relied on dine-in breakfast traffic, from midscale restaurant brands to hotel dining rooms, faced a dearth of customers.
According to industry research firm Datassential, breakfast items were one of the top three menu categories most impacted by pandemic-related declines, with everything from omelettes to French toast, and even coffee, suffering steep drops in menu penetration.
As customers have gotten back to some normalcy, operators across the industry are reporting that breakfast has bounced back, particularly in to-go options. Datassential reports that 73 percent of operators are offering breakfast as of this year, and that a full fifth of their sales come from the morning daypart.
This means innovation is also back, with much of it focused on one trend that's bigger than ever: to-go. With many consumers getting used to ordering breakfast items for delivery, plus the huge growth in drive-thru lanes and pick-up windows, the need for creative, attention-getting to-go breakfast options has never been greater.
SUCCESSFUL STARTS
What does a winning to-go menu look like for the breakfast daypart? After all, eggs can get rubbery and crispy waffles can get soft in to-go boxes, while loaded pancakes are hard to eat without a knife and fork.
For some operators, it means rethinking customer favorites from the ground up. For example, at The Toasted Yolk Café, a growing breakfast and lunch chain based in Houston, conventional French toast is transformed into crispy French Toast Rollers. A slice of sourdough is topped with a cinnamon cream cheese and blueberry filling, rolled, dipped into a signature custard and then fried to a rich, golden-brown crust that can stand up in to-go packaging. The Rollers can be ordered as an off-premise item or attractively stacked on a plate for dine-in customers—each time paired with real maple syrup for dipping.
Other menu developers seek options that already make sense for on-the-go breakfast eating. The team at OEB Breakfast Co., which is based in Canada and expanding into the U.S., knew that topping a variety of innovative poutines with a poached egg was a simple way to create flavorful breakfast bowls. OEB elevates its offerings with options like duck fat-fried herb potatoes instead of fries, plus brown butter hollandaise as a swap for gravy. With local cheese curds on board, the Canadian classic has become a breakfast sales driver.
The growth of to-go offerings also means taking a combination of approaches to ensure most menu items are suitable for either dine-in or off-premise eating. New England's boutique Lark Hotels brand is known for its unique Small Plates Breakfast, a daily tapas-style offering that allows guests to mix and match from a range of dishes. During COVID, customer-selected menu items were delivered to guest rooms in an appealing breakfast basket, and today, the entire menu is available for either in-room dining or to-go, including the Small Plates selections, which range from pastries to small jars of overnight oats.
"From an operator's standpoint, we adapted very well to packaging items in a to-go form," says Jennie Jurkiewicz, regional director of restaurants for Lark Hotels. "There is a lot of interesting packaging out there." Menu choices like cottage cheese with tomatoes and herbs and bite-sized avocado toast are particularly popular with guests who gravitate to local ingredients and dishes with a twist, such as a breakfast salad, she says, adding that healthy choices must be attractive and colorful to entice guests.
NEXT-LEVEL EGG SAMMIES
One item dominates the category: the breakfast sandwich. In fact, takeout-friendly breakfast sandwiches were one of the few breakfast items to continue growing on menus during the pandemic, according to Datassential. Now just about every major market has at least one breakfast sandwich-focused restaurant concept that leans on premium, creative ingredients and, often, in-your-face names and branding á la Eggslut, a breakfast sandwich concept based in Los Angeles.
Take the growing Effin Egg chain, which currently has locations in Florida and Georgia, with expansions to Missouri, Tennessee and New York on the way. While the chain proudly serves "dope-ass coffee" and has shirts that proclaim "Potheads Welcome!" it takes its menu quality very seriously. Fresh, made-to-order sandwiches are piled high with cage-free eggs, thick slabs of premium bacon and housemade sauces.
The newest, smaller, to-go-focused Effin Egg locations, including a digital-only pick-up site in Decatur, Ga., have been designed in response to market-driven changes, says founder and CEO Jeff Martin. "I believe the restaurant industry is definitely headed in the direction of digital-only concepts," he says, citing other tech innovations driving change, such as mobile and kiosk ordering, plus robotic food delivery.
Breakfast sandwich success is propelled by the use of premium ingredients, with creative, often regionally or globally inspired elements as differentiating touches to make sandwiches stand out. At New York's Manhattanville Market, Chris Scott, chef/owner of all-day sandwich shop Butterfunk Biscuit Co., gives customers a taste of his heritage by updating a classic Sausage, Egg and Cheese sandwich with Pennsylvania Dutch-style sausage, served with scrambled eggs, cheese and ketchup on a towering biscuit. In New York's SoHo neighborhood, the brunch menu of Italian restaurant Mareluna includes the Bombolone Egg Sandwich, featuring crispy prosciutto, mozzarella and an arrabiata sauce, served with Italian fried potatoes on the side.
ASIAN FLAVORS DRIVE INNOVATION
While Latin ingredients are fairly common on breakfast menus today, Asian flavors have been slower to catch on in this daypart—although that's starting to change with matcha waffles and ube lattes adding vibrant colors to morning menus.
Asian-inspired cafés and bakeries are attracting new consumers in major markets across the country. At Seattle's Filipino-focused Hood Famous Bakeshop, the meryenda (morning snack) menu features options like a Tocino sandwich with egg, sweet pork, herby mayo and lettuce on house pan de sal and Mochi Waffles with seasonal fruit and cream. It also offers the consummate to-go option: the Hot Dog Ensaymada. This lightly sweet and savory creation sees a hot dog encased in a rich brioche bun that is covered with a condensed milk glaze that creates a golden-brown finish, while a dusting of shredded Gouda finishes the look.
In California, husband-and-wife chefs and restaurateurs Michael and Meichih Kim combine Korean and Taiwanese flavors with Californian ingredients at their Bao Bèi concept in the Los Altos State Street Market food hall. Their Breakfast Bao is stuffed with housemade Korean sausage made from ground pork, "lots of garlic" and gochugaru chile flakes. To further drive home the Asian-inspired flavors, they steam their egg in dashi, as a nod to Korean gyeran jjim (custardy steamed eggs), before adding a housemade cheese sauce that combines American, cheddar and Parmesan.
SMOOTHIE OPERATOR
While breakfast sandwiches are often decidedly over the top and decadent, smoothies offer consumers a healthier option to start their day at a time when plant-based options and functional foods continue to drive wellness innovation. Plus, they are kitchen workhorses. They can be both add-on beverages or a complete morning meal; they can cross-utilize past-its-prime produce saved in the freezer; they require minimal prep; and they are perfectly positioned for on-the-go sipping.
"Smoothies have made a significant impact in the F&B world," says Max Hardy, owner and head chef of Detroit-based Coop Caribbean Fusion and Jed's Detroit. "Frozen smoothies topped with healthy options like cut fruit, assorted seeds, etc., are options that leave guests feeling satisfied without being heavy."
At Newport Beach, Calif.-based Juice It Up!, Noah Burgess, head of food science, says his team took inspiration from "sandía loca," the traditional Mexican treat that translates to "crazy watermelon," for a Sandía Loca Smoothie and accompanying Sandía Loca Bowl. The smoothie version incorporates hydrating and vitamin C-packed watermelon for an immunity boost, plus cucumber, pineapple, strawberries, coconut and a final sprinkle of traditional Tajín for a complex, drinkable summer LTO.
Savory produce options like cucumbers and kale are common sights in smoothies today, as green smoothies are up 57 percent on menus overall in the past four years according to Datassential. Another growing option to consider: avocado, which adds creamier texture to smoothies and has quickly become a consumer favorite. At Original ChopShop, the health-forward fast-casual chain based in Plano, Texas, the protein-rich Avo Shake is made with avocado, banana, spinach, dates, peanut butter, chia pudding, almond milk, a boost of vanilla whey protein powder and agave.